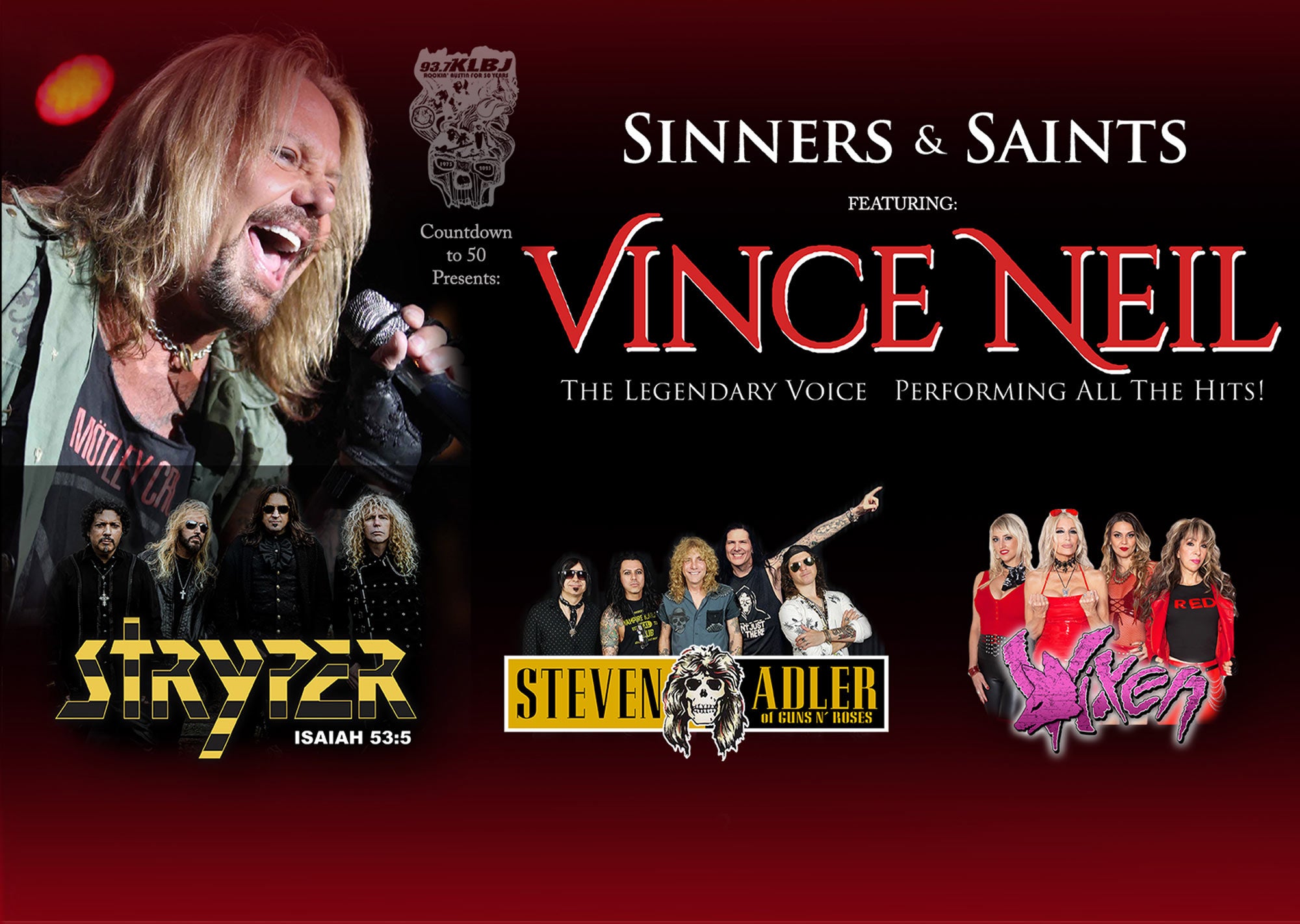 Sinners & Saints ft. Vince Neil with Stryper
and special guests Steven Adler & Vixen
CANCELLED
About The Event
EVENT CANCELLED
Sinners & Saints ft. Vince Neil with Stryper and special guests Steven Adler and Vixen scheduled on April 13th at H-E-B Center at Cedar Park has been cancelled. Tickets purchased online through Ticketmaster will be automatically refunded. All other refunds are available at point of purchase. For further questions, please contact the H-E-B Center box office at 512-600-5001.
---


Vince Neil, the legendary frontman of Mötley Crüe, returns to the Austin area April 13th to headline Sinners & Saints at H-E-B Center at Cedar Park with Stryper plus special guests Steven Adler (of Guns & Roses) and Vixen, locally presented by KLBJ's Countdown to 50.
Vince Neil is an international superstar, accomplished businessman, and heartfelt philanthropist. His unmistakable voice leads some of the greatest rock songs of a generation including "Wild Side," "Shout at the Devil," "Home Sweet Home," "Girls, Girls, Girls," "Dr. Feelgood," "Kickstart My Heart," "Same Ol' Situation," and many others.
Neil continues to perform all the classic Mötley Crüe hits with select cuts from his three solo albums. Additionally, this badass performer is working on new music, and has hinted about performing some of it during this tour: "I'll say that we are recording some stuff for a new record this year," he said in a Loudwire interview in January. "You often hear some surprises at our shows. I don't want to give away some of those surpris‐ es…The music is exciting. It's good, fun, nasty, raw energy and great songs."
When it comes to groundbreaking bands in the Christian hard-rock genre, Stryper is renowned for its distinctive brand of "heavenly metal," extraordinary crossover success and venerable endurance. The Grammy-Nominated and Dove Award Winning group ascended to prominence in the 1980s with Billboard Top 40 hits like "Calling on You," "Honestly" and "Always There for You."
Steven Adler, best known as the founding drummer of Guns N' Roses, one of the most influential, groundbreaking hard rock bands to emerge from the late-80′s L.A. hard rock scene, has returned to pick up where he left off with his re-energized line up of musicians.
Vixen is the only all-female hard rock band from the 80's who has: Sold over a million albums, had six #1 videos on MTV, and had four songs on the Billboard's Top 100. In 1987 a pair of big brass balls at EMI Records decided to roll the dice with Vixen, despite all the stereotypes regarding bands fronted by chicks was then initiated into the male dominated club of hard rock. EMI released their self-named debut album "Vixen" featuring the groups' first hit "Edge of a Broken Heart" penned by Richard Marx and Fee Waybill (The Tubes). MTV became Vixen's playground and so, coupled with exhaustive touring, Vixen embarked on their ride.