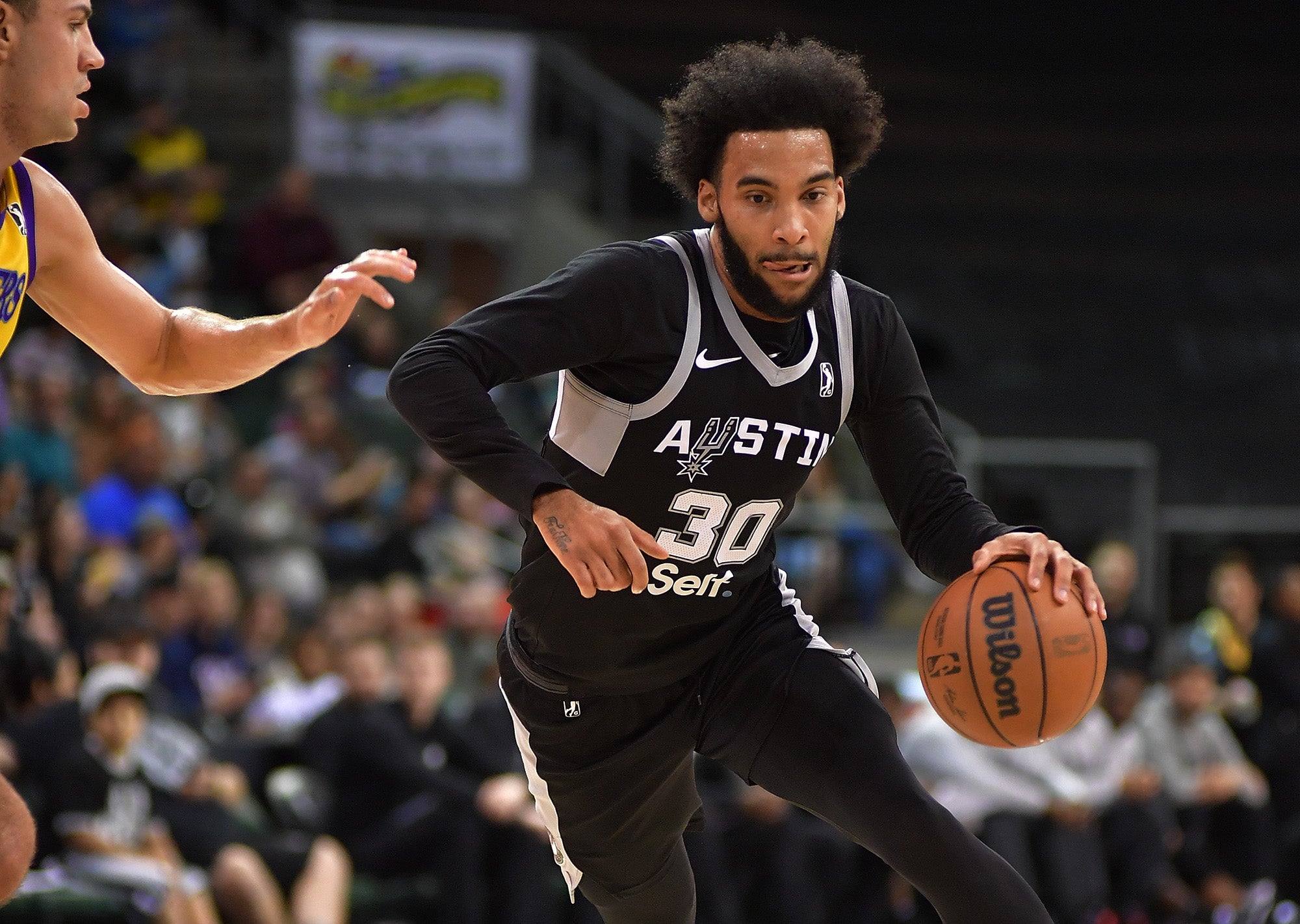 Rio Grande Valley Vipers vs. Austin Spurs
Season of Giving
Sunday Funday
About The Event
The Austin Spurs have announced the team's 2023-24 season schedule, which will be split into two parts: the 16-game Showcase Cup followed by a 34-game regular season. The 2023-24 Austin Spurs season is presented by SWBC.
The Spurs will tip off the Showcase Cup on the road in Birmingham on Nov. 10 before making their home debut as they host the Osceola Magic on Sunday, Nov. 12 at 4 p.m. at the H-E-B Center at Cedar Park to begin a five-game homestand. During the Showcase Cup, teams will be separated into four regional pods and play 16 games against one another in NBA G League markets. The teams with the best winning percentage in each regional pod, along with the next four teams across the league with the best win percentages, will advance to compete for the Showcase Cup. The Showcase Cup will culminate with a single-elimination tournament to crown a champion at the 2023 NBA G League Winter Showcase from Dec. 19-22.
Austin begins the regular season on Thursday, Dec. 28 at 7 p.m., hosting the South Bay Lakers, as all team records reset following the conclusion of the Showcase Cup.
As part of Spurs Sports & Entertainment's efforts to deepen their fanbase and better reach their fans across the team's mega-region from Mexico to Austin, the Spurs will host two off-site games this season. The Silver and Black return to Laredo for the second consecutive season for two games against the Stockton Kings on Friday, Feb. 2 at 7 p.m. and Saturday, Feb. 3 at 7 p.m. at the Sames Auto Arena.
Austin's promotional and broadcast schedule will be announced at a later date. Season ticket memberships are available now. To learn more, visit austinspurs.com/season-tickets/.
Parking Information / Purchase Advance Parking

Parking

H-E-B Center at Cedar Park features more than 2,600 parking spaces on its property, including parking for patrons with disabilities located in Lots B, F, G.

General Parking for Austin Spurs games is included in the price of the game ticket.
Suite Holder Parking is located in lot B, which is accessible from New Hope Drive AND the 3rd entrance off off the 183A Frontage Road. Please have your suite ticket ready to show at the entrance.

Clear Bag Policy / Cashless Venue / Security Info / Prohibited Items

It is H-E-B Center policy that every person entering the building must go through a security screening process. Please arrive early to allow for this process.

H-E-B Center enforces a NO re-entry policy. Once you exit the building, you will not be allowed back into the building.

CASHLESS VENUE


All major credit/debit card and Apple Pay are accepted in the venue. Please note, Apple Pay is currently not accepted at the box office or in the parking lots.

BAG POLICY


Click to enlarge image.

All bags entering H-E-B Center will be searched.
Clear bags cannot be any larger than 16" x 8" x 16"

Clear bags cannot have any colored tinting or obstructive patterns.

Non-clear bags cannot be any larger than 4.5" x 6.5."

Exceptions may be made for diaper bags (with child present) or bags required for medical purposes.

Prohibited Items


Clear bags cannot be any larger than 16" x 8" x 16".
Non-clear bags cannot be any larger than 4.5" x 6.5."

Exceptions may be made for diaper bags (with child present) or bags required for medical purpose

Drones
Weapons of any kind (guns, knives, Tasers, mace, or glass)
Umbrellas larger than 12" or tents that can block the view of other guests
Air horns or noise makers
Confetti or streamers
Signs or banners larger than 22" x 28" in size
Video recording devices (i.e. GoPro), long lens professional cameras, tri-pods, (approved and credentialed media excluded)
Explosives or explosive devices, including, but not limited to fireworks, poppers and cap guns.