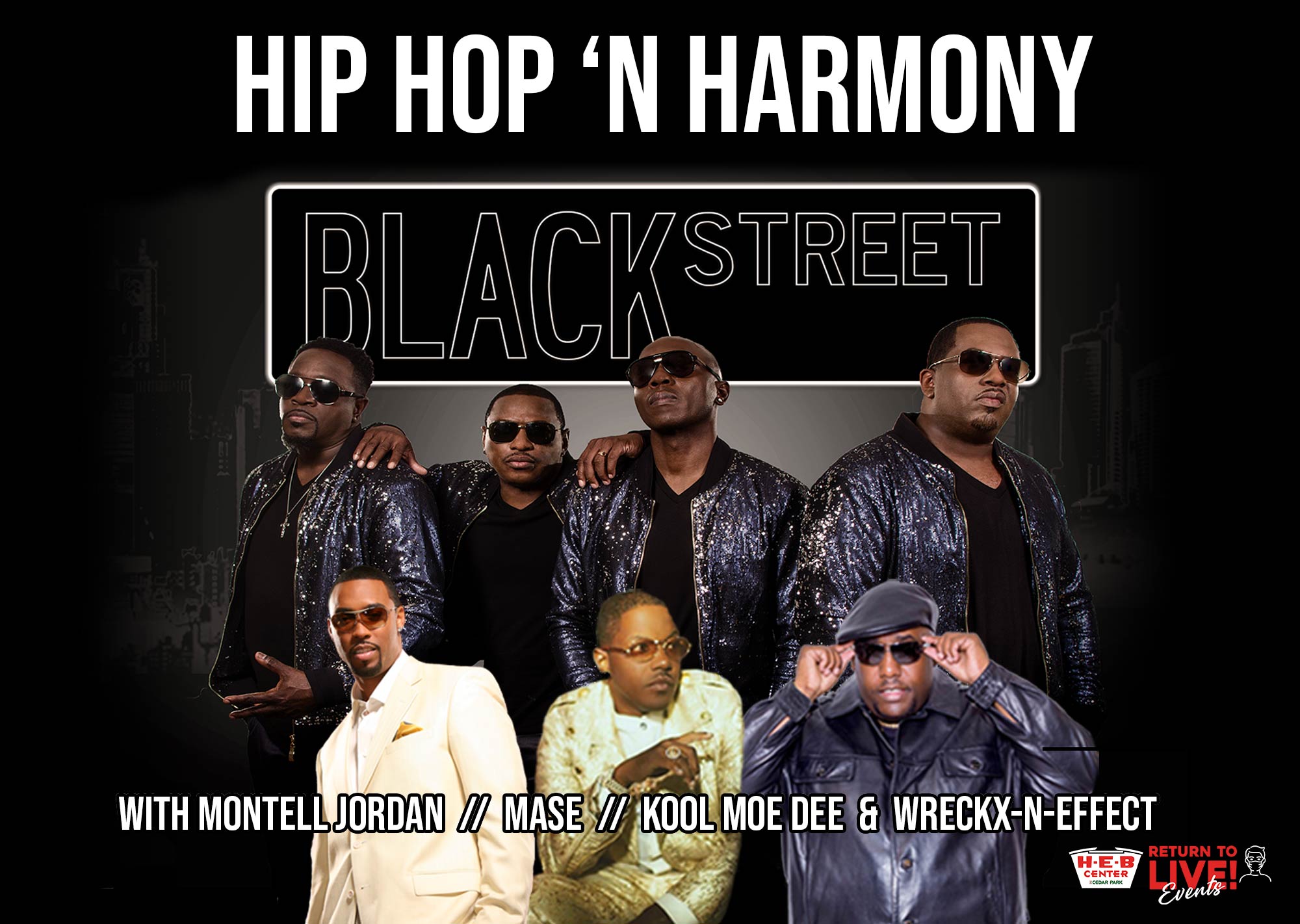 Hip Hop 'N Harmony
featuring BLACKstreet with Montell Jordan, Mase, Kool Moe Dee & Wreckx-N-Effect

Rescheduled from 8/20/21
About The Event
"Hip Hop 'n Harmony", originally scheduled for August 20, 2021 has been rescheduled to Thursday, March 10, 2022 at H-E-B Center at Cedar Park, featuring BLACKstreet with Montell Jordan, Mase, Kool Moe Dee and Wreckx-N-Effect. Tickets are on sale now at Ticketmaster.com and the H-E-B Center box office. All previously purchased tickets are valid on the new event date. For additional questions, contact the box office at 512-600-5001.
Blackstreet is one of the top Grammy award winning vocal groups of the '90s and still remains one of the top touring acts of the 21st Century. In 1993, their first single "Baby Be Mine" was released on the movie soundtrack to the Universal Pictures comedy CB4 (starring Chris Rock). Their debut album, Blackstreet, featured the singles "Baby Be Mine", "Before I Let You Go" and the co-written double platinum hit by Michael Jackson "Joy". "Joy" and "Before I Let You Go" were both Gold and Platinum Top 40 hits, with "Joy" and "Before I Let You Go" hitting the Top 10. In 1996, they released their sophomore album Another Level. It was a breakthrough success due to the top single "No Diggity" (with Dr. Dre), which was a No. 1 hit on the Billboard Hot 100 in November 1996. In 1998, Blackstreet won the Grammy Award for Best R&B Performance by a Duo or Group with Vocals. The Another Level album eventually went four times platinum in the United States and peaked at No. 3 on the Billboard chart. "No Diggity" was later ranked at No. 91 on Rolling Stone and MTV: 100 Greatest Pop Songs.
The Billboard Top Ten songs chart for 1995 contains the following names: Coolio, TLC, Seal, Boyz II Men, Mariah Carey, Madonna and a man named Montell Jordan. This Is How We Do It was a breakout new jack-swing song that topped the Hot 100 for seven weeks and R&B charts for eight. Jordan, tall and handsome with a silky-smooth voice, established himself as a powerful presence in music, brimming with talent, savvy and charm. Over his nearly twenty year career in music, Jordan has released seven studio albums, fourteen singles, and is a Grammy nominated artist selling more than 10 million records worldwide.

*This event date is subject to CDC, State of Texas and local government guidelines for helping the community stay safe during the COVID-19 pandemic.

At Home Loge Seating Package w/Food & Beverage

To purchase:

Call 512-600-5013 to purchase over the phone or email groups@hebcenter.com. (Deadline to purchase is 48 hours before show time)

The all-new AT HOME LOGE SEAT PACKAGE includes:

Reserved seat in the East Loge (wider, more comfortable leather seating, located on the 2nd level/suite level, in the 200 sections in red on the SAMPLE MAP)
One (1) parking pass is included for every two (2) tickets purchased.
VIP Wristband valid for:

1 trip through the Chef's Table located in the East Loge (currently boxed as part of COVID safety protocols)
2 beer/wine drinks (no mixed drinks) at either The Breakaway Bar or Love Street Lounge in the East Loge
Unlimited non-alcoholic beverages in the East Loge

$100 per ticket (no additional fees)

COVID-19 SAFETY PRECAUTIONS - MASKS RECOMMENDED

All events at H-E-B Center at Cedar Park will include activation of ASM Global's "Venue Shield"– an advanced environmental hygiene protocol that will also be deployed in more than 325 ASM facilities around the world. ASM Global, which manages H-E-B Center at Cedar Park, is the world's leading venue management and services company. Venue Shield reduces physical touch points, increases venue sanitization and cleanliness, and provides various health monitoring guidelines and services.

The safety guidelines and protocols in place at H-E-B Center at Cedar Park include:

FACE COVERINGS RECOMMENDED - (Updated October 16, 2021) H-E-B Center encourages patrons to wear a mask when attending one of our events but masks are not mandatory for entry. Please note that this policy may be adjusted on a show-by-show basis as dictated by artist or tour policy. Thank you for your cooperation in helping our community stay safe during the COVID-19 pandemic. Masks are required for all employees until further notice.
WASH HANDS / HAND SANITIZING STATIONS - Fifty (50) hand sanitizing stations have been added throughout the arena. Guests are encouraged to wash hands for 20 seconds or use a hand sanitizing station often.
CONSTANT CLEANING - All high touch areas throughout the venue are disinfected multiple times during events and the arena bowl is deep cleaned between events.
EMPLOYEE HEALTH SCREENINGS - All employees receive contactless temperature checks prior to entering the venue each day and testing as needed.
SOCIAL DISTANCING ENCOURAGED WHERE POSSIBLE

Floor markers installed at all line queues (main entrances, box office, concessions, restrooms, merchandise).
Limited capacity in elevators to one party or family at a time.
Limited capacity in restrooms at one time.

PARKING

All staff is required to wear masks.
Cash is no longer accepted; only credit card payment accepted or purchase mobile parking ticket in advance at ticketmaster.com.
Valet is suspended until further notice.

BOX OFFICE

Contactless Payment - Cash is no longer accepted and signatures have been waived.
Mobile tickets - all tickets purchased at the box office will be delivered via SMS (text message).
No will call

SECURITY & ENTRY/EXIT POINTS

Expanded entry points for social distancing.
Staggered entry times for guests.
Guests encouraged to use clear bags or avoid bringing bags if possible to reduce contact with personal items during security checks.

CONCESSIONS

All staff is required to wear face masks and gloves
Cash is no longer accepted.
All shared condiment & utensil stations have been removed and replaced with single use condiment packets and pre-packaged utensils kept behind the concession stand counters.
Lids will be used on all beverages including soft drinks and draft beers.
More pre-packaged foods will be offered.
Water fountains turned off until further notice.

Parking Information / Purchase Discount Advance Parking

Parking

H-E-B Center at Cedar Park features more than 2,600 parking spaces on its property, including parking for patrons with disabilities located in Lots B, F, G. Prices for parking vary by event and parking is CREDIT CARD ONLY. Parking is available for a discount rate when purchased in advance, which can be found below and at Ticketmaster.com for most events.

Day-Of-Event / On-Site Parking Rates:
$22 - General Lot*
$40 - Premium Lot B adjacent to East main entrance (limited availability)*
$45 - Premium Circle Lot located in front of the East main entrance (limited availability)*
*Discount applies when purchased in advance.

VETERAN PARKING: H-E-B Center offers complimentary parking to disabled veterans and Purple Heart recipients with valid vehicle plates. Please notify the parking attendant upon arrival at the facility.

Discount Parking Passes Available when Purchased in Advance: