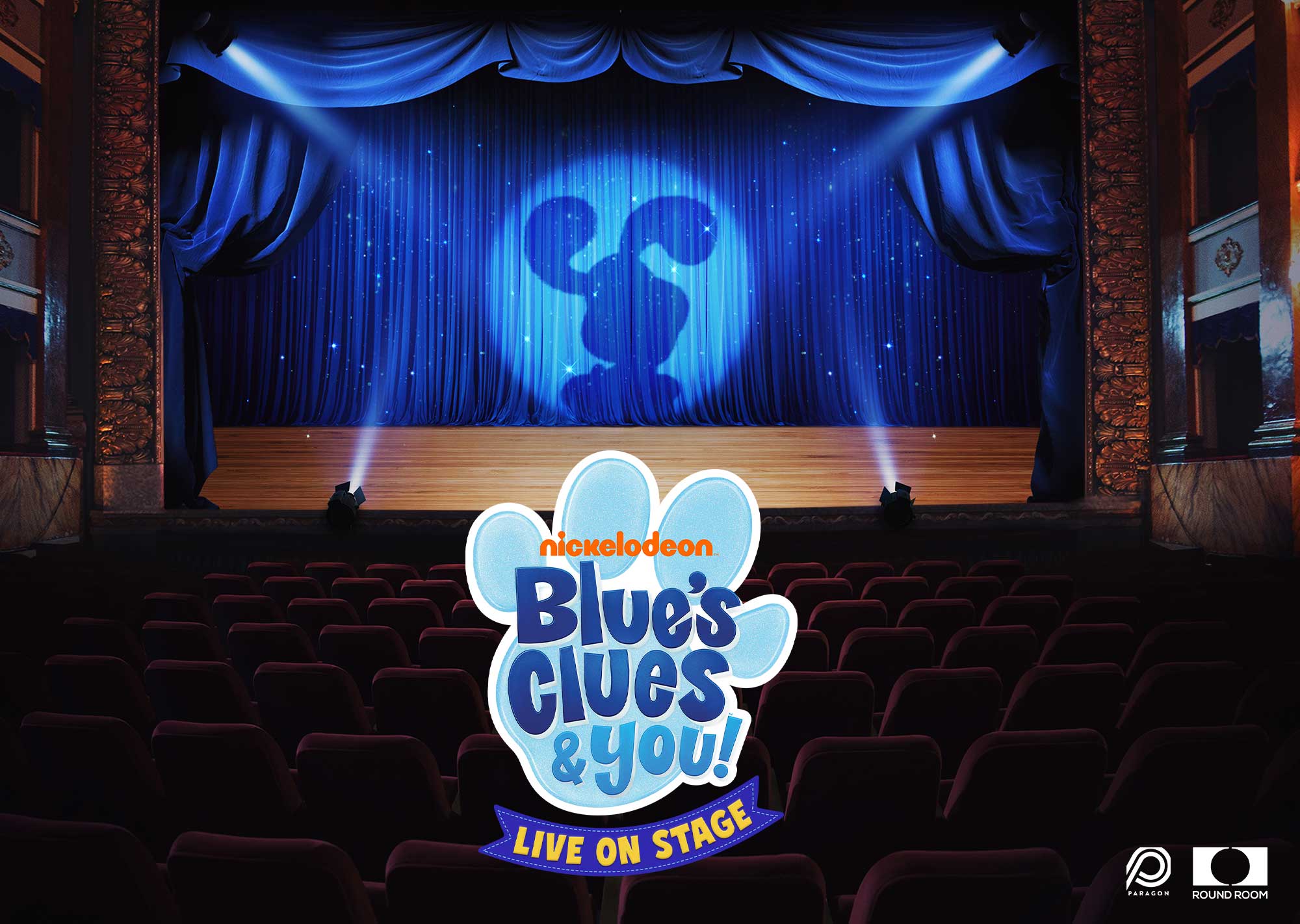 Blue's Clues & You! Live On Stage
About The Event
Round Room Live and Nickelodeon announced the first 50 plus cities for the U.S. tour of Blue's Clues & You! Live On Stage, a brand-new theater production based on the hit preschool television series Blue's Clues & You!, with a special stop at the Austin area's H-E-B Center at Cedar Park on Friday, October 28. Featuring all the beloved characters from the series, including Blue, her friends Magenta, Rainbow Puppy and many more, this new original musical adventure will have kids of all ages singing and dancing in the aisles. Tickets go on sale Friday, July 15, at 10AM, with presales beginning Tuesday, July 12. For tickets and additional information, visit Ticketmaster.com.
Featuring an all-new story crafted by Blue's Clues co-creator Angela C. Santomero, and under the direction of industry veterans John Tartaglia (Annie, The Wizard of Oz, Tarzan and Shrek the Musical at The Muny) and Melanie Lockyer (Allegiance, Les Misérables at the Fresno Grand Opera, Smokey Joe's Café and Miss Saigon at Music Theatre Wichita), Blue's Clues and You! Live on Stage will delight kids and parents alike with an array of distinctive puppets and puppetry techniques, as well as intricate scenic design utilizing LED video screens to transport audiences through moments and worlds unique to Blue and her friends. Families will also enjoy a mash-up of fan-favorite music from the television series and a lineup of brand-new original songs that will have kids up and out of their seats moving to the beat.
"We are thrilled to bring Blue's Clues & You! Live On Stage to families all across the country," says Stephen Shaw, tour producer and co-president of Round Room Live. "Blue's Clues is a beloved show that has captivated children for generations. We are honored and excited to be bringing such iconic characters to the stage in a riveting, engaging production that the whole family will enjoy."
"Blue's Clues & You! Live On Stage brings an exciting original story to life through unique elements, dynamic staging and original music compositions that will have the audience out of their seats dancing and singing along from beginning to end," said Pam Kaufman, President Consumer Products and Experiences, Paramount. "This brand-new production and the phenomenal creative team behind it truly deliver on our commitment to deliver the very best entertainment experience to kids and families."
Blue's Clues & You! Live On Stage is an epic new musical adventure that will help fans discover the joy of singing, dancing, and creativity the Blue's Clues & You way--with hugs, friends and laughter, while using their smarts and their very own Handy Dandy Notebooks to help figure out Blue's Clues. The show centers on Blue, Josh and their friends who need help conjuring up a magical theater show. The audience will have to solve Blue's Clues to find out what Josh needs to make the show. With Broadway-style song and dance, this production pulls out all the stops. Kids of all ages will watch Josh and Blue skidoo to amazing places, make a rainbow with Magenta, create a music video with Rainbow Puppy, float in outer space, and so much more!
Nickelodeon's hit preschool TV series Blue's Clues & You! has a new generation of kids searching for clues with beloved puppy Blue and new live-action host Josh Dela Cruz. The series features new CG-animation for Blue, Magenta and Rainbow Puppy, brand-new elements and refreshed iconic items from the original series including an updated Handy Dandy Notebook equipped with smartphone technology and the return of fan-favorite characters. Blue's Clues & You!, produced by Nickelodeon Animation in Burbank, Calif., is currently in its third season, airing weekdays at 11 a.m. (ET/PT) on Nickelodeon.
Now that the show is being brought to theaters around the country in an original new musical adventure, we are thrilled that a dynamic stage performer has been cast to play the character of "Josh" to delight and entertain audiences across all the tour markets.
In an effort to prevent the spread of COVID-19, Blue's Clues & You! Live On Stage tour producers and venue management teams continue to work diligently on plans to provide a safe environment for audience members, touring personnel, and venue staff. VENUE SAFETY PROTOCOLS
This event is produced by Nederlander Concerts, Tobin Entertainment and H-E-B Center at Cedar Park.
Fans can visit www.bluesclueslive.com now for tour dates and ticket information, and follow Blue's Clues & You! Live On Stage on social media for exclusive tour content.
FOLLOW BLUE'S CLUES & YOU! LIVE ON STAGE
Official Website: www.bluesclueslive.com
Facebook: @BluesCluesLive
Twitter: @BluesCluesLive
Instagram: @BluesCluesLive
FOLLOW ROUND ROOM LIVE
Official Website: www.roundroomlive.com
Facebook: @roundroomlive
Twitter: @roundroomlive
Instagram: @round_room_live
At Home Loge Seating Package w/Food & Beverage

For questions, call 512-600-5013 or email groups@hebcenter.com. (Deadline to purchase is 48 hours before show time)

The all-new AT HOME LOGE SEAT PACKAGE includes:

Reserved seat in the East Loge - 2nd level/suite level in the 200 sections (There are only 3 rows of seating here)

Rows S & T (rows 1 & 2) - wider, more comfortable leather seating
Row U - barstool seating with small ledge in front for food & beverage

One (1) parking pass is included for every two (2) tickets purchased.
VIP Wristband valid for:

1 trip through the Chef's Table located in the East Loge (Currently Boxed as part of COVID protocols). Menu will vary based on event. Sample menus include (subject to change):

Chicken Parmesan or Italian Meatballs
Herb Roasted Chicken or Sliced Steak
Chicken or Beef Fajitas
If you have a food alergy/sensitivity, please notify us at events@hebcenter.com within 48 hour of event time.

2 beer/wine drinks (no mixed drinks) at either The Breakaway Bar or Love Street Lounge in the East Loge
Unlimited non-alcoholic beverages in the East Loge

$100 per ticket (no additional fees)

ALREADY PURCHASED?

Once you have placed your order, proceed up to the 2nd level to collect your wristband(s) for food & beverage at the "At Home Loge Check-In" table located near section 201.

Blue's Clues Photo Add-On Experience

Blue's Clues Photo Add-On - $50 ea

Add on available upon checkout at Ticketmaster.com.

Make the most of your experience with the Blue's Clues & You Photo Experience!


This one-of-a-kind Photo Experience allows you and your family to experience a unique photo opportunity with the characters of Blue's Clues & You! Live On Stage.


Here's how it works: Photo Experience ticket purchasers should go to the Will Call window at the Box Office on the show day to pick up their passes and after-show instructions. Each adult and child (age two and up) in a group must have a Photo Experience ticket in order to attend. The Photo Experience will start shortly after the end of show. For the safety of all guests and performers, no touching or hugging will be permitted. Please make sure to bring your camera, as you will want to capture every moment!


Parents, please note that while most children are excited to meet their favorite characters up-close, others can feel frightened. If your child is scared or hesitant, we recommend moving to the back of the line; This will allow your child the extra time they may need to warm up and see how they interact with other children present. For the safety of all guests and performers, no touching or hugging will be permitted


**Admission to the performance is not included in the Photo Experience ticket. This is a separate upgrade that must be

purchased in advance.


**Children age 12 and under must be accompanied by a Parent/Guardian. Each Child, Parent or Guardian must have a show ticket as well as a Photo Experience ticket to attend.

COVID-19 Safety Protocols - MASKS RECOMMENDED

The current safety guidelines and protocols in place at H-E-B Center at Cedar Park include (updated 4/19/22):

FACE COVERINGS RECOMMENDED - H-E-B Center encourages patrons to wear a mask when attending one of our events but masks are not mandatory for entry. Please note that this policy may be adjusted on a show-by-show basis as dictated by artist or tour policy. Thank you for your cooperation in helping our community stay safe during the COVID-19 pandemic.
WASH HANDS / HAND SANITIZING STATIONS - Hand sanitizing stations are located throughout the arena. Guests are encouraged to wash hands for 20 seconds or use a hand sanitizing station often.
CONSTANT CLEANING - All high touch areas throughout the venue are disinfected multiple times during events and the arena bowl is deep cleaned between events.
EMPLOYEE HEALTH SCREENINGS - All employees receive contactless temperature checks prior to entering the venue each day and testing as needed.
SOCIAL DISTANCING ENCOURAGED WHERE POSSIBLE
PARKING

Cash is no longer accepted; only credit card payment accepted or purchase mobile parking ticket in advance at ticketmaster.com.

BOX OFFICE

Contactless Payment - Cash is no longer accepted and signatures have been waived.
Mobile tickets - all tickets purchased at the box office will be delivered via SMS (text message).
No will call

SECURITY & ENTRY/EXIT POINTS

Expanded entry points for social distancing.
Guests required to use clear bags or avoid bringing bags if possible to reduce contact with personal items during security checks. BAG POLICY

CONCESSIONS

Cash is no longer accepted.
Standard health & safety practices currently in place.

Parking Information / Purchase Discount Advance Parking

Parking

H-E-B Center at Cedar Park features more than 2,600 parking spaces on its property, including parking for patrons with disabilities located in Lots B, F, G. Prices for parking vary by event and parking is CREDIT CARD ONLY. Parking is available for a discount rate when purchased in advance, which can be found below and at Ticketmaster.com for most events.

Day-Of-Event / On-Site Parking Rates:
$15 - General Lot*
$35 - Premium Lot B adjacent to East main entrance (limited availability)*
$40 - Premium Circle Lot located in front of the East main entrance (limited availability)*
*Discount applies when purchased in advance.

VETERAN PARKING: H-E-B Center offers complimentary parking to disabled veterans and Purple Heart recipients with valid vehicle plates. Please notify the parking attendant upon arrival at the facility.

Discount Parking Passes Available when Purchased in Advance:

Clear Bag Policy / Security Information / Prohibited Items

It is H-E-B Center policy that every person entering the building must go through a security screening process. Please arrive early to allow for this process.

H-E-B Center enforces a NO re-entry policy. Once you exit the building, you will not be allowed back into the building.

NEW Bag Policy In Effect

All bags entering H-E-B Center will be searched.

Clear bags cannot be any larger than 16" x 8" x 16"

Clear bags cannot have any colored tinting or obstructive patterns.

Non-clear bags cannot be any larger than 4.5" x 6.5."

Exceptions may be made for diaper bags (with child present) or bags required for medical purposes.

Prohibited Items

Clear bags cannot be any larger than 16" x 8" x 16".
Non-clear bags cannot be any larger than 4.5" x 6.5."

Exceptions may be made for diaper bags (with child present) or bags required for medical purpose

Drones

Weapons of any kind (guns, knives, Tasers, mace, or glass)

Umbrellas larger than 12" or tents that can block the view of other guests

Air horns or noise makers

Confetti or streamers

Signs or banners larger than 22" x 28" in size

Video recording devices (i.e. GoPro), long lens professional cameras, tri-pods, (approved and credentialed media excluded)

Explosives or explosive devices, including, but not limited to fireworks, poppers and cap guns.