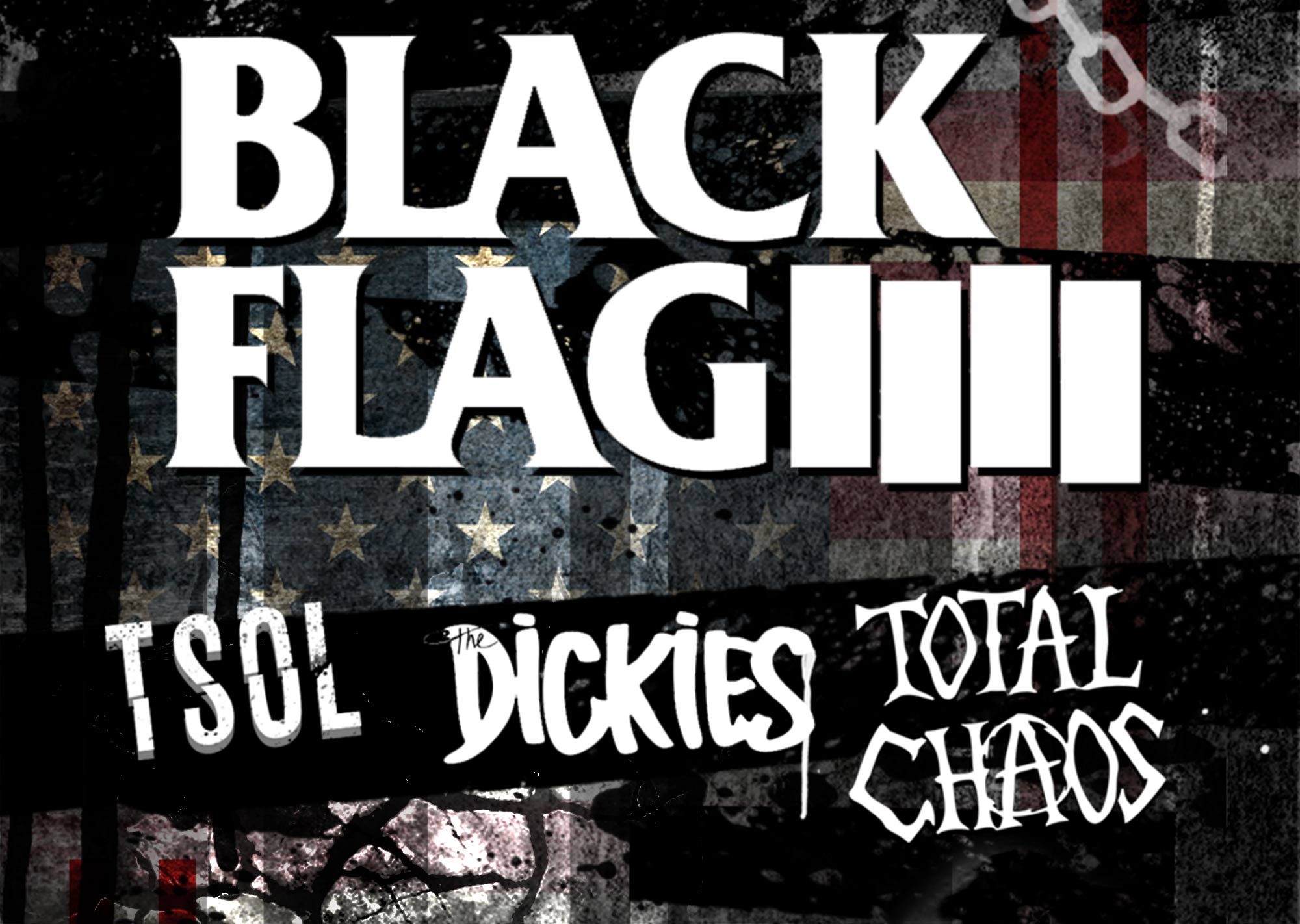 Black Flag with T.S.O.L., The Dickies & Total Chaos
CANCELLED
About The Event
EVENT CANCELLED - REFUNDS AT POINT-OF-PURCHASE
Due to the current global health crisis as well as travel and performance restrictions, BLACK FLAG, T.S.O.L. and THE DICKIES scheduled at H-E-B Center at Cedar Park on June 6, 2020 has been cancelled. Refunds are available through point-of-purchase. Credit card purchasers through Ticketmaster.com will receive automatic refunds. Due to the high volume of event cancellations nationwide, this process may take longer than normal. Please allow for up to 30 days to see a refund. Box office purchasers must return to the H-E-B Center box office to receive a refund, which will reopen on May 1 at 10am (Due to Gov. Abbott's social distancing orders closing all non-essential businesses through April 30). For additional questions, call the H-E-B Center box office at 512-600-5001 (leave a voicemail and your call will be returned within 24 hours).
---

Three iconic Southern California bands, BLACK FLAG, T.S.O.L. and THE DICKIES join forces to bring their distinct styles across the country with a stop at the H-E-B Center at Cedar Park on June 6. The tour will also feature TOTAL CHAOS for a full night of punk rock!
BLACK FLAG redefined punk rock and stole the show during their segment in the classic documentary "The Decline of Western Civilization," which cemented their genre legacy. In 2010, founder/guitarist Greg Ginn was named one of the 100 Greatest Guitarists Of All Time by Rolling Stone magazine garnering mainstream recognition for himself and the band.
T.S.O.L. burst onto the burgeoning Orange County punk scene in 1979, immediately Los Angeles, and not long afterward, the rest of the country took notice. Vocalist Jack Grisham firmly entrenched himself as one of the genres premier frontmen and the band also became stars of the big screen with a raucous live performance being featured in Penelope Spheeris' notorious "Suburbia."
Established in 1977, THE DICKIES are longstanding veterans of the L.A. scene and have earned their reputation as the "Clown Princes of Punk," becoming the longest surviving punk band still recording new material. They were the first L.A. punk band signed to a major label (A&M in 1978) and became stars of the silver screen themselves with their smash hit theme to the seminal Sci-Fi/Horror film "Killer Klowns In Outer Space."
The youngsters on this tour despite forming in 1989, TOTAL CHAOS have shared stages worldwide with some of the biggest names in punk while building their own rabid fan base in the process.
Spotify Playlist

Parking Information