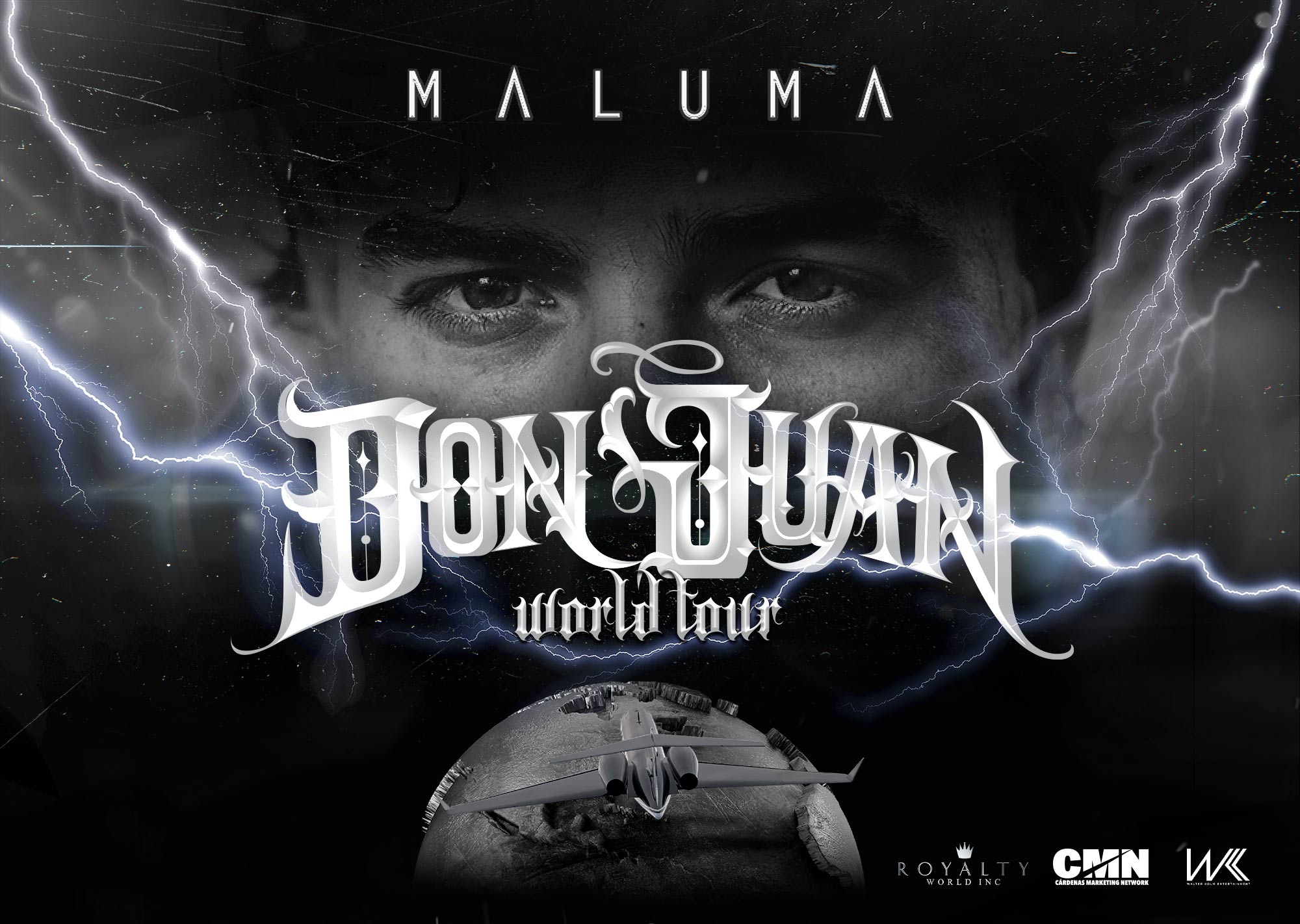 Maluma
Don Juan World Tour
About The Event
Following the wildly successful "Papi Juancho Maluma World Tour 2022"; which boasted sold-out shows across the United States, Europe, Asia, Latin America, and the Middle East, global Latin music idol, Maluma, is proud to announce the U.S. leg of his Don Juan World Tour, which includes a stop in the Austin area Friday, September 29th at H-E-B Center at Cedar Park.
Promising a groundbreaking experience for his devoted fans, Maluma is set to embark on a 30-city tour throughout the United States. The superstar will bring his signature "Don Juan" alter ego to life on the concert stage while singing many of the songs off the album of the same name as well as all of his greatest hits that have made him a global Latin music icon, such as "Hawai"; "Felices Los Cuatro"; "Sobrio" as well as his latest release, "Diablo, que Chimba".
"I am so excited to return to arenas around the US this fall. I took a year off from touring to focus on perfecting what I feel is the best album of my career Don Juan. I can't wait to perform the new songs from the album for my fans for the very first time alongside my greatest hits in what I consider to be my most ambitious concert production yet. I've waited to give my fans a music and concert experience unlike any other and I expect the Don Juan U.S. Tour to be an exhilarating experience that they'll never forget!," Maluma expressed.
The tour is being produced by CMN (Cardenas Marketing Network).
About MALUMA
Maluma is one of the leading voices in Latin music and a bona fide global youth idol. Born Juan Luis Londoño in Medellin, Colombia, he formulated his artistic moniker Maluma from the first two letters of the names of his mother, father and sister.
The 2018 Latin GRAMMY award winner for Best Contemporary Pop Vocal Album (for F.A.M.E.) is one of social media's most popular artists with over 25 million Facebook fans, 8 million Twitter followers, and a whopping 63 million Instagram followers, making him the leading Latin male artist on Instagram and the first and only one to surpass 50 million followers. His official YouTube/VEVO channel has more than 28.1 million subscribers, having earned him a YouTube Diamond Play Button Award.
With his Maluma World Tour he has achieved unparalleled success, having sold over one million tickets in 105 worldwide concerts in 2017 alone and becoming the top concert-selling Latin artist in the world. In 2018 and 2019, he broke records achieving full houses in all of his shows throughout the United States and Europe selling out Madison Square Garden (New York), the American Airlines Arena (Miami) and two The Forums (Los Angeles), among others. With his 11:11 World Tour he also sold out Israel's largest venue, Yarkon Park in Tel Aviv (60,000+ audience); made history at the 18th annual Mawazine Festival in Rabat, Morocco, setting an all-time attendance record with his headlining concert in front of 200,000 people; and performed for the first time ever in Riyadh, Saudi Arabia in front of 25,000. He continued to take over throughout 2021 and 2022 with sold-outs in the United States, Europe, Latin American and the Middle East.
Since joining Sony Music Latin in 2015, Maluma has released seven albums Pretty Boy Dirty Boy (2015), F.A.M.E. (2018), 11:11(2019), Papi Juancho (2020), 7DJ (2021), The Love & Sex Tape and The Love & Sex Tape Deluxe (2022). Maluma is the youngest artist to simultaneously hold both the #1 and #2 spots on Billboard's Latin Airplay chart and only the sixth act to ever achieve the feat he has now repeated three times. To date Maluma has had twenty-two #1 singles on Billboard's Latin Airplay chart.
Maluma's altruistic spirit is outstanding for the community work he leads with his foundation "El Arte de Los Sueños" based in Medellín, Colombia. Founded in 2016, the Foundation's mission is to transform at-risk youth through art and music education. In 2021, Maluma acted in his first Disney animation movie, "Encanto," 2022 Oscar winner for Best Animation Feature. Earlier this year, Maluma debuted in Hollywood with his starring role as "Bastian" in the movie "Marry Me" alongside Jennifer Lopez and Owen Wilson.

---
El ídolo global de la música latina, Maluma, tras arrasar con múltiples sold-outs en Estados Unidos, Europa, Asía, Latinoamérica y el Medio Oriente, con su Papi Juancho Maluma World Tour 2022, anuncia la etapa estadounidense de su nueva gira Don Juan World Tour, con la que seguirá rompiendo récords de taquilla y elevando la experiencia de sus fanáticos al más alto nivel.
Maluma, se presenta esta vez como Don Juan, nombre que titula también su próximo álbum y con el que demuestra su evolución como artista, conservando su esencia de conquistador, pero sumando un toque de rudeza y un poco de calle a su inigualable estilo, que lo ha convertido en el ídolo global de la música latina con 22 hits #1 en el listado Latin Airplay de Billboard.
El intérprete de éxitos globales como: 'Hawai', 'Felices los Cuatro', 'Sobrio' y su más reciente lanzamiento 'Diablo, que Chimba' promete sorprender a los miles de fanáticos que se darán cita en más de 30 ciudades confirmadas en Estados Unidos.
"Me siento emocionado de regresar a los escenarios en Estados Unidos este otoño. Me he tomado un año para centrarme en perfeccionar lo que considero el mejor álbum de mi carrera, Don Juan. No puedo esperar presentarle a mis fans por primera vez las nuevas canciones del álbum junto a mis grandes éxitos en lo que considero será la producción de conciertos más ambiciosa hasta la fecha. He esperado para ofrecer a mis fans una experiencia musical y de concierto como ninguna otra y espero que la gira Don Juan en Estados Unidos sea una experiencia alucinante, que nunca olvidarán", expresó Maluma.

At Home Loge Seating Package w/Food & Beverage

Parking Information / Purchase Discount Advance Parking

Clear Bag Policy / Cashless Venue / Security Information / Prohibited Items

Health & Safety