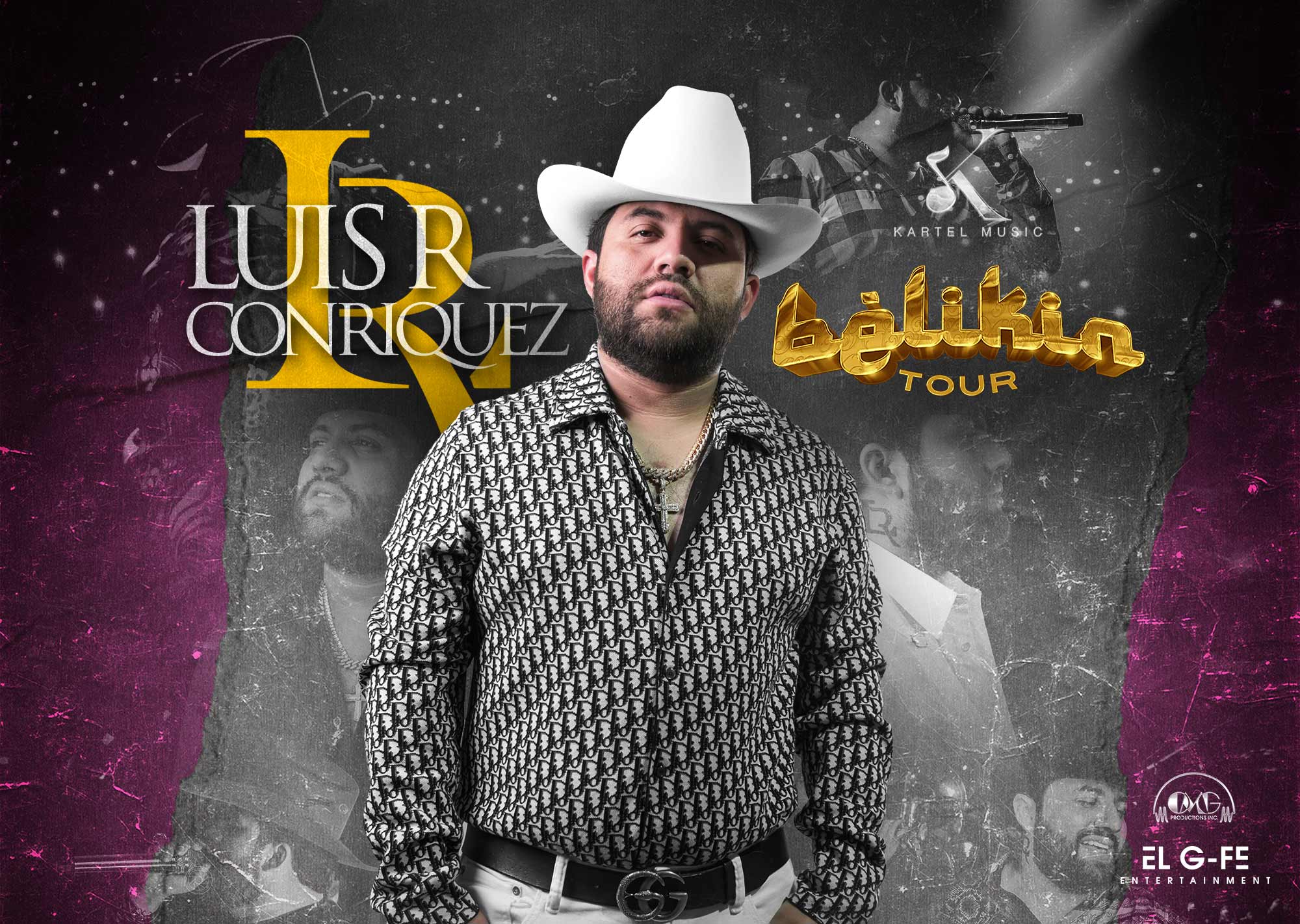 Luis R. Conriquez
Belikin Tour 2023
CANCELLED
About The Event
Luis R. Conriquez scheduled for August 27, 2023 at H-E-B Center at Cedar Park, has been cancelled due to scheduling conflicts. Tickets purchased online through Ticketmaster will be automatically refunded. All other refunds are available at point of purchase. For further ticketing related questions, please contact the H-E-B Center box office at 512-600-5001.
---


Kartel Music presents chart-topping corridos singer-songwriter Luis R. Conriquez in the belikin tour this summer, which includes a stop in the Austin area August 27th at H-E-B Center at Cedar Park.

Conriquez, from Sonora, Mexico, is among the new crop of regional Mexican artists that gained momentum during the pandemic. A year pior, he decided to officially start singing inspired by the artists that he grew up listening such as Gerardo Ortiz and Larry Hernández. He's now collaborated with both, including his latest single "Coquio Castro (En Vivo) with Gerardo Ortiz. Since then he has ammased 3.1 Million followers and 29.8 Million likes on Tik Tok and 17 Million monthly followers on Spotify.

Conriquez earned a spot on Billboard's 2021 year-end Top Latin Artists chart, coming in at No. 40, thanks to his highest-charting track yet "El Buho," which scored him his first top 10 on the Regional Mexican Airplay chart. He recorded more than 100 songs between 2018 and 2021, spread over ten albums and a dozen singles. Signed to Kartel Music, he issued his debut album, 2018's Mis Incios, which included "Mi Apodo El 50" backed by banda guests Los Minis de Caborca, as well as "Mi Clave El Sobrino" and "Los Bullz de Angelina." He followed it with the live collection Corridos.

In 2019, he issued three albums: Poco Peros Locos, Aqui Seguimos de Pie, and the breakthrough Corridos, Vol. 2. Recorded in the studio, the latter included 20 original songs that careened across the tradition while showcasing his canny ability to compose in a modern idiom for unique instrumentation such as dueling lead guitars and fretless bass.

In 2020, Conriquez introduced modern production stylings on No Paramos de Chambear, with slick horn charts on songs such as "Andamos Tumbadones" and unusual guitar tunings on the bluesy "El 26." He followed it with a 35-song retrospective of studio and live tracks called Corridos 2019. He also issued the smash streaming hit album Corridos Belicos, which boasted his biggest single, "El Buho." In addition to charting in the upper rungs of streaming charts, the single's video registered more than 50 million views. In 2021, Conriquez issued a banda version of Corridos Belicos, and followed it with the 18-track Corridos Belicos, Vol. 2 in September and Desde La Oficina (En Vivo). 2022 followed with another version of Corridos Belicos and a duet album Corridones Belicones Duetos.