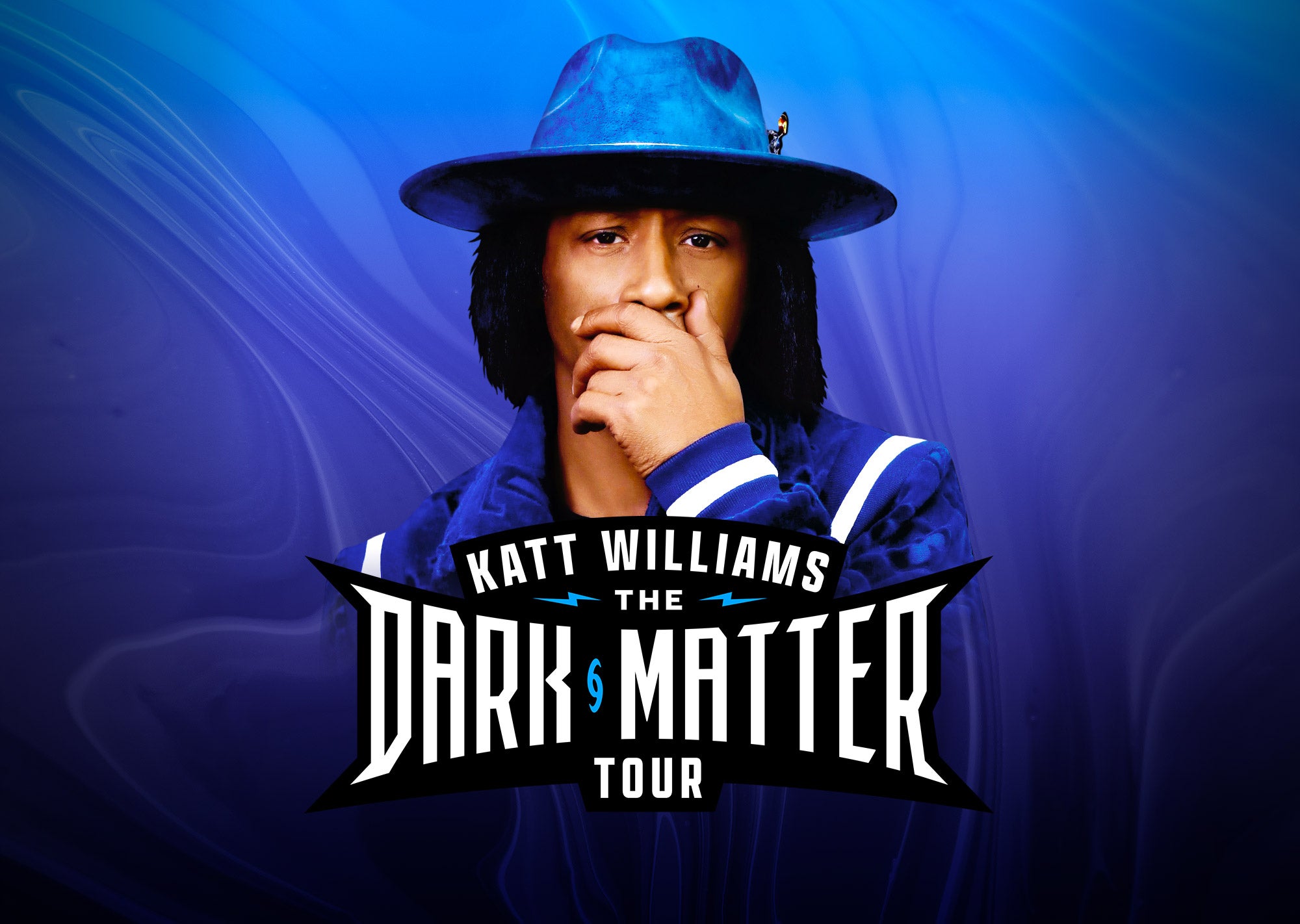 Katt Williams
The Dark Matter Tour
About The Event
Comedy legend and Emmy Award-winning actor Katt Williams announces THE DARK MATTER TOUR is coming to the Austin area. The highly anticipated tour will make a stop at H-E-B Center at Cedar Park on Friday, Jan 12, 2024, promising a night of unparalleled comedy that breaks through boundaries and challenges the status quo.
With a career spanning over 20 years, Katt Williams has earned a worldwide reputation as one of today's top entertainers, having developed a career seeded with thousands of sold-out arenas, an expansive list of starring roles on the small screen and memorable performances in major box office hits. Since performing his first stand-up show as a teenager, Williams took the comedy world by storm. He quickly developed a unique style of stand-up that combines articulate and sharp dialogue rooted in conversations reflecting the American political landscape. By 1999, he had cultivated a loyal fan base and was performing on some of the most notable comedy stages across the nation.
In 2002, Williams made his onscreen debut as a guest star on "NYPD Blue" and subsequently landed his first feature film role as Money Mike in "Friday After Next." His extensive filmography includes notable roles in "Father Figures," "Norbit," "Scary Movie V," "Epic Movie," "Bastards," "The House Next Door: Meet the Blacks 2," "Cats & Dogs: The Revenge of Kitty Galore," "The Boondocks," "Wild 'n Out," and a guest role in the critically acclaimed series "Atlanta," which earned him a Primetime Emmy® Award for Outstanding Guest Actor in a Comedy Series. Celebrated for his brilliance and ingenuity on stage, Williams is also known for his critically acclaimed stand-up specials, including "The Pimp Chronicles," "It's Pimpin' Pimpin'," "Katt Williams: Pimpadelic," "American Hustle," "Priceless: Afterlife," "Kattpacalypse," "Katt Williams: Great America," and most recently, "Katt Williams: World War III," on Netflix.
At Home Loge Seating Package w/Food & Beverage

The all-new AT HOME LOGE SEAT PACKAGE includes:

Reserved seat in the East Loge - 2nd level/suite level in the 200 sections (There are only 3 rows of seating here)

Rows S & T (rows 1 & 2) - wider, more comfortable leather seating
Row U - barstool seating with small ledge in front for food & beverage

One (1) parking pass is included for every two (2) tickets purchased.
VIP Wristband valid for:

1 trip through the Chef's Table located in the East Loge (Currently Boxed as part of COVID protocols). Menu will vary based on event. Sample menus include (subject to change):

Chicken Parmesan or Italian Meatballs
Herb Roasted Chicken or Sliced Steak
Chicken or Beef Fajitas

2 beer/wine drinks (no mixed drinks) at either The Breakaway Bar or Love Street Lounge in the East Loge
Unlimited non-alcoholic beverages in the East Loge

$125 per ticket (no additional fees)
*6 ticket limit per purchase.

ALREADY PURCHASED?

Once you have placed your order, proceed up to the 2nd level to collect your wristband(s) for food & beverage at the "At Home Loge Check-In" table located near section 201.

Parking Information / Purchase Discount Advance Parking

Parking

H-E-B Center at Cedar Park features more than 2,600 parking spaces on its property, including parking for patrons with disabilities located in Lots B, F, G. Prices for parking vary by event and parking is CREDIT CARD ONLY. Parking is available for a discount rate when purchased in advance, which can be found below and at Ticketmaster.com for most events.

Day-Of-Event / On-Site Parking Rates:
$22 - General Lot*
$40 - Premium Lot B adjacent to East main entrance (limited availability)*
$45 - Premium Circle Lot located in front of the East main entrance (limited availability)*
*Discount applies when purchased in advance.

VETERAN PARKING: H-E-B Center offers complimentary parking to disabled veterans and Purple Heart recipients with valid vehicle plates. Please notify the parking attendant upon arrival at the facility.

Discount Parking Passes Available when Purchased in Advance:

Clear Bag Policy / Cashless Venue / Security Information / Prohibited Items

It is H-E-B Center policy that every person entering the building must go through a security screening process. Please arrive early to allow for this process.

H-E-B Center enforces a NO re-entry policy. Once you exit the building, you will not be allowed back into the building.

CASHLESS VENUE
All major credit/debit card and Apple Pay are accepted in the venue. Please note, Apple Pay is currently not accepted at the box office or in the parking lots.

BAG POLICY
Click to enlarge image.

All bags entering H-E-B Center will be searched.
Clear bags cannot be any larger than 16" x 8" x 16"

Clear bags cannot have any colored tinting or obstructive patterns.

Non-clear bags cannot be any larger than 4.5" x 6.5."

Exceptions may be made for diaper bags (with child present) or bags required for medical purposes.

Prohibited Items

Clear bags cannot be any larger than 16" x 8" x 16".
Non-clear bags cannot be any larger than 4.5" x 6.5."

Exceptions may be made for diaper bags (with child present) or bags required for medical purpose

Drones
Weapons of any kind (guns, knives, Tasers, mace, or glass)
Umbrellas larger than 12" or tents that can block the view of other guests
Air horns or noise makers
Confetti or streamers
Signs or banners larger than 22" x 28" in size
Video recording devices (i.e. GoPro), long lens professional cameras, tri-pods, (approved and credentialed media excluded)
Explosives or explosive devices, including, but not limited to fireworks, poppers and cap guns.