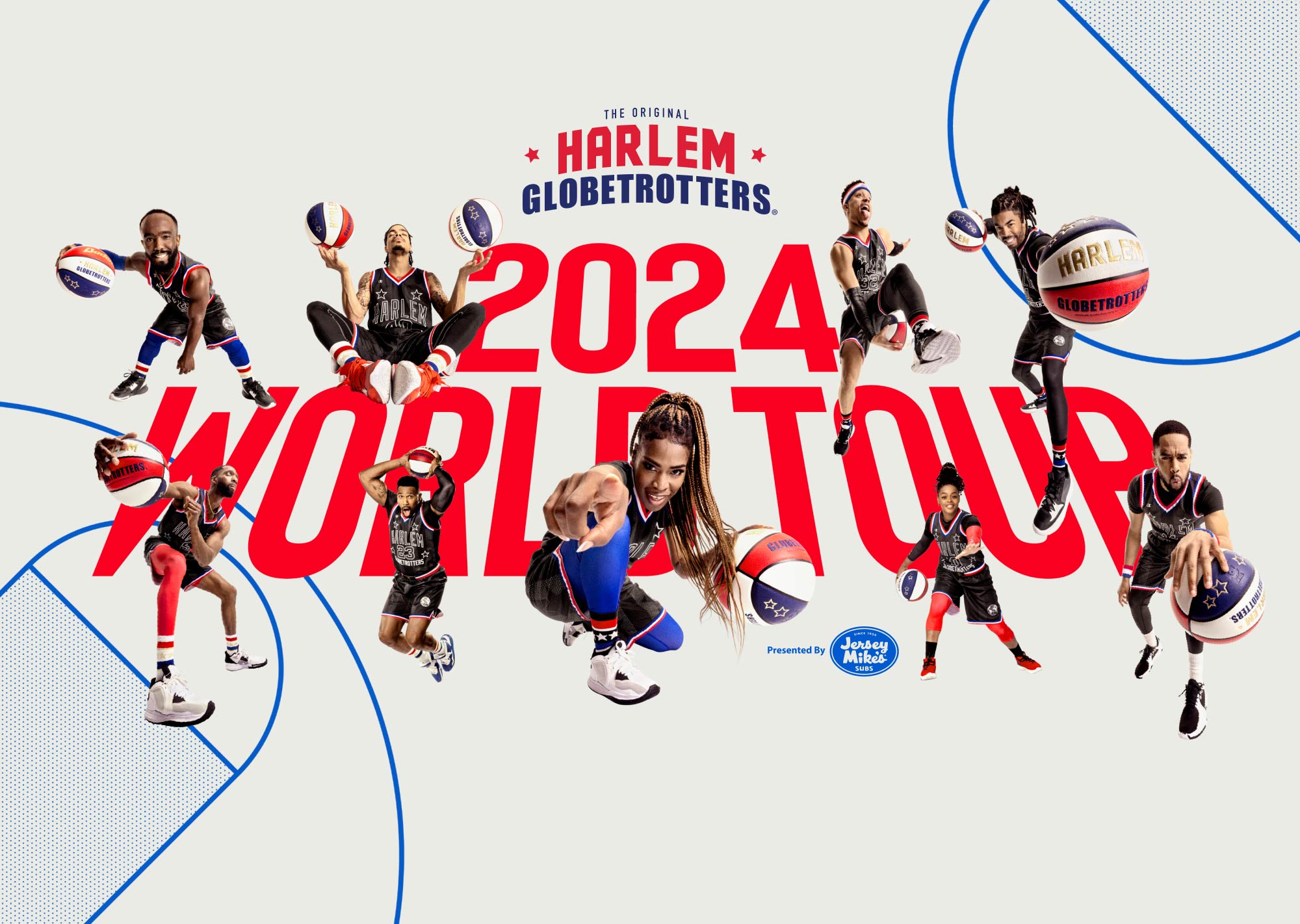 Harlem Globetrotters 2024 World Tour
presented by Jersey Mike's Subs
About The Event
Get ready for a slam-dunk extravaganza as the world-famous Harlem Globetrotters make their triumphant return to H-E-B Center at Cedar Park! Witness the record-breaking stars of basketball LIVE as they bring an unforgettable blend of DRIBBLING, SPINNING, and DUNKING to the court, taking on their fierce rivals, the Washington Generals, on February 4, 2024 at 3pm.

But that's not all - this year, the Globetrotters are thrilled to announce their exciting new official ball partner, Spalding®. Starting this December, Spalding® will be joining the team at every arena destination, enhancing the game experience like never before. Fans will have the opportunity to take home an official Spalding® Harlem Globetrotters basketball or get their hands on the newly designed Harlem Globetrotters Marble Series™ ball on game day.

Unrivaled fan engagement continues with pre-game offerings like our Magic Pass, unforgettable post-game access and more in-game fan interactions than ever before.

See Hammer, TNT, Bulldog, Cheese, Torch, Hot Shot, Jet, Wham and Thunder – just to name a few – as they run circles around the Washington Generals on the court and bring the hype to the crowd.

YOU might even find yourself mid-court as part of the ALL-NEW, FAN-FILLED Halftime Skills Showcase!

The World-Famous Harlem Globetrotters – The World-Famous Harlem Globetrotters – THE originators of basketball style, captured by dynamic athletes with unmatched skills and influencers of today's game. The team has showcased their iconic brand of basketball in over 124 countries and territories across six continents since 1926. Winners of 2 Cynopsis Sports Media Awards and Emmy® nominated for their hit NBC weekly series, "Harlem Globetrotters: Play it Forward," they continue to break barriers and stand as leaders across diversity, equity, and inclusion. Proud inductees into the Naismith Memorial Basketball Hall of Fame, their mission continues to advance the game of basketball and deliver exciting and interactive entertainment to the world. If you have ever seen a jump shot, slam dunk or a half-court hook shot, you have witnessed the creative moves made famous by the Globetrotters. The Harlem Globetrotters International, Inc. is a subsidiary of Herschend Enterprises, the largest family-owned themed entertainment company in the U.S.

For the full schedules and more information about the Harlem Globetrotters, visit the Globetrotters' official website: www.harlemglobetrotters.com and follow them on Twitter, Instagram, Facebook, and YouTube.

*Rosters will vary in each city and are subject to change.
About Jersey Mike's Subs
Jersey Mike's Subs, with more than 2,000 locations nationwide, serves authentic fresh sliced/fresh grilled subs on in-store freshly baked bread – the same recipe it started with in 1956. Passion for giving in Jersey Mike's local community is reflected in its mission statement "Giving…making a difference in someone's life." For more information, please visit jerseymikes.com or follow us on Facebook (facebook.com/jerseymikes), Instagram (instagram.com/jerseymikes), and Twitter (twitter.com/jerseymikes.com).
About Spalding®
SPALDING® is the largest basketball equipment brand in the world. Since its founding in 1876, the iconic American brand has remained one of the most recognized driving basketball culture today. SPALDING® is a sporting goods leader with high school, collegiate, and professional partnerships. The SPALDING® trademark is owned by Russell Brands, LLC. For more information, visit www.spalding.com.
Group Information

Save up to 25% off on groups of 10+!

How to order:

Order online at Ticketmaster.com

select 10 or more tickets & use "Unlock" code GRPVEN

Call 512-600-5013

For questions contact groups@hebcenter.com.

Order deadline: 2/1/24 at 10pm

Magic Pass - Pre-Game Experience with the Globetrotters

The Magic Pass event takes place from 1:30pm - 2pm. Calling all hoop lovers! This is your chance to show that you've got GAME. Bring the fam and join the Harlem Globetrotters and Washington Generals on the court before the game to show your skills, shoot some hoops, and get player autographs and photos! The one-of-a-kind 30-minute pre-game, MAGIC PASS begins 90 minutes before tip-off and will create memories you'll never forget. Because this event takes place prior to doors opening, EVERYONE entering the venue early must have a game ticket AND Magic Pass for entry. This includes all children as well as the parent(s)/guardian(s) wishing to accompany them into the building. If you plan on attending Magic Pass, please make sure you have BOTH tickets. NO EXCEPTIONS. Soft/rubber soled shoes must be worn on court. Late arrivals will not be refunded.

Magic Pass - Adults & Children 2 and up: $25 (with the purchase of a game ticket)
Magic Pass - Group & Scouts: $20 (with the purchase of a game ticket)

Parking Information / Purchase Discount Advance Parking

Parking

H-E-B Center at Cedar Park features more than 2,600 parking spaces on its property, including parking for patrons with disabilities located in Lots B, F, G. Prices for parking vary by event and parking is CREDIT CARD ONLY. Parking is available for a discount rate when purchased in advance, which can be found below and at Ticketmaster.com for most events.

Day-Of-Event / On-Site Parking Rates:
$15 - General Lot*
$35 - Premium Lot B adjacent to East main entrance (limited availability)*
$40 - Premium Circle Lot located in front of the East main entrance (limited availability)*
*Discount applies when purchased in advance.

VETERAN PARKING: H-E-B Center offers complimentary parking to disabled veterans and Purple Heart recipients with valid vehicle plates. Please notify the parking attendant upon arrival at the facility.

Discount Parking Passes Available when Purchased in Advance:

Clear Bag Policy / Security Info / Prohibited Items / Cashless Venue

It is H-E-B Center policy that every person entering the building must go through a security screening process. Please arrive early to allow for this process.

H-E-B Center enforces a NO re-entry policy. Once you exit the building, you will not be allowed back into the building.

CASHLESS VENUE


All major credit/debit card and Apple Pay are accepted in the venue. Please note, Apple Pay is currently not accepted at the box office or in the parking lots.


BAG POLICY

Click to enlarge image.

All bags entering H-E-B Center will be searched.
Clear bags cannot be any larger than 16" x 8" x 16"

Clear bags cannot have any colored tinting or obstructive patterns.

Non-clear bags cannot be any larger than 4.5" x 6.5."

Exceptions may be made for diaper bags (with child present) or bags required for medical purposes.


Prohibited Items


Clear bags cannot be any larger than 16" x 8" x 16".
Non-clear bags cannot be any larger than 4.5" x 6.5."

Exceptions may be made for diaper bags (with child present) or bags required for medical purpose

Drones
Weapons of any kind (guns, knives, Tasers, mace, or glass)
Umbrellas larger than 12" or tents that can block the view of other guests
Air horns or noise makers
Confetti or streamers
Signs or banners larger than 22" x 28" in size
Video recording devices (i.e. GoPro), long lens professional cameras, tri-pods, (approved and credentialed media excluded)
Explosives or explosive devices, including, but not limited to fireworks, poppers and cap guns.

Health & Safety

The current safety guidelines and protocols in place at H-E-B Center at Cedar Park include:

FACE COVERINGS RECOMMENDED - H-E-B Center encourages patrons to wear a mask when attending one of our events but masks are not mandatory for entry. Please note that this policy may be adjusted on a show-by-show basis as dictated by artist or tour policy. Thank you for your cooperation in helping our community stay safe during the COVID-19 pandemic.
WASH HANDS / HAND SANITIZING STATIONS - Hand sanitizing stations are located throughout the arena. Guests are encouraged to wash hands for 20 seconds or use a hand sanitizing station often.
CONSTANT CLEANING - All high touch areas throughout the venue are disinfected multiple times during events and the arena bowl is deep cleaned between events.
SOCIAL DISTANCING ENCOURAGED WHERE POSSIBLE
PARKING

Cash is no longer accepted; only credit card payment accepted or purchase mobile parking ticket in advance at ticketmaster.com.

BOX OFFICE

Contactless Payment - Cash is no longer accepted and signatures have been waived.
Mobile tickets - all tickets purchased at the box office will be delivered via SMS (text message).
No will call

SECURITY & ENTRY/EXIT POINTS

Expanded entry points for social distancing.
Guests required to use clear bags or avoid bringing bags if possible to reduce contact with personal items during security checks. BAG POLICY

CONCESSIONS

Cash is no longer accepted.
Standard health & safety practices currently in place.