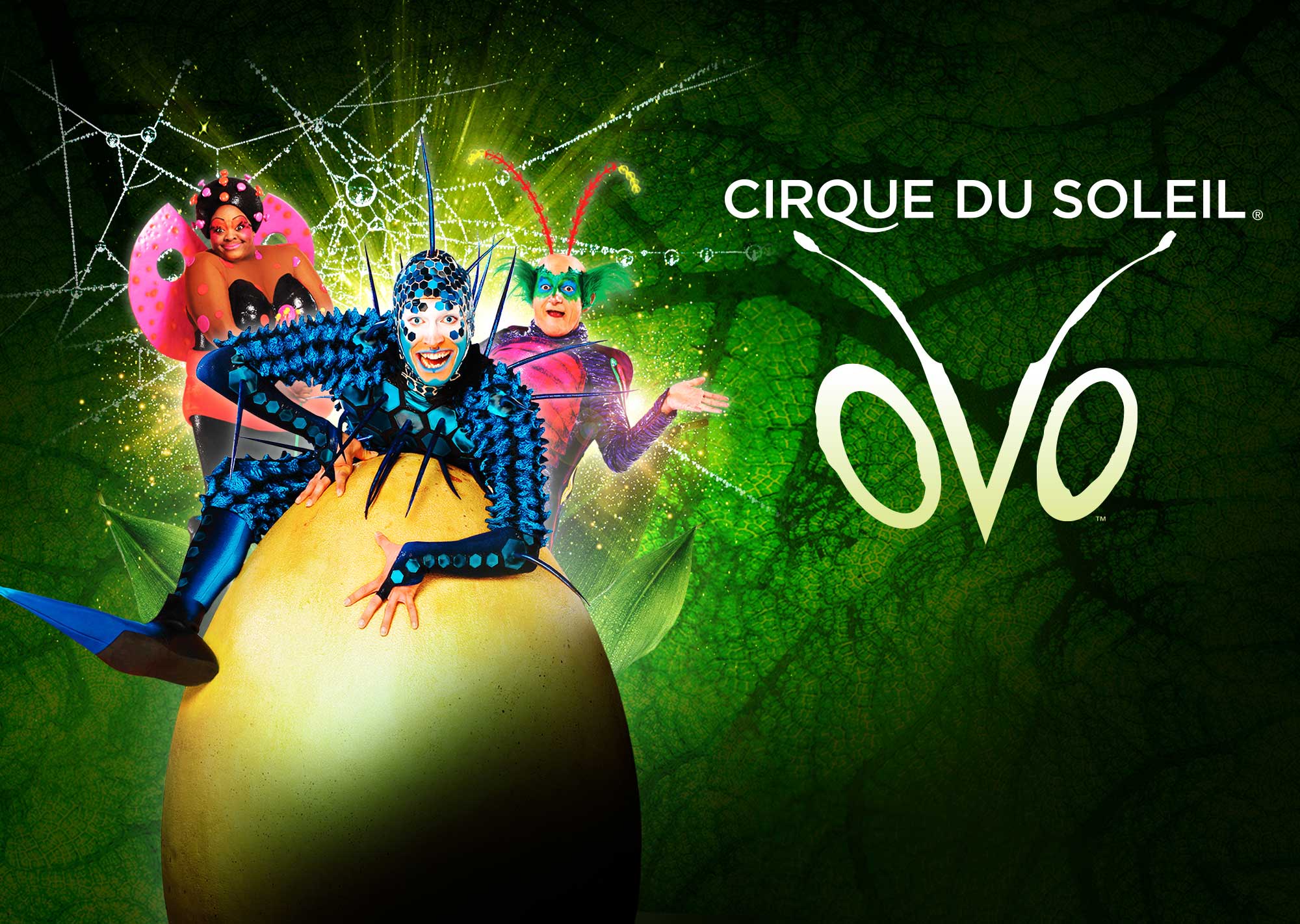 Cirque du Soleil Ovo
H-E-B Center RETURN TO LIVE!
Wednesday,

Feb

23

7:30PM

Thursday,

Feb

24

7:30PM

Friday,

Feb

25

7:30PM

Saturday,

Feb

26

11:30AM

Saturday,

Feb

26

3:30PM

Saturday,

Feb

26

7:30PM

Sunday,

Feb

27

1:00PM

Sunday,

Feb

27

5:00PM
About The Event
Cirque du Soleil is proud to announce its return to the Austin area in 2022 with its high-energy and high-acrobatic production OVO. For 8 performances from February 23-27, audiences are invited to H-E-B Center at Cedar Park to dive into the eccentric, colorful world of OVO – a dynamic, immersive ecosystem inhabited by an acrobatic colony of insects.
"Intermission is over," said Daniel Lamarre, President, and CEO of Cirque du Soleil Entertainment Group. "More than ever, we need the shared connection that live entertainment brings. Traveling to invoke the imagination, provoke the senses, and evoke the emotions of people around the world has always been the core mission of Cirque du Soleil; to be able to do it all over again with OVO sparks an indescribable feeling of pride in all our artists and employees."
Since June, Cirque du Soleil has been delighting audiences again in Las Vegas with the reopening of its resident productions Mystère, "O", The Beatles LOVE, and Michael Jackson ONE. The return of OVO will mark the relaunch of global arena touring operations for the company, following its Big Top productions Alegría in Houston (November 2021), LUZIA in London (January 2022), and KOOZA in Punta Cana (January 2022).
OVO
An exciting Cirque du Soleil experience, OVO is a colorful intrusion into a new day in the life of insects; a non-stop riot of energy and movement. Through show-stopping acrobatics highlighting the unique personalities and abilities of selected insect species, OVO explores the beauty of biodiversity in all its contrasts and vibrancy.
From mighty crickets bouncing off trampolines to a hypnotic spider contorting inside her web, OVO exudes extraordinary showmanship to tickle the imagination. Funny and chaotic, yet adorable and wonderful, OVO charms our inner child with its sweet exuberance.
Comprised of 52 performers from over 15 countries, the cast of OVO ("egg" in Portuguese) brings to the stage 10 high-level acrobatic acts redefining the limits of the human body. Since its opening in Montreal in 2009, OVO has thrilled more than 7 million people in 155 cities in 26 different countries.
CIRQUE DU SOLEIL
Originally composed of 20 street performers in 1984, Cirque du Soleil completely reinvented circus arts and went on to become a world leader in live entertainment. Established in Montreal, the Canadian organization has brought wonder and delight to more than 200 million spectators in more than 450 cities in over 60 countries on six continents. Cirque du Soleil is owned and operated by Cirque du Soleil Entertainment Group. For more information, visit cirquedusoleil.com.
#OVOCirque
*This event date is subject to CDC, State of Texas and local government guidelines for helping the community stay safe during the COVID-19 pandemic.
Group Information

Discounts available for groups of 10 or more!

To order choose one of the following options:

Call 512-600-5013
BUY ONLINE (must enter at least 10 tickets in the quantity box to see a discount)

Have a group of 50 or more? Email groups@hebcenter.com for special pricing

Parking Information / Purchase Discount Advance Parking

Parking

H-E-B Center at Cedar Park features more than 2,600 parking spaces on its property, including parking for patrons with disabilities located in Lots B, F, G. Prices for parking vary by event and parking is CREDIT CARD ONLY. Parking is available for a discount rate when purchased in advance, which can be found below and at Ticketmaster.com for most events.

Day-Of-Event / On-Site Parking Rates:
$22 - General Lot*
$40 - Premium Lot B adjacent to East main entrance (limited availability)*
$45 - Premium Circle Lot located in front of the East main entrance (limited availability)*
*Discount applies when purchased in advance.

VETERAN PARKING: H-E-B Center offers complimentary parking to disabled veterans and Purple Heart recipients with valid vehicle plates. Please notify the parking attendant upon arrival at the facility.

Discount Parking Passes Available when Purchased in Advance:

Camera Policy & Prohibited Items Notice

There is a strict no-camera policy during all Cirque du Soleil performances. (Working media can request press/photo credentials).

For the safety of the performers, strobe lights, lazers and similar items like shoes with lights are not permited in the venue. Please review the full list of PROHIBITED ITEMS

COVID-19 SAFETY PRECAUTIONS - MASKS RECOMMENDED

All events at H-E-B Center at Cedar Park will include activation of ASM Global's "Venue Shield"– an advanced environmental hygiene protocol that will also be deployed in more than 325 ASM facilities around the world. ASM Global, which manages H-E-B Center at Cedar Park, is the world's leading venue management and services company. Venue Shield reduces physical touch points, increases venue sanitization and cleanliness, and provides various health monitoring guidelines and services.

The safety guidelines and protocols in place at H-E-B Center at Cedar Park include:

FACE COVERINGS RECOMMENDED - (Updated October 16, 2021) H-E-B Center encourages patrons to wear a mask when attending one of our events but masks are not mandatory for entry. Please note that this policy may be adjusted on a show-by-show basis as dictated by artist or tour policy. Thank you for your cooperation in helping our community stay safe during the COVID-19 pandemic. Masks are required for all employees until further notice.
WASH HANDS / HAND SANITIZING STATIONS - Fifty (50) hand sanitizing stations have been added throughout the arena. Guests are encouraged to wash hands for 20 seconds or use a hand sanitizing station often.
CONSTANT CLEANING - All high touch areas throughout the venue are disinfected multiple times during events and the arena bowl is deep cleaned between events.
EMPLOYEE HEALTH SCREENINGS - All employees receive contactless temperature checks prior to entering the venue each day and testing as needed.
SOCIAL DISTANCING ENCOURAGED WHERE POSSIBLE

Floor markers installed at all line queues (main entrances, box office, concessions, restrooms, merchandise).
Limited capacity in elevators to one party or family at a time.
Limited capacity in restrooms at one time.

PARKING

All staff is required to wear masks.
Cash is no longer accepted; only credit card payment accepted or purchase mobile parking ticket in advance at ticketmaster.com.
Valet is suspended until further notice.

BOX OFFICE

Contactless Payment - Cash is no longer accepted and signatures have been waived.
Mobile tickets - all tickets purchased at the box office will be delivered via SMS (text message).
No will call

SECURITY & ENTRY/EXIT POINTS

Expanded entry points for social distancing.
Staggered entry times for guests.
Guests encouraged to use clear bags or avoid bringing bags if possible to reduce contact with personal items during security checks.

CONCESSIONS

All staff is required to wear face masks and gloves
Cash is no longer accepted.
All shared condiment & utensil stations have been removed and replaced with single use condiment packets and pre-packaged utensils kept behind the concession stand counters.
Lids will be used on all beverages including soft drinks and draft beers.
More pre-packaged foods will be offered.
Water fountains turned off until further notice.