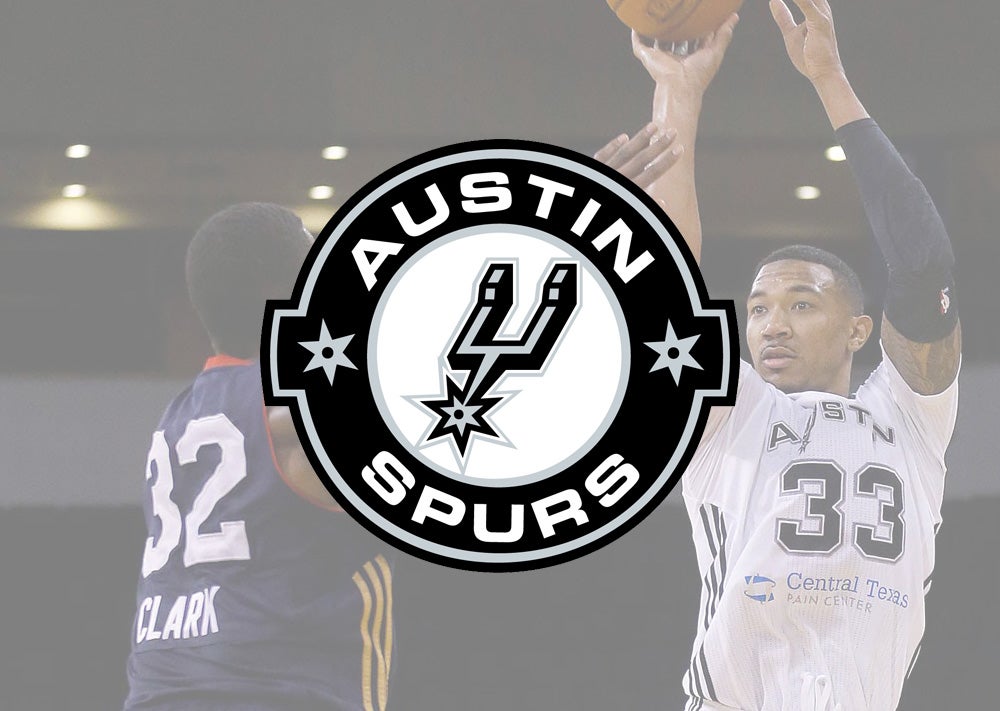 H-E-B Center at Cedar Park is the home of the NBA G League Austin Spurs, the league affiliate for the San Antonio Spurs. The former NBA Development League is now officially the NBA G League as part of a partnership with Gatorade.
The Austin Spurs, presented by SWBC will celebrate their 13th season starting in November. Blake Ahearn takes the lead as head coach beginning this 2017-18 season.
The Austin Spurs finished the 2016-2017 season 25-25 (.500) led by head coach Ken McDonald and assistant coaches AJ Diggs, Mitch Johnson and Joseph Kuhl. Over the season, the Spurs produced two NBA call-ups (Hollis Thompson, Patricio Garino) and a NBA G League All-Star (Cory Jefferson). Several San Antonio Spurs assignees contributed to Austin's success during the season, including Bryn Forbes, Davis Bertans, and San Antonio's 2016 first round draft pick Dejounte Murray. Forbes led Austin in points per game, averaging 23.3 points in 35.4 minutes in 19 games played. He ranked seventh in the league for 3-point field goal percentage (45.9). Murray led the team in assists, averaging 6.2 a game, as well as steals, averaging 2.0 a game.
Twenty eight Austin Spurs players have earned Gatorade Call-Ups to the NBA and three head coaches have been promoted to NBA coaching positions (Quin Snyder, Brad Jones, Taylor Jenkins). The Austin Spurs have advanced to postseason play in nine of 12 seasons in Austin, winning four division championships and the 2012 NBA D-League Championship title.
Season ticket packages are available now by calling (512) 236-8333 or visiting www.austinspurs.com.
About the NBA G League
The NBA's official minor league, the NBA G League prepares players, coaches, officials, trainers and front-office staff for the NBA while acting as the league's research and development laboratory. Featuring 26 teams with direct affiliations with NBA franchises for the 2017-18 season, the league offers elite professional basketball at an affordable price in a fun, family-friendly atmosphere. An all-time-high 44 percent of all NBA players at the end of the 2016-17 season boasted NBA G League experience. In fostering the league's connection to the community, its teams, players and staff promote health and wellness, support local needs and interests, and assist in educational development through NBA Cares programs. NBA G League games are available on Facebook as well as ESPN's family of networks and NBA TV.