Toby Keith Headlines H-E-B Center at Cedar Park 10th Anniversary Concert
---
July
15
, 2019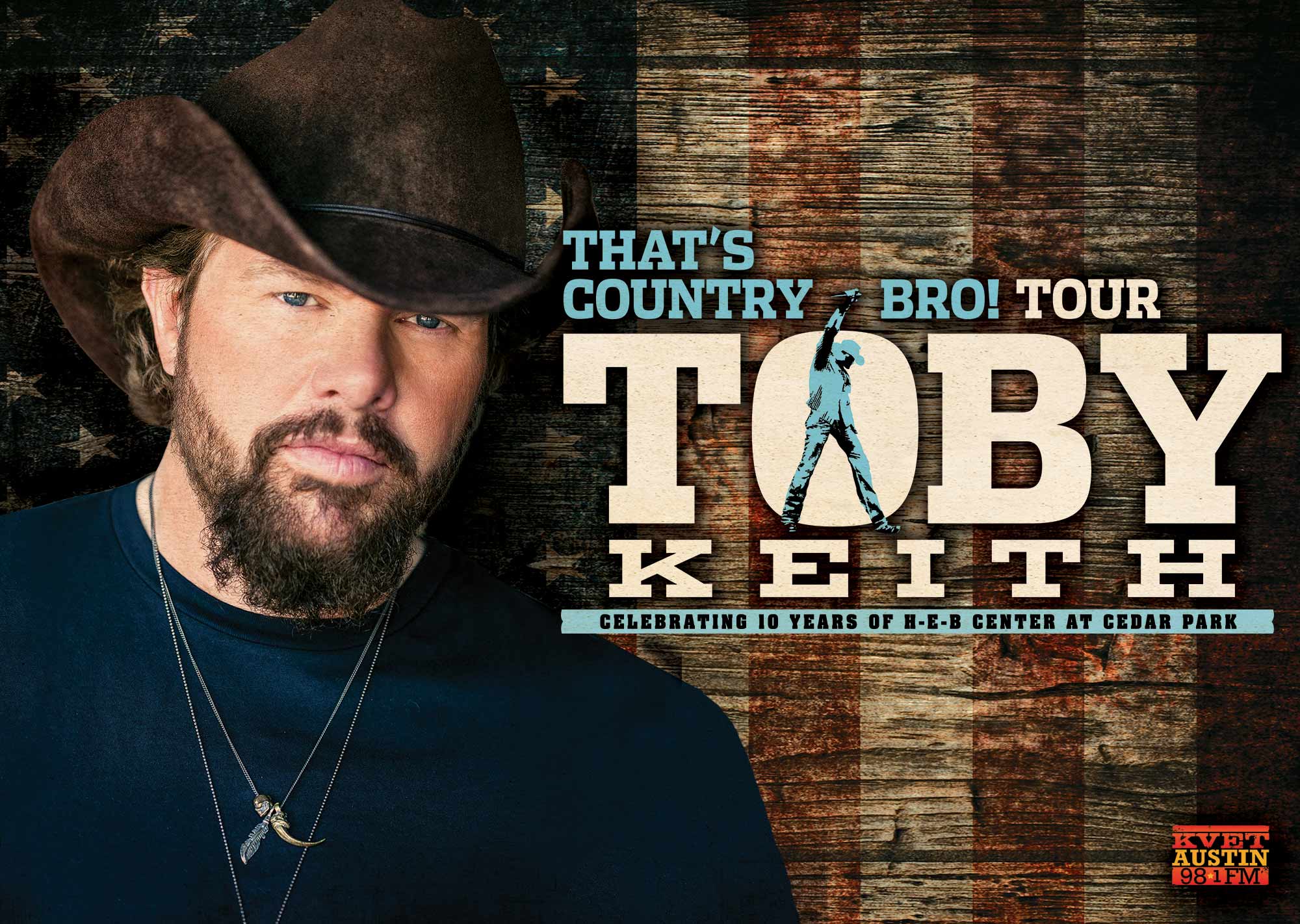 Cedar Park, Texas (July 15, 2019) – Country music hitmaker and entertainer Toby Keith added a date to his That's Country Bro! Tour with a performance at H-E-B Center at Cedar Park on Friday, September 6, 2019, to celebrate 10 years of H-E-B Center at Cedar Park, presented by 98.1 KVET. Special guest includes country music duo Waterloo Revival.
Tickets go on sale Friday, July 19th at 10 a.m. CDT at Ticketmaster.com and the H-E-B Center box office.
The single from which the tour gets its name was written by Keith and longtime collaborator Bobby Pinson, "That's Country Bro" is a quick sprint down a country icon heritage trail carved out and delivered with the kind of wit and polish that led to Keith being a 2015 Songwriters Hall of Fame inductee. Toby also co-produced the track with Pinson and Reid Shippen; Arturo Buenahora is executive producer.
The single is Keith's first new music since his acclaimed "Don't Let The Old Man In," featured in last year's Clint Eastwood film "The Mule." The tour follows last year's Toby Keith Should've Been A Cowboy Tour XXV, which was at the center of a multi-faceted celebration of the 25-year anniversary of his debut No. 1 smash "Should've Been A Cowboy." The celebration also included a re-release of his debut album (remastered with the addition of three vault tracks), a week of events in Nashville including a BMI event to commemorate the milestone, two shows at the historic Grand Ole Opry, and a performance at the Nashville Symphony Ball where he received the prestigious Harmony Award.
The Nashville Songwriters Association International named Keith Songwriter/Artist of the Decade and he is a three-time BMI Country Songwriter/Artist of the Year. His songs have received more than 92 million BMI performances on commercial radio stations worldwide, making him the organization's top country songwriter in terrestrial country radio. Keith's albums have sold more than 40 million copies. His tours have drawn more than a million fans each year for more than a decade straight, with recent expansion into Europe and Australia. The awards are too numerous to count and include Artist of the Decade nods from Billboard and the American Country Awards, as well as the ACM's Career Achievement honor, Poet's Award recipient, and twice their Entertainer of the Year award winner in back-to-back years. A musician's musician, he was a last minute illness stand-in for the late Merle Haggard a few years back and responded to Merle's query about which of the legend's songs Keith knew and could cover with, "All of 'em." And there have been some unexpected highlights along the way as well, including country's most impactful viral event, "Red Solo Cup," the video for which has received more than 50 million views and was named ACM Video of the Year.
Outside of music, his successes carry through to business endeavors including Wild Shot, his premium mezcal liquor products, and I Love This Bar and Grill restaurants including the original location which has been operating for more than a decade on the famed Las Vegas Strip.
Toby's most rewarding experiences, however, have come from giving back locally, nationally and abroad. His golf classics fund The Toby Keith Foundation 2 and OK Kids Korral, a cost-free home for families of children dealing with critical illnesses. His 11 USO Tours to date have enhanced the lives of nearly 256,000 troops and military families in 18 countries with more than 285 events, and have been recognized with the Spirit of the USO Award (2014). Many songs Keith has written while on the USO Tours for the military are featured on his 2017 album The Bus Songs, a 12-song collection of humorous, just-for-fun compositions that set a Billboard Comedy Albums chart record for a country artist by holding the No. 1 spot for 11 consecutive weeks. And when a tornado ravaged his hometown, Toby Keith was the face of the community and helped shoulder the cleanup with the 2013 OK Twister Relief Concert.
For more information about the Cedar Park performance, please visit hebcenter.com.
About H-E-B Center at Cedar Park
H-E-B Center at Cedar Park is a multi-use, city-owned, SMG managed entertainment facility that holds 6,863 seats for hockey, 7,200 for basketball and up to 8,700 for concerts and other events. The state-of-the-art arena has 24 suites (including four party suites) and 545 club seats with a private club lounge. The Center opened in September 2009 with George Strait and has gone on to host numerous events including Carrie Underwood, The Killers, Eric Church, Def Leppard, Ellie Goulding, Motley Crue, Tool, Disney on Ice, Cirque du Soleil, Ben Hur Shrine Circus, and many more.
H-E-B Center is located at the intersection of New Hope Drive and Toll Road 183-A in Cedar Park, Texas and is home of the AHL's Texas Stars since the 2019-10 season, affiliate of the Dallas Stars. H-E-B Center has hosted the AHL Calder Cup Finals in 2010, 2014 and 2018, with the Stars winning the Calder Cup in 2014. The venue is also home to 2017-18 NBA G League Champion Austin Spurs, affiliate team of the NBA's San Antonio Spurs. H-E-B Center hosted the 2012 NBA D-League Finals as well, with the Spurs capturing the 2012 D-League Championship. For more information, please visit www.HEBCenter.com or follow @HEBCenter on Facebook, Twitter, Instagram and Tumblr.
- www.HEBCenter.com -