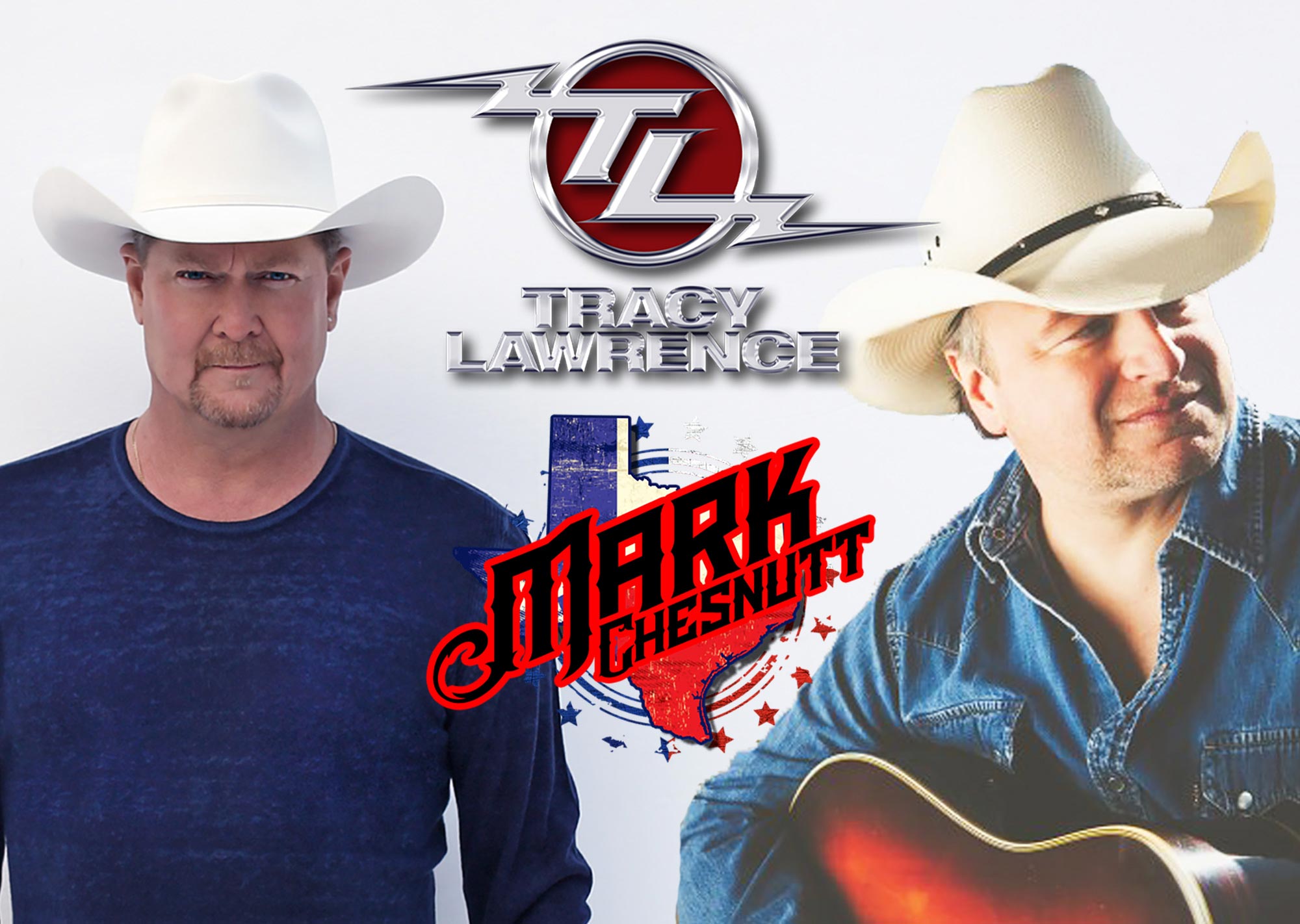 Tracy Lawrence & Mark Chesnutt
with special guest Kyle Park

RESCHEDULED FROM NOV 13, 2020
About The Event
EVENT RESCHEDULED TO 10/29/21 – NOTICE TO FANS
To ensure the health and safety of our fans, crew, and venue staff members, Tracy Lawrence & Mark Chesnutt with special guest Kyle Park scheduled at H-E-B Center at Cedar Park on November 13, 2020 has been rescheduled to Friday, October 29, 2021. Please hold onto your original ticket, which will be honored on the new show date. Thank you for understanding. For additional questions, please contact the H-E-B Center box office at 512-600-5001.
* (Updated July 28, 2021) This is a full capacity event. Until further notice, MASKS ARE REQUIRED at all times, except when ACTIVELY eating or drinking at the guest's designated seating location. Small children who cannot keep a face mask in place are exempt.

*This event date is subject to CDC, State of Texas and local government guidelines for helping the community stay safe during the COVID-19 pandemic.
---

Tracy Lawrence and Mark Chesnutt perform all their hits live for one night only, Friday, October 29, 2021 at H-E-B Center at Cedar Park, with special guest Kyle Park.

About Tracy Lawrence:
One of country music's truest traditionalists, Tracy Lawrence has sold more than THIRTEEN MILLION albums and has charted EIGHTEEN No. 1 songs. He has garnered numerous CMA and ACM awards and nominations, as well as a Grammy nomination. Most recently, Lawrence released his latest album, MADE IN AMERICA. The album is a milestone for Lawrence – penning eight of the 12 songs featured on the album. Lawrence's last studio album, 2017's critically acclaimed, GOOD OLE DAYS, hit the #1 position on the iTunes Country Chart. In addition to his chart-topping success, Lawrence hosts the Award-Nominated nationally syndicated radio show "Honky Tonkin' With Tracy Lawrence," for which he has received two ACM nominations for National On-Air Personality of the Year. The show features music from the 80's, 90's and 2000's and is heard on more than 115 affiliates. Tracy is also the co-creator of STORMING HEAVEN: THE MUSICAL, a production based on the novel Storming Heaven. Tracy, along with others, helped to develop the storyline of the musical and also composed songs for the drama. He was honored by the Nashville chapter of AFP (Association of Fundraising Professionals) with "Philanthropist of The Year" for his nationally recognized annual MISSION:POSSIBLE Turkey Fry and Concert, which has raised over Half a Million Dollars for the homeless and hungry in Dallas, Louisville and Nashville, and served more than 84,000 meals. MISSION:POSSIBLE is poised to make an even larger impact in the future, as the 501 ( C ) (3) organization expands into more markets across the country.
About Mark Chesnutt:
Neotraditional country honky tonker Mark Chesnutt parlayed a solid grounding in classic country into chart-topping stardom during the '90s. Growing up influenced by his father, Chesnutt's debut album, Too Cold at Home, was released in 1990, and the title track became his first hit, climbing into the country top five. With a style that blended George Jones, Merle Haggard and Bob Wills, Chesnutt went on to score four more top ten hits from the album: the number one "Brother Jukebox," "Blame it on Texas," "Your Love is a Miracle," and "Broken Promise Land." By the time that string ran out, Chesnutt had finished his follow-up, 1992's Longnecks & Short Stories. It gave him four more top five singles in "Bubba Shot the Jukebox" (one of Chesnutt's signature songs), "Old Flames Have New Names," the chart-topping "I'll Think of Something," and "Ol' Country." Chesnutt kept his hit-machine status going on 1993's Almost Goodbye, which gave him three more chart-toppers in the title track, "It Sure is Monday," and "I Just Wanted You to Know." 1994's What a Way to Live offered the number one "Gonna Get a Life" and the number two "Goin' Through the Big D."
For 1995's Wings, the album wasn't the hit factory of its predecessors, many critics dubbed it one of Chesnutt's most eclectic and consistent sets. Seeking to restore his commercial momentum, MCA issued greatest hits in 1996, and the new song "It's a Little Too Late" went all the way to number one. 1997's Thank God for believers found Chesnutt back on MCA Nashville and produced a number two hit in the title cut. For 1999's I Don't Want to Miss a Thing, Chesnutt flirted with crossover material, namely the titular Diane Warren ballad that became a big hit for Aerosmith. Praised by many critics for its relative subtlety, Chesnutt's version topped the country charts for a month, and even reached the pop top 20. Rollin' With the Flow appeared in 2008, followed by 2010's Outlaws, which featured covers of outlaw country classics. Mark took time off in the studio, but still hit the road hard for the next eight years before his next studio release "Tradition Lives". Four years later mark is back with a new single "I Found Another You (& She Hates Me Too)" & new ep "Numbers on the Jukebox" set for release August 14th!
COVID-19 SAFETY PRECAUTIONS - MASKS REQUIRED

At Home Loge Seating Package w/Food & Beverage

Parking Information

Classic Country Combo