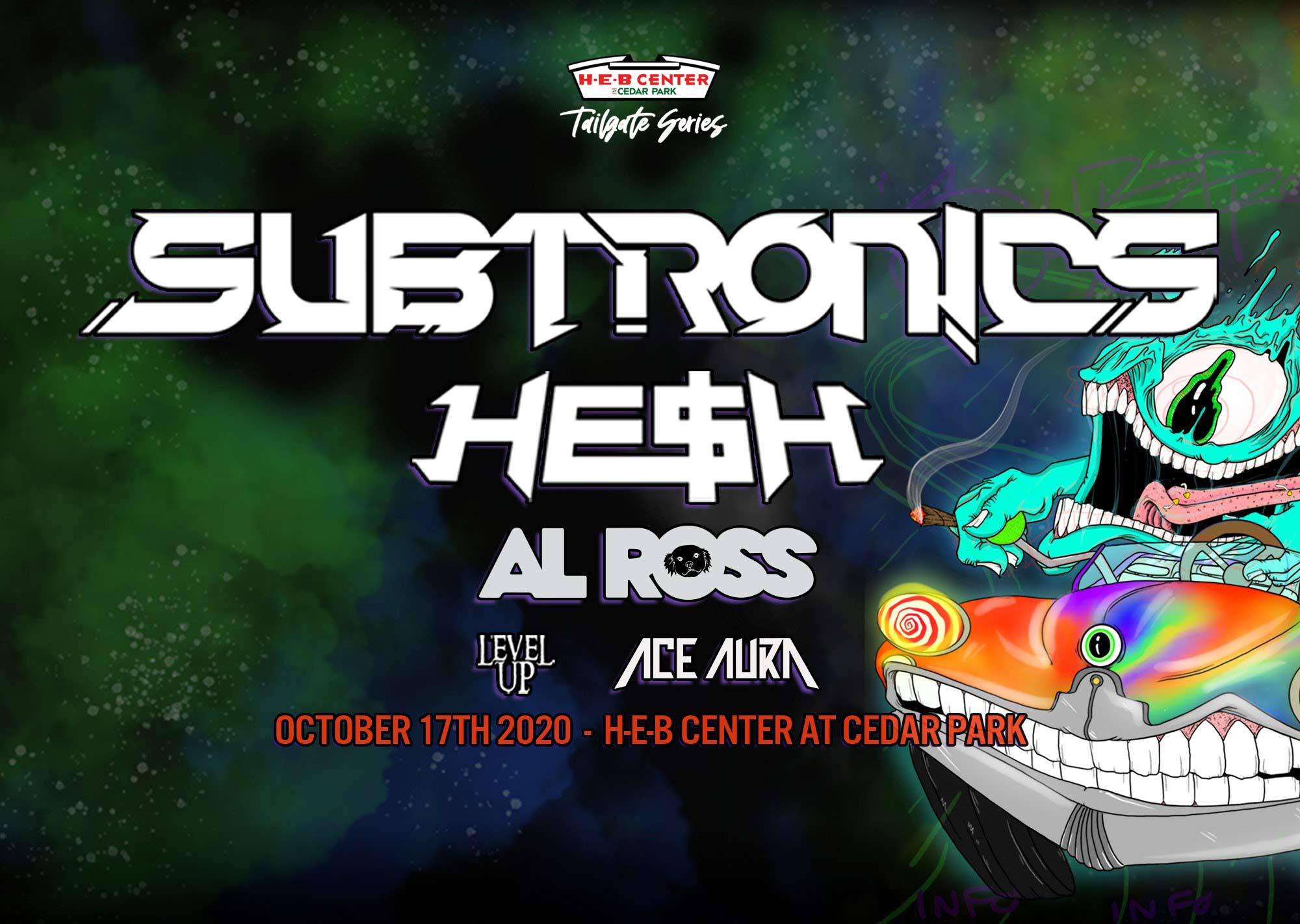 Tailgate Series: Subtronics
with special guests HE$H, Al Ross, Level Up, Ace Aura

LOCATED IN NORTH PARKING LOTS
About The Event
**This event date is subject to State of Texas and local government guidelines for helping the community stay safe during the COVID-19 pandemic. Masks are required when outside of your designated tailgate space.

Load up your truck! Bring your coolers and grills! There's space for your car and your social distanced tailgate party! The H-E-B Center Tailgate Series continues when Subtronics takes the stage live for a night of drive-in style entertainment Saturday, October 17th with special guests HE$H, AL ROSS, Level Up and Ace Aura in the North parking lots of H-E-B Center at Cedar Park.

Car passes start at $62 and includes 1 passenger ticket. All additional passenger tickets start at $33 (limit 6 passengers per vehicle). Prices subject to increase based on demand.

Pre-ordered food and beverage Cooler Packages are available for $40 to have delivered to your car upon entry. H-E-B Center Tailgate Cooler Packages come in a commemorative cooler bag and can be added to your ticket order upon checkout at Ticketmaster.com.

About Subtronics
A love for SUB woofers and elec TRONICS is what brought us Subtronics . Growing up in Philadelphia, PA, Jesse Kardon aka Subtronics had a passion for his drum set and Radiohead. While in high school, he discovered the first wave of dubstep with Skream, Caspa, and Rusko. This in turn led to the likes of Excision, Skrillex, 12th Planet and more. Having never heard the style of music before, Jesse was inspired to jump into the world of production. Learning the basics via tutorial videos, he quickly began designing and defining what would become his signature sound. Fusing his unique blend of cutting-edge sound design with hard-hitting dubstep & riddim, along with a dose of "spaced out wook trap vibe", Subtronics seeks to push the envelope and pin the needles in modern production. On the live front, he has built a rabid following with his high energy sets showcasing his technical skills, full of chopping and double drops. Now both a national and international touring artist, Subtronics has traveled everywhere from Australia to Shanghai to share his sound. Subtronics has released with Never Say Die, SubCarbon, Deadbeats, and Kannibalen, in addition to his own label, Cyclops Recordings. Founded in June 2019, Cyclops Recordings is home to three EPs as well as his collab with Rusko, 'Bounce.' In addition to his own deep catalogue, he's consistently churned out bangers with a number of artists, including Boogie T, Space Jesus, Ganja White Night, GRiZ, and KAYZO, just to name a few. He has graced notable festival stages such as Electric Forest, Bass Canyon, Electric Zoo, Lost Lands, Camp Bisco, along with many more. Subtronics' headline Cyclops Invasion Tour in early 2020 was a massive success, selling out large capacity venues such as Aragon Theatre, Hollywood Palladium, Echostage, MTelus, and The Tabernacle. In March of 2020 Subtronics jumped into the live-streaming waters, launching CyclopsArmyTV on Twitch. In its first week, CyclopsArmyTV amassed 25,000 followers with content focusing on live DJ sets, production lessons, demo listening sessions, gaming, and appearances from special guests. When not producing "angry robot noises," you can find Subtronics spinning poi and playing kendama, taking dabs, and leading his devoted ever-growing band of followers in the 'Cyclops Army.' Stay tuned for Subtronics coming to wreak havoc in a city near you - 2020 is the Year of the Cyclops!

Socials
facebook.com/subtronicsofficial
twitter.com/subtronics
instagram.com/subtronics
soundcloud.com/subtronics
twitch.tv/cyclopsarmytv
subtronics.net
Set Times

4pm - Parking Lot open

5pm - 6pm: Ace Aura

6pm - 7pm: Level Up

7pm - 8pm: Al Ross

8pm - 9pm: HESH

9pm -10pm: Subtronics

Food & Beverage Delivered to Your Vehicle!

$40 FOOD & BEVERAGE UPGRADES
All cooler packages are delivered to your vehicle in a commemorative bag when you arrive to the show! Food & beverage packages can only be purchased in advance. Add to your ticket order upon checkout or add later through the links below:

ORDER COOLER PACKAGE

FAMILY PACK

Four 20 oz Dasani Water
Two 20 oz Coca-Cola
Two 20 oz Powerade
Sweet and Salty Snack Pack

Popcorn Bucket
M&M's
Peanut M&M's

HOPS AND GRAINS – BUD LIGHT

One 16 oz 6 – pack Bud Light
Two 20 oz Dasani Water
Sweet and Salty Snack Pack

Popcorn Bucket
M&M's
Peanut M&M's

HOPS AND GRAINS – MILLER LITE

One 16 oz 6 – pack Miller Lite
Two 20 oz Dasani Water
Sweet and Salty Snack Pack

Popcorn Bucket
M&M's
Peanut M&M's

HOPS AND GRAINS – MICHELOB ULTRA

One 16 oz 6 – pack Michelob Ultra
Two 20 oz Dasani Water
Sweet and Salty Snack Pack

Popcorn Bucket
M&M's
Peanut M&M's

HOPS AND GRAINS – ZIEGENBOCK

One 16 oz 6 – pack Ziegenbock
Two 20 oz Dasani Water
Sweet and Salty Snack Pack

Popcorn Bucket
M&M's
Peanut M&M's

OFF THE VINE - WHITE

One 6 – pack House White Wine
Two 20 oz Dasani Water
Sweet and Salty Snack Pack

Popcorn Bucket
M&M's
Peanut M&M's

OFF THE VINE – RED

One 6 – pack House Red Wine
Two 20 oz Dasani Water
Sweet and Salty Snack Pack

Popcorn Bucket
M&M's
Peanut M&M's

OFF THE VINE – MIX RED/WHITE

One 6 – pack House Wine, 3 Red & 3 White
Two 20 oz Dasani Water
Sweet and Salty Snack Pack

Popcorn Bucket
M&M's
Peanut M&M's

HOPS AND GRAPES

Three 16 oz cans Bud Light
Three House Red Wines
Two 20 oz Dasani
Sweet and Salty Snack Pack

Popcorn Bucket
M&M's
Peanut M&M's

COVID-19 SAFETY PRECAUTIONS - MASKS REQUIRED OUTSIDE OF VEHICLE

All events at H-E-B Center at Cedar Park will include activation of ASM Global's "Venue Shield"– an advanced environmental hygiene protocol that will also be deployed in more than 325 ASM facilities around the world. ASM Global, which manages H-E-B Center at Cedar Park, is the world's leading venue management and services company. Venue Shield reduces physical touch points, increases venue sanitization and cleanliness, and provides various health monitoring guidelines and services.

The safety guidelines and protocols in place for OUTSIDE EVENTS at H-E-B Center at Cedar Park include:

FACE COVERINGS REQUIRED - All employees and visitors MUST wear a cloth face mask to cover both nose and mouth anytime guests are outside of their vehicle. One-time use disposable masks are provided if the guest does not already have one. Guests who cannot keep a face covering in place, including young children, are exempt.
WASH HANDS / HAND SANITIZING STATIONS - Fifty (50) hand sanitizing stations have been added throughout the arena. Guests are encouraged to wash hands for 20 seconds or use a hand sanitizing station often.
CONSTANT CLEANING - All high touch areas throughout the venue are disinfected multiple times during events.
EMPLOYEE HEALTH SCREENINGS - All employees receive contactless temperature checks prior to entering the venue each day and testing as needed.
SOCIAL DISTANCING ENCOURAGED WHERE POSSIBLE

Floor markers installed at all line queues (main entrances, box office, concessions, restrooms, merchandise).

Limited capacity in restrooms at one time.

PARKING

All staff is required to wear masks and gloves

BOX OFFICE

Contactless Payment - Cash is no longer accepted and signatures have been waived.

Paperless tickets - all tickets purchased at the box office will be delivered via SMS (text message).

No will call

CONCESSIONS

All staff is required to wear face masks/shields and gloves.

Cash is no longer accepted.

Concessions are available for pre-order to be delivered to the customer's vehicle with minimal contact

All shared condiment & utensil stations have been removed and replaced with single use condiment packets and pre-packaged utensils kept behind the concession stand counters.

Lids will be used on all beverages including soft drinks and draft beers.

Water fountains turned off until further notice.

Spotify Playlist