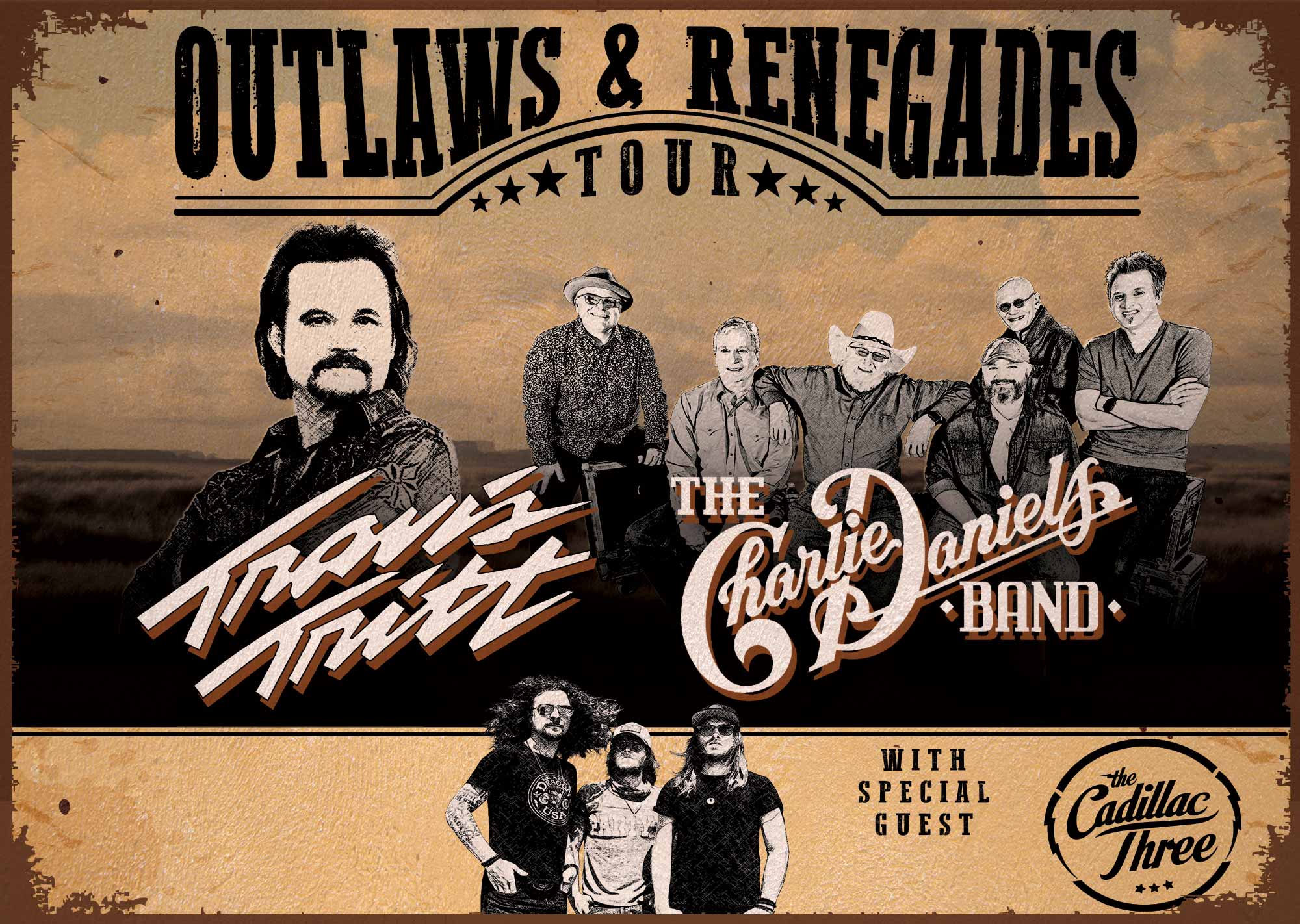 Travis Tritt & The Charlie Daniels Band
Outlaws & Renegades Tour with special guest The Cadillac Three
About The Event
The Outlaws & Renegades Tour stops at H-E-B Center at Cedar Park Sunday, June 9, 2019 featuring double headliners Travis Tritt and The Charlie Daniels Band with special guest The Cadillac Three.
About Travis Tritt:
Nearly 30 years after Travis Tritt launched his music career, the Grammy award-winning artist continues to sell-out shows and stay true and relevant to Country music fans across the globe. A Marietta, Ga. native, Travis Tritt is dubbed one of "The Class of '89," which included Country music superstars Garth Brooks, Clint Black and Alan Jackson; all of whom dominated the charts in the early '90s. Among his eleven studio albums and numerous charted singles are nineteen Top 10 hits, including "Modern Day Bonnie and Clyde," "Here's A Quarter" and "It's A Great Day To Be Alive." His near three-decade career has produced millions in album sales, two Grammy award wins and multiple No. 1 singles on the Country radio charts. Most recently, Tritt released a special live 2-disc CD and DVD, titled A Man and His Guitar – Live From The Franklin Theatre, which is now available through all major digital retailers. For more information on Travis Tritt, visit his website TravisTritt.com and follow him on Twitter and Facebook.
About The Charlie Daniels Band:
From his Dove Award winning gospel albums to his genre-defining Southern rock anthems and his CMA Award-winning country hits, few artists have left a more indelible mark on America's musical landscape than Charlie Daniels. Charlie Daniels Band is best known for their number-one country hit "The Devil Went Down to Georgia," which won a Grammy for Best Country Vocal Performance by a Duo or Group in 1979 as well as single of the year at the Country Music Association Awards. Daniels is an inductee of the Grand Ole Opry and Country Music Hall of Fame. An outspoken patriot, beloved mentor to young artists and still a road warrior at age 81, Charlie has parlayed his passion for music into a multi-platinum career and a platform to support the military, underprivileged children and others in need.

The Cadillac Three, fronted by Grammy-nominated songwriter Jaren Johnston, The Cadillac Three have a sound that hovers between radio-ready Country anthems, hard-and-heavy Rock ballads and traditional Southern folk. The trio perform songs from their latest album, Legacy, an album that saw the group strip back to basics.
Parking Information

$15 General
$25 Valet

CASH ONLY