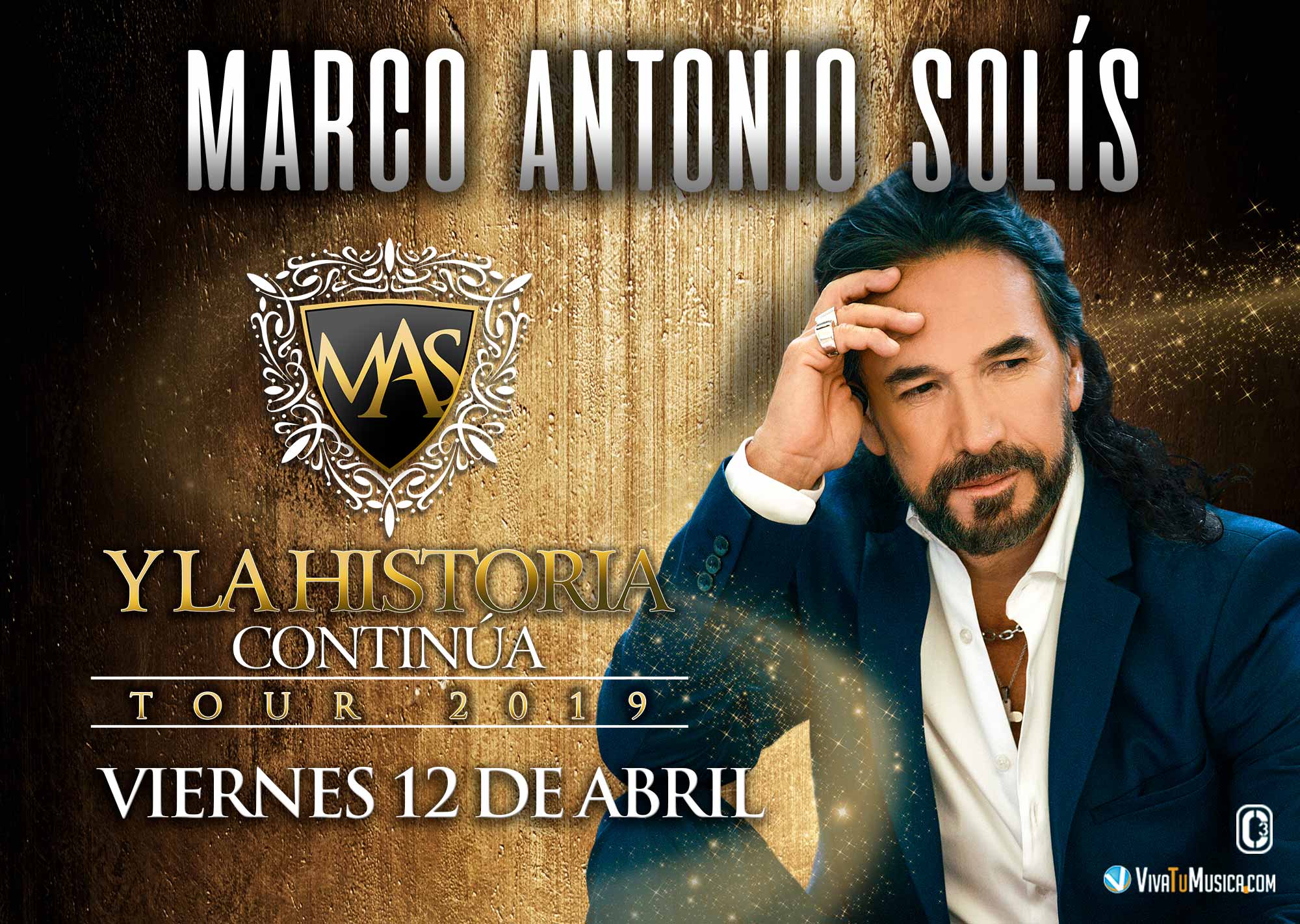 Marco Antonio Solis
La Historia Continua 2019
About The Event
Romantic idol, Marco Antonio Solís, one of the most celebrated, legendary and beloved figures in Latin music due to his authenticity, modesty and his more than four decades of uninterrupted career, returns to the United States with a new chapter in his successful and spectacular tour 'Y La Historia Continúa', performing Friday, April 12th at H-E-B Center at Cedar Park.
The iconic singer-songwriter has announced a long list of 2019 dates across the United States co-produced by Live Nation and VIVA Tu Música, which will take him back to cities where adoring fans have always welcomed him with open arms, as well as places he will be visiting for the first time since he toured with 'Los Bukis'.
Marco Antonio Solís is celebrating 42 years of an incomparable career with the release of his new album, 'MÁS De Mis Recuerdos', featuring a collection of some his most famous tracks reinvented for new and younger audiences. The first single, "Yo Te Necesito" became an instant hit in the United States just days after being released. Likewise, the album is rapidly climbing the charts proving that the signer's romanticism remains as resonant as ever. His poetic lyrics captivate audiences inviting them to fall in love again wholeheartedly.
Marco Antonio Solis is a five-time Latin Grammy Award-winning musician, composer, and producer. With 19 studio albums, over 40 million albums sold and over 300 songs to his name, "El Buki" continues to be considered one of the most influential artists in Latin music. Solis has also been awarded a star on the Hollywood Walk of Fame, and has been inducted into the Billboard Latin Music Hall of Fame.
Parking Information

$15 General (Cars, SUVs, Pick-Up Trucks)
$25 Valet
$30 Busses
$5 Motorcycle

CASH ONLY

VIP Package Information

VIP PACKAGES – Available at Ticketmaster.com Tues, December 11, 10am.

GOLD VIP LOUNGE PACKAGE (50 capacity)
Price – $430.75 USD
Limit 8, will call delivery

Package to include:

One premium reserved ticket located within the first 10 rows from the stage!*
Access to the pre-show VIP lounge including:
Two drink tickets for beer, wine, cocktails, and soft drinks**
An assortment of appetizers and desserts
Red carpet photo opportunity in front of the VIP backdrop
Exclusive Marco Antonio Solis gift item
Commemorative VIP Lounge laminate and lanyard
Pre-show merchandise shopping opportunity
On-site VIP host and ticket pick-up
Limited availability

* Package details subject to change
**Local liquor laws apply

SILVER VIP LOUNGE PACKAGE (100 capacity)
Price – $360.75 USD
Limit 8, will call delivery

Package to include:

One premium reserved ticket located within the first 20 rows from the stage!*
Access to the pre-show VIP lounge including:
Two drink tickets for beer, wine, cocktails, and soft drinks**
An assortment of appetizers and desserts
Red carpet photo opportunity in front of the VIP backdrop
Exclusive Marco Antonio Solis gift item
Commemorative VIP Lounge laminate and lanyard
Pre-show merchandise shopping opportunity
On-site VIP host and ticket pick-up
Limited availability

* Package details subject to change
**Local liquor laws apply

HOT SEAT PACKAGE (50 capacity)
Price – $230.75 USD
Limit 8, will call delivery

Package to include:

One premium reserved ticket to the show!*
Exclusive Marco Antonio Solis gift item
Commemorative VIP concert ticket
On-site VIP host and ticket pick-up
Limited availability

*Package details subject to change