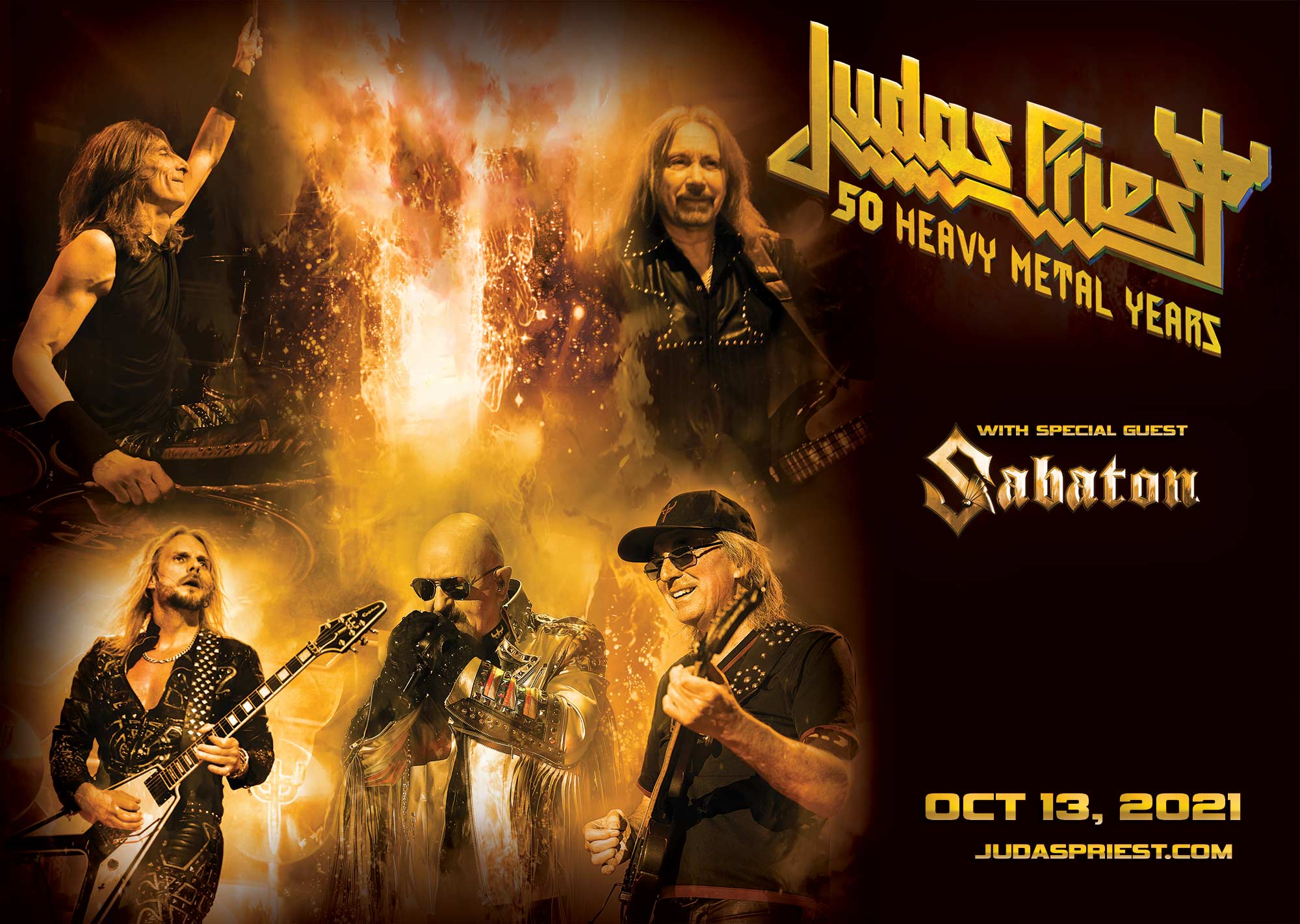 Judas Priest: 50 Heavy Metal Years 2021 Tour
with special guest Sabaton

RESCHEDULED FROM OCT 5, 2020
About The Event
**This event date is subject to State of Texas and local government guidelines for helping the community stay safe during the COVID-19 pandemic.

One of heavy metal's all-time greats, Judas Priest will be celebrating their 50th anniversary this year with a world tour coming to the US in the fall of 2021, including a stop in the Austin area October 13, 2021 (postponed from October 5, 2020) at H-E-B Center at Cedar Park. The 50 Heavy Metal Years Tour will also feature Sabaton as openers and is being fueled by the highest ­charting album of Priest's career 'Firepower' which peaked at #5 on the Billboard 200.

"Judas Priest are primed and ready to deliver the goods with our 50 Heavy Metal Years anniversary celebration stage show spectacular! Performing a blistering cross section of songs from our lives in metal - we can't wait to raise horns with you again at this once in a metal lifetime event!" - Judas Priest
Judas Priest originally formed in 1970 in Birmingham, England (an area that many feel birthed heavy metal). The original nucleus of musicians - Rob Halford, Glenn Tipton, KK Downing & Ian Hill (along with several different drummers over the years) would go on to change the face of heavy metal. Throughout the 70's Priest were responsible for helping trail blaze metal with such classic offerings as 'Sad Wings of Destiny' (1976) 'Sin After Sin' (1977) and 'Hell Bent for Leather' (1978) as well as one of the genre's top live recordings 'Unleashed in the East' (1979) among others.

But it was during the 80's that Priest conquered the world, becoming a global arena headliner on the strength of such all-time classics as 'British Steel' (1980) and 'Screaming for Vengeance' (1982), as well as being one of the first metal bands to be embraced by the then-burgeoning MTV, plus performing at some of the decades biggest concerts (1980's Monsters of Rock, 1983's US Festival, and 1985's Live Aid) and being the first to exclusively wear leather and studs – a look that began during this era and would eventually be embraced by metal heads throughout the world. Priest's success continued throughout the 90's and beyond with the addition of drummer Scott Travis, as evidenced by such additional stellar offerings as 'Painkiller' (1990) 'Angel of Retribution' (2005) and 'A Touch of Evil: Live' (2009) the latter of which saw Priest win a Grammy Award for a killer rendition of the classic 'Dissident Aggressor'

In 2011 new guitarist Richie Faulkner came in to replace the previous guitarist who had left in 2010 - the move seemed to have reinvigorated the band, as evidenced by a show-stealing performance on the 'American Idol' TV program that also served as Faulkner's debut performance with the band (also in 2011 was the release of a new compilation 'The Chosen Few' which included Priest classics selected by some of metal's biggest names) and the 'Epitaph' concert DVD in 2013.
Priest's next studio effort would arrive in 2014 'Redeemer of Souls' which was supported by another strong tour.

In 2017 (and again in 2019) Judas Priest received a nomination for the Rock and Roll Hall of Fame and got ready to unleash their latest studio album 'Firepower' (produced by Andy Sneap and Tom Allom) which received global success and critical acclaim.
Few rock or metal acts remain as much of a must-see live attraction as Judas Priest. And the forthcoming 50 Heavy Metal Years Tour will undoubtedly drive this point home.
COVID-19 SAFETY PRECAUTIONS - MASKS REQUIRED

All events at H-E-B Center at Cedar Park will include activation of ASM Global's "Venue Shield"– an advanced environmental hygiene protocol that will also be deployed in more than 325 ASM facilities around the world. ASM Global, which manages H-E-B Center at Cedar Park, is the world's leading venue management and services company. Venue Shield reduces physical touch points, increases venue sanitization and cleanliness, and provides various health monitoring guidelines and services.

The safety guidelines and protocols in place at H-E-B Center at Cedar Park include:

FACE COVERINGS REQUIRED - All employees and visitors MUST wear a cloth face mask to cover both nose and mouth. Masks must be worn at all times except while ACTIVELY eating or drinking in the guest's designated seating location only. One-time use disposable masks are provided if the guest does not already have one. Small children who cannot keep face masks in place are exempt.
WASH HANDS / HAND SANITIZING STATIONS - Fifty (50) hand sanitizing stations have been added throughout the arena. Guests are encouraged to wash hands for 20 seconds or use a hand sanitizing station often.
CONSTANT CLEANING - All high touch areas throughout the venue are disinfected multiple times during events and the arena bowl is deep cleaned between events.
EMPLOYEE HEALTH SCREENINGS - All employees receive contactless temperature checks prior to entering the venue each day and testing as needed.
SOCIAL DISTANCING ENCOURAGED WHERE POSSIBLE

Floor markers installed at all line queues (main entrances, box office, concessions, restrooms, merchandise).
Limited capacity in elevators to one party or family at a time.
Limited capacity in restrooms at one time.

PARKING

All staff is required to wear masks and gloves
Cash is no longer accepted; only credit card payment accepted or purchase mobile parking ticket in advance at ticketmaster.com.
Valet is suspended until further notice.

BOX OFFICE

Contactless Payment - Cash is no longer accepted and signatures have been waived.
Mobile tickets - all tickets purchased at the box office will be delivered via SMS (text message).
No will call

SECURITY & ENTRY/EXIT POINTS

Expanded entry points for social distancing.
Staggered entry times for guests.
Guests encouraged to use clear bags or avoid bringing bags if possible to reduce contact with personal items during security checks.

CONCESSIONS

All staff is required to wear face masks and gloves
Cash is no longer accepted.
All shared condiment & utensil stations have been removed and replaced with single use condiment packets and pre-packaged utensils kept behind the concession stand counters.
Lids will be used on all beverages including soft drinks and draft beers.
More pre-packaged foods will be offered.
Water fountains turned off until further notice.

Spotify Playlist

At Home Loge Seating Package w/Food & Beverage

To purchase:

Call 512-600-5098 to purchase over the phone

The all-new AT HOME LOGE SEAT PACKAGE includes:

Reserved seat in the East Loge (wider, more comfortable leather seating)
Parking Pass
VIP Wristband valid for:

1 trip through the Chef's Table located in the East Loge
2 beer/wine drinks (no mixed drinks) at either The Breakaway Bar or Love Street Lounge in the East Loge
Unlimited non-alcoholic beverages in the East Loge

$100 per ticket

To purchase or for more information, contact the Group Sales Department at 512-600-5098 or [email protected]

Parking Information

$15 General Lot
$25 Premium Lot located in front of the East main entrance (limited availability)

COVID-19 Safety Changes for Parking:

Cash is no longer accepted; only credit card payment accepted or purchase mobile parking ticket in advance at ticketmaster.com.
Valet is temporarily suspended until further notice.
All parking attendant staff is required to wear masks and gloves.