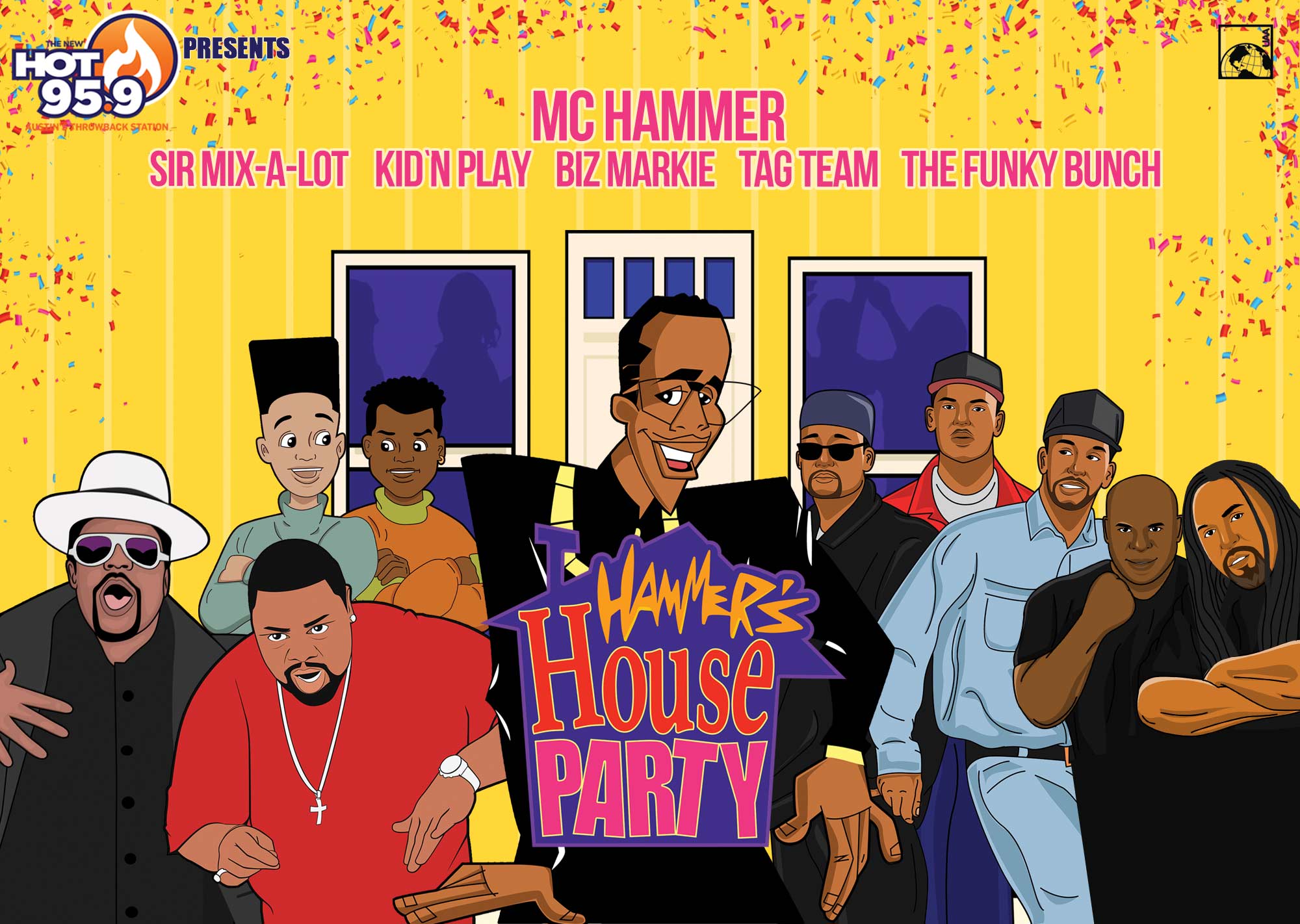 HOT 95.9 Presents Hammer's House Party
MC Hammer, Sir Mix-A-Lot, Biz Markie, Kid 'n Play, The Funky Bunch & Tag Team
About The Event
Get ready to crash the biggest party of the year with Hammer's House Party presented locally by HOT 95.9, as MC Hammer embarks on his first major tour since 1991. The tour stops in the Austin area on August 1st at H-E-B Center at Cedar Park. Presented by Universal Attractions Agency, Hammer's House Party brings together some of the most recognizable Hip-Hop and R&B acts from the '80s and '90s to one stage including MC Hammer, Sir Mix-A-Lot, Biz Markie, Kid 'n Play, The Funky Bunch & Tag Team. Hammer's pulling out all the stops for this star-studded, once-in-a-lifetime concert event.
Audiences can expect to hear chart-topping hits like MC Hammer's "U Can't Touch This" and "2 Legit 2 Quit," Sir Mix-a-Lot's "Baby Got Back," Kid 'n Play's "Ain't Gonna Hurt Nobody," and many, many more during this nostalgia-themed night out that will bring the hits and get you dancing.
Hammer's House Party is the latest iconic package tour created by Universal Attractions Agency in partnership with MC Hammer. With Hammer being largely off the touring scene and deeply involved in tech, philanthropy, and prison reform (The Last Mile) over the last decade, he decided it was time to give his fans what they wanted - a proper tour.
Related Links

At Home Loge Seating

To purchase:

The all new AT HOME LOGE SEAT PACKAGE includes:

Reserved seat in the East Loge (wider, more comfortable leather seating)
Parking Pass (1 pass for every 2 tickets)
VIP Wristband valid for:

1 trip through the Chef's Table located in the East Loge
2 beer/wine drinks (no mixed drinks) at either The Breakaway Bar or Love Street Lounge in the East Loge
Unlimited non-alcoholic beverages in the East Loge

$100 per ticket

To purchase or for more information, contact the Group Sales Department at 512-600-5098 or [email protected]

Parking Information

$15 General
$25 Valet

CASH ONLY