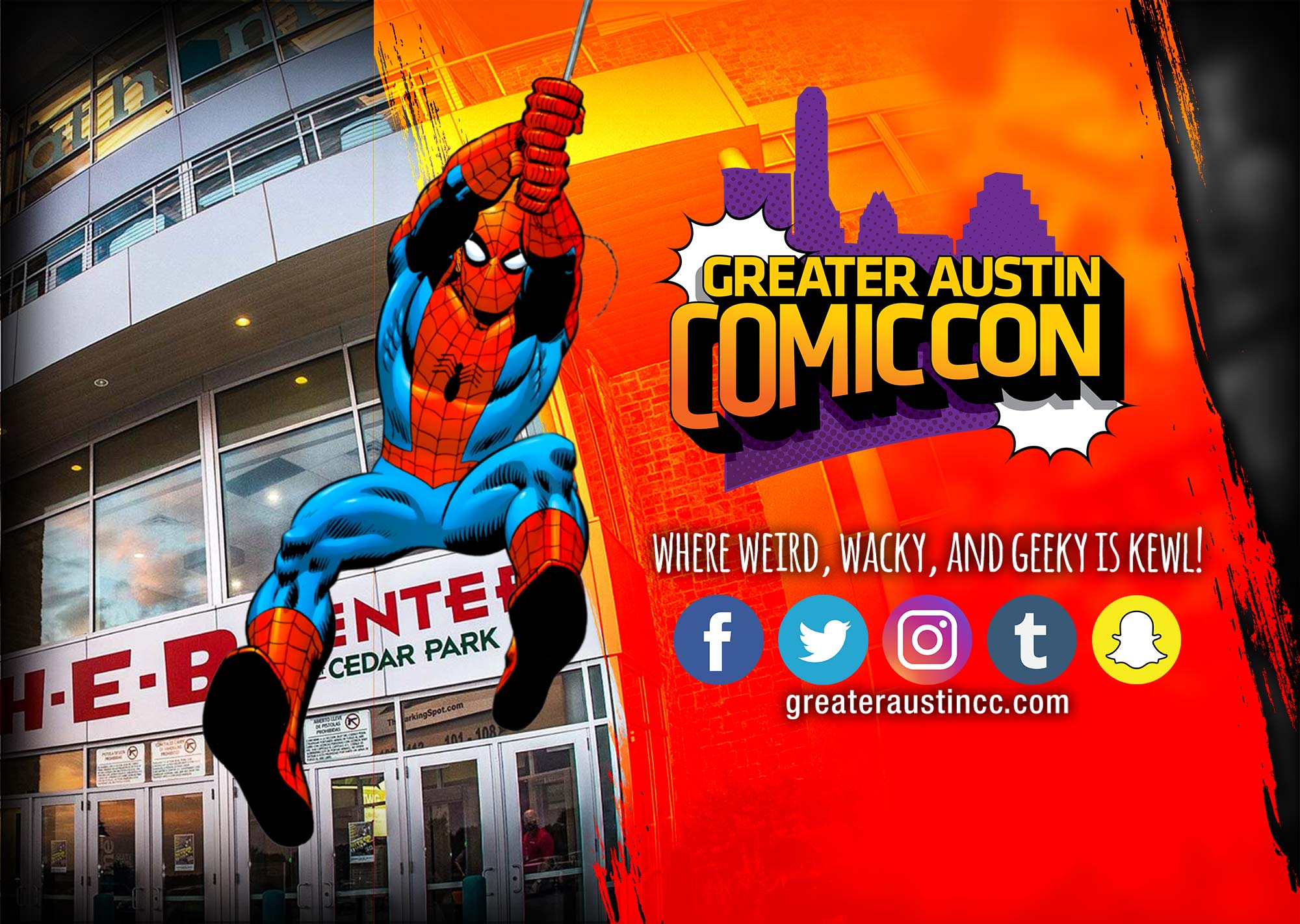 Greater Austin Comic Con 2022
RESCHEDULED FROM JUNE 19-20, 2021
Saturday,

June

18

10:00AM

Sunday,

June

19

10:00AM
About The Event
EVENT RESCHEDULED
Greater Austin Comic Con originally scheduled for June 20-21, 2020, October 3-4, 2020 and June 19-20, 2021 has been rescheduled to Father's Day weekend, June 17-19, 2022 for the safety of all guests and staff. All previously purchased tickets will be honored for the new dates. All remaining VIP packages or Photo Op tickets will be refunded.
Friday, June 17, 2022 - Preview Day (more info coming soon)
Saturday, June 18, 2022 from 10 a.m. to 7 p.m.
Sunday, June 19, 2022 from 10 a.m. to 5 p.m.

Exhibitors/Vendors - Those who have purchased a table(s) for the 2020/2021 show will have their table(s) saved for the June 17-19, 2022 show. Please reach out to Greater Austin Comic Con via www.greateraustincomiccon.com directly if there are any questions or concerns.
**These event dates are subject to State of Texas and local government guidelines for helping the community stay safe during the COVID-19 pandemic.
---
GACC is a celebration that brings all things pop culture together. GACC will provide two family friendly, entertainment fun filled days of vendors, gaming competitions, cosplay contests, super hero theme car show, and lots of entertainment for kids. GACC will have guests that include movie& TV Stars, sports Stars, world renowned cosplay artists, game developers, comic book creators, artist/writers and so much more.
More information on celebrity guests will be posted at www.hebcenter.com and www.greateraustincomiccon.com, as it becomes available, or follow @GreaterAustinCC Facebook, Twitter, Instagram, Snap Chat and Tumblr.
COVID-19 SAFETY PRECAUTIONS - MASKS RECOMMENDED

All events at H-E-B Center at Cedar Park will include activation of ASM Global's "Venue Shield"– an advanced environmental hygiene protocol that will also be deployed in more than 325 ASM facilities around the world. ASM Global, which manages H-E-B Center at Cedar Park, is the world's leading venue management and services company. Venue Shield reduces physical touch points, increases venue sanitization and cleanliness, and provides various health monitoring guidelines and services.

The safety guidelines and protocols in place at H-E-B Center at Cedar Park include:

FACE COVERINGS RECOMMENDED - H-E-B Center encourages patrons to wear a mask when attending one of our events but masks are not mandatory for entry. Please note that this policy may be adjusted on an event-by-event basis as dictated by the event organizer, artist or tour policy. Thank you for your cooperation in helping our community stay safe during the COVID-19 pandemic. All employees are required to wear a mask until furhter notice.
WASH HANDS / HAND SANITIZING STATIONS - Fifty (50) hand sanitizing stations have been added throughout the arena. Guests are encouraged to wash hands for 20 seconds or use a hand sanitizing station often.
CONSTANT CLEANING - All high touch areas throughout the venue are disinfected multiple times during events and the arena bowl is deep cleaned between events.
EMPLOYEE HEALTH SCREENINGS - All employees receive contactless temperature checks prior to entering the venue each day and testing as needed.
SOCIAL DISTANCING ENCOURAGED WHERE POSSIBLE

Floor markers installed at all line queues (main entrances, box office, concessions, restrooms, merchandise).
Limited capacity in elevators to one party or family at a time.
Limited capacity in restrooms at one time.

PARKING

All staff is required to wear masks
Cash is no longer accepted; only credit card payment accepted or purchase mobile parking ticket in advance at ticketmaster.com.
Valet is suspended until further notice.

BOX OFFICE

Contactless Payment - Cash is no longer accepted and signatures have been waived.
Paperless tickets - all tickets purchased at the box office will be delivered via SMS (text message).
No will call

SECURITY & ENTRY/EXIT POINTS

Expanded entry points for social distancing.
Staggered entry times for guests.
Guests encouraged to use clear bags or avoid bringing bags if possible to reduce contact with personal items during security checks.

CONCESSIONS

All staff is required to wear face masks and gloves
Cash is no longer accepted.
Sneeze guards have been added at all purchase points.
All shared condiment & utensil stations have been removed and replaced with single use condiment packets and pre-packaged utensils kept behind the concession stand counters.
Lids will be used on all beverages including soft drinks and draft beers.
More pre-packaged foods will be offered.
Water fountains turned off until further notice.

Prohibited Items

H-E-B Center has a select number of prohibited items that cannot enter the facility. These items include but are not limited to the following. Thank you for your cooperation!

Bags larger than 14" x 14" x 6" and Backpacks

clear bags/clear backpacks are acceptable
some vendors will be providing free bags for attendees (limited quantities)
Specialty Greater Austin Comic Con bags are available for purchase on the main concourse.

​firearms
knives
weapons and objects that may be used as weapons (i.e. bats, rocks, brooms / Exception: hockey sticks are permitted at Texas Stars games)
laser pointers
outside food and beverage
cans, bottles, alcohol, and coolers
explosives or explosive devices including, but not limited to, fireworks, poppers, cap guns
alcoholic beverages

EXCEPTIONS FOR COMIC CON:

Professional Cameras are allowed for this event (no tripods)
Costume props are allowed, but are subject to security screening

Attendees with costume props must enter through EAST MAIN ENTRANCE ONLY

Masks permitted, but must be removed during security screening
Re-entry permitted

Parking Information

General Parking: $5
Valet: Not available for this event

Pick-Up/Drop Off: There is a designated area by the East main entrance that can be accessed from the 183A frontage road next to the marquee (typically known as the valet circle - valet not in use for this event)

COVID-19 Safety Changes for Parking:

Cash is no longer accepted; only credit card payment accepted or purchase mobile parking ticket in advance at ticketmaster.com.
Valet is temporarily suspended until further notice.
All parking attendant staff is required to wear masks and gloves.