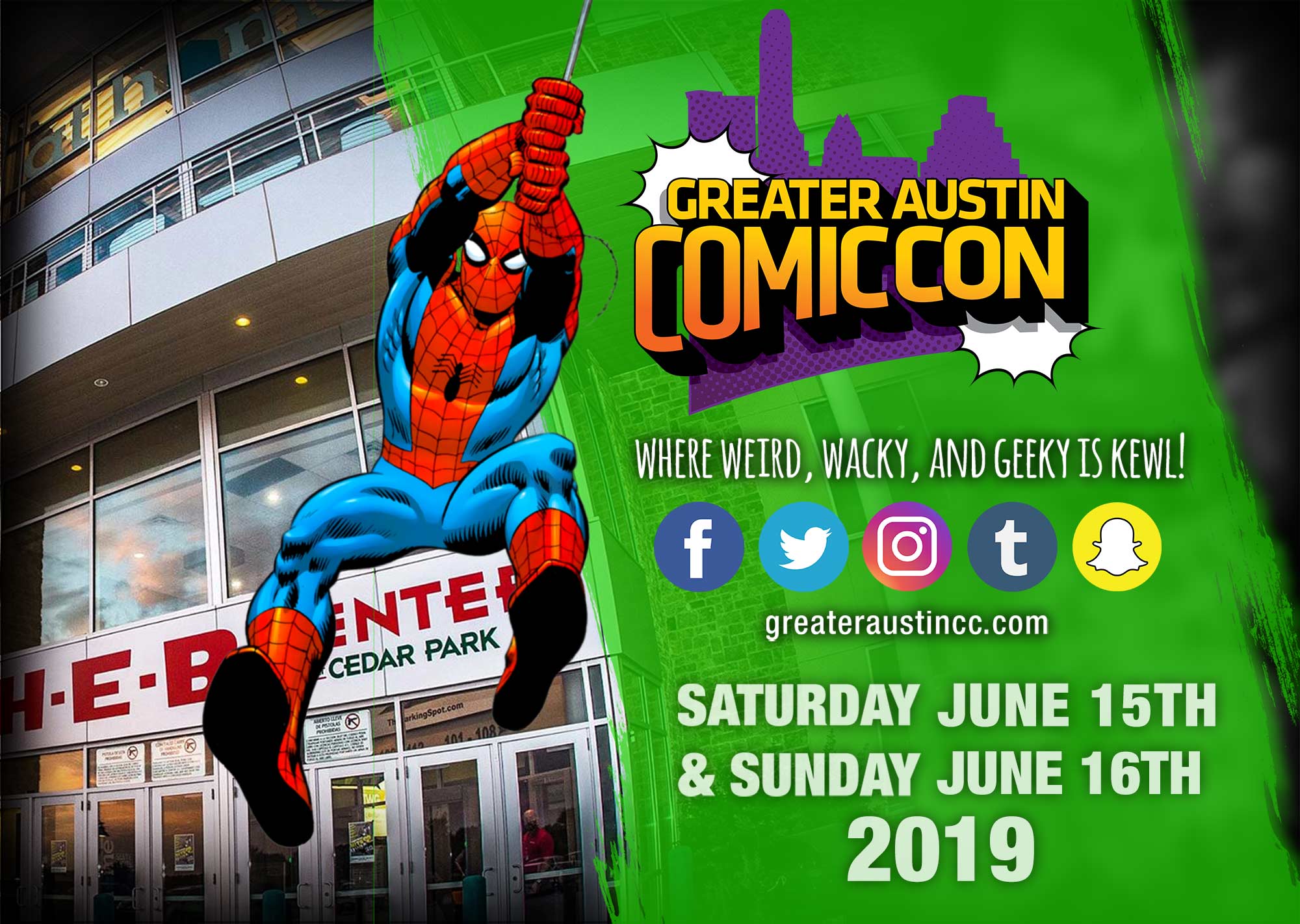 Greater Austin Comic Con 2019
On Sale Now!
Saturday,

June

15

10:00AM

Sunday,

June

16

10:00AM
About The Event
Due to popular demand, Greater Austin Comic Con (GACC) returns to H-E-B Center at Cedar Park on Saturday, June 15, 2019 from 10 a.m. to 7 p.m. and Sunday, June 16, 2019 from 10 a.m. to 5 p.m. GACC is a celebration that brings all things pop culture together. GACC will provide two family friendly, entertainment fun filled days of vendors, gaming competitions, cosplay contests, super hero theme car show, and lots of entertainment for kids. GACC will have guests that include movie& TV Stars, sports Stars, world renowned cosplay artists, game developers, comic book creators, artist/writers and so much more.

Tickets on sale now! More information will be posted at www.hebcenter.com and www.greateraustincomiccon.com, as it becomes available, or follow @GreaterAustinCC Facebook, Twitter, Instagram, Snap Chat and Tumblr.
Parking Information

General Parking: $5 CASH ONLY
Valet: Not available for this event

Pick-Up/Drop Off: There is a designated area by the East main entrance that can be accessed from the 183A frontage road next to the marquee (typically known as the valet circle - valet not in use for this event)

Prohibited Items

H-E-B Center has a select number of prohibited items that cannot enter the facility. These items include but are not limited to the following. Thank you for your cooperation!

Bags larger than 14" x 14" x 6" and Backpacks

clear bags/clear backpacks are acceptable
some vendors will be providing free bags for attendees (limited quantities)
Specialty Greater Austin Comic Con bags are available for purchase on the main concourse.

​firearms
knives
weapons and objects that may be used as weapons (i.e. bats, rocks, brooms / Exception: hockey sticks are permitted at Texas Stars games)
laser pointers
outside food and beverage
cans, bottles, alcohol, and coolers
explosives or explosive devices including, but not limited to, fireworks, poppers, cap guns
alcoholic beverages

EXCEPTIONS FOR COMIC CON:

Professional Cameras are allowed for this event (no tripods)
Costume props are allowed, but are subject to security screening

Attendees with costume props must enter through EAST MAIN ENTRANCE ONLY

Masks permitted, but must be removed during security screening
Re-entry permitted