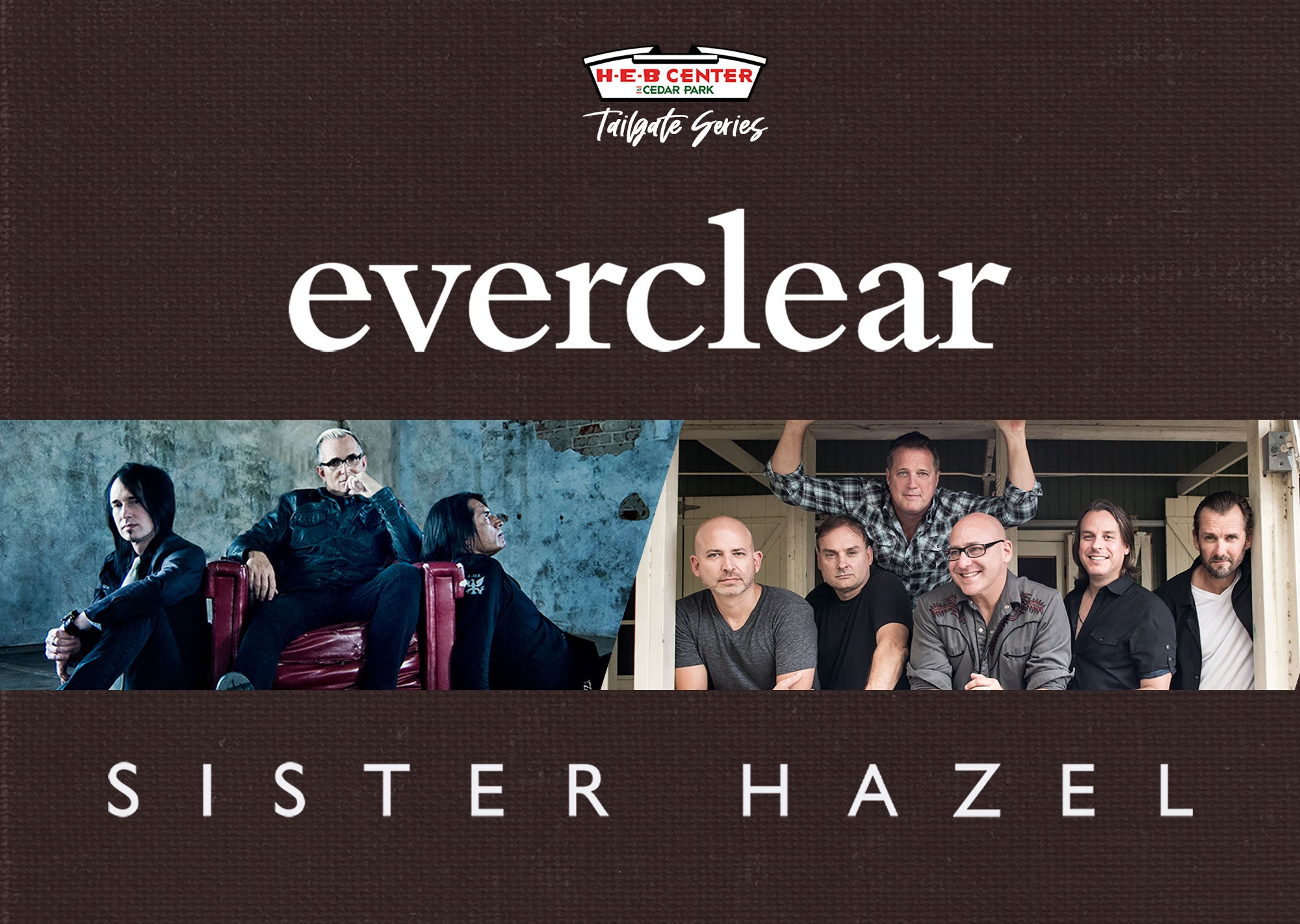 Tailgate Series: Everclear & Sister Hazel
LOCATED IN NORTH PARKING LOTS
Friday,

Oct

2

7:30PM

Saturday,

Oct

3

7:30PM
About The Event
**This event date is subject to State of Texas and local government guidelines for helping the community stay safe during the COVID-19 pandemic.
Load up your truck! Bring your coolers and grills! There's space for your car and your social distanced tailgate party! The H-E-B Center Tailgate Series continues when Everclear & Sister Hazel take the stage for two nights of drive-in style live music, October 2-3, in the North parking lots of H-E-B Center at Cedar Park.
About Everclear:
Considering Everclear has written and recorded some truly iconic '90s alt-rock Platinum hits, it would be all too easy these days for the band to be a victim of its past successes, relegated to performing as a glorified jukebox, existing to satisfy the nostalgic cravings of Gen Xers everywhere. But singer-guitarist Art Alexakis isn't about to start phoning it in now. Although the band hasn't released a new studio album since 2015's triumphant Black Is The New Black, Everclear continues to tour actively. And while it's a virtual surety that no Everclear gig is complete without a rendition of "Santa Monica" and "Father of Mine," lately the band has found that exploring the full range of past material—especially the "deep cuts"—not only gives fans a rare treat, it also injects new life into the band's live dynamic.

Formed by Art Alexakis in 1991 in Portland, Oregon, Everclear has enjoyed a lengthy career spanning 11 studio releases, numerous videos, thousands of shows and accolades that include a 1998 Grammy nomination. Like a true survivor, Alexakis has soldiered on through multiple lineup changes over the years: During the "classic" era, the band also included Craig Montoya on Bass and Greg Eklund on drums; the current touring lineup features longtime members Dave French (guitar) and Freddy Herrera (bass), as well as drummer Brian Nolan (also with American Hi-Fi), who has performed with Everclear on multiple past tours.Everclear spent May and June of 2017 touring in honor of the 20th anniversary of So Much For The Afterglow, the band's massively successful sophomore major-label release. The 40-date run was an incredibly emotional and personally satisfying experience for Alexakis, who was able to perform obscure cuts from that time period for the first time in many years. Connecting with fans in that setting also reinforced the lasting impression the album has made.

About Sister Hazel:
Originating from Gainesville, FL, Sister Hazel is comprised of five gifted, seasoned musicians whose well-spring of natural talent has been called "one of the Top 100 Most Influential Independent Performers of the last 15 years" by Performing Songwriter Magazine. Song "All for You," topped the adult alternative charts during the summer of 1997 and the success propelled their album to platinum status. Since then, the band has become firmly established not only in rock and alternative music, but now in country with four back-to-back Billboard Top Country ​A​lbum ​C​hart entries. Living up to their fan-centered reputation, the band was a pioneer in the themed cruise industry by co-founding "The Rock Boat" and annually hosts events like the "Hazelnut Hang," and "Camp Hazelnut" that focuses on creating unique experiences and interacting with the fans. Sister Hazel has been equally attentive to connecting with their audience through social media having amassed over a million social followers. In addition to the events and touring, the band also gives back with "Lyrics For Life." Founded by singer Ken Block, the charity unites musicians and celebrities for concerts and auctions to benefit cancer research and patient-care charities.
Related Links

Food & Beverage Delivered to Your Vehicle!

$40 FOOD & BEVERAGE UPGRADES
All cooler packages are delivered to your vehicle in a commemorative bag when you arrive to the show! Food & beverage packages can only be purchased in advance. Add to your ticket order upon checkout or add later through the links below:

ORDER FRIDAY COOLER PACKAGE
ORDER SATURDAY COOLER PACKAGE

FAMILY PACK

Four 20 oz Dasani Water
Two 20 oz Coca-Cola
Two 20 oz Powerade
Sweet and Salty Snack Pack

Popcorn Bucket
M&M's
Peanut M&M's

HOPS AND GRAINS – BUD LIGHT

One 16 oz 6 – pack Bud Light
Two 20 oz Dasani Water
Sweet and Salty Snack Pack

Popcorn Bucket
M&M's
Peanut M&M's

HOPS AND GRAINS – MILLER LITE

One 16 oz 6 – pack Miller Lite
Two 20 oz Dasani Water
Sweet and Salty Snack Pack

Popcorn Bucket
M&M's
Peanut M&M's

HOPS AND GRAINS – MICHELOB ULTRA

One 16 oz 6 – pack Michelob Ultra
Two 20 oz Dasani Water
Sweet and Salty Snack Pack

Popcorn Bucket
M&M's
Peanut M&M's

HOPS AND GRAINS – ZIEGENBOCK

One 16 oz 6 – pack Ziegenbock
Two 20 oz Dasani Water
Sweet and Salty Snack Pack

Popcorn Bucket
M&M's
Peanut M&M's

OFF THE VINE - WHITE

One 6 – pack House White Wine
Two 20 oz Dasani Water
Sweet and Salty Snack Pack

Popcorn Bucket
M&M's
Peanut M&M's

OFF THE VINE – RED

One 6 – pack House Red Wine
Two 20 oz Dasani Water
Sweet and Salty Snack Pack

Popcorn Bucket
M&M's
Peanut M&M's

OFF THE VINE – MIX RED/WHITE

One 6 – pack House Wine, 3 Red & 3 White
Two 20 oz Dasani Water
Sweet and Salty Snack Pack

Popcorn Bucket
M&M's
Peanut M&M's

HOPS AND GRAPES

Three 16 oz cans Bud Light
Three House Red Wines
Two 20 oz Dasani
Sweet and Salty Snack Pack

Popcorn Bucket
M&M's
Peanut M&M's

COVID-19 SAFETY PRECAUTIONS - MASKS REQUIRED OUTSIDE OF VEHICLE

All events at H-E-B Center at Cedar Park will include activation of ASM Global's "Venue Shield"– an advanced environmental hygiene protocol that will also be deployed in more than 325 ASM facilities around the world. ASM Global, which manages H-E-B Center at Cedar Park, is the world's leading venue management and services company. Venue Shield reduces physical touch points, increases venue sanitization and cleanliness, and provides various health monitoring guidelines and services.

The safety guidelines and protocols in place for OUTSIDE EVENTS at H-E-B Center at Cedar Park include:

FACE COVERINGS REQUIRED - All employees and visitors MUST wear a cloth face mask to cover both nose and mouth anytime guests are outside of their vehicle. One-time use disposable masks are provided if the guest does not already have one. Guests who cannot keep a face covering in place, including young children, are exempt.
WASH HANDS / HAND SANITIZING STATIONS - Fifty (50) hand sanitizing stations have been added throughout the arena. Guests are encouraged to wash hands for 20 seconds or use a hand sanitizing station often.
CONSTANT CLEANING - All high touch areas throughout the venue are disinfected multiple times during events.
EMPLOYEE HEALTH SCREENINGS - All employees receive contactless temperature checks prior to entering the venue each day and testing as needed.
SOCIAL DISTANCING ENCOURAGED WHERE POSSIBLE

Floor markers installed at all line queues (main entrances, box office, concessions, restrooms, merchandise).

Limited capacity in restrooms at one time.

PARKING

All staff is required to wear masks and gloves

BOX OFFICE

Contactless Payment - Cash is no longer accepted and signatures have been waived.

Paperless tickets - all tickets purchased at the box office will be delivered via SMS (text message).

No will call

CONCESSIONS

All staff is required to wear face masks/shields and gloves.

Cash is no longer accepted.

Concessions are available for pre-order to be delivered to the customer's vehicle with minimal contact

All shared condiment & utensil stations have been removed and replaced with single use condiment packets and pre-packaged utensils kept behind the concession stand counters.

Lids will be used on all beverages including soft drinks and draft beers.

Water fountains turned off until further notice.

Spotify Playlist