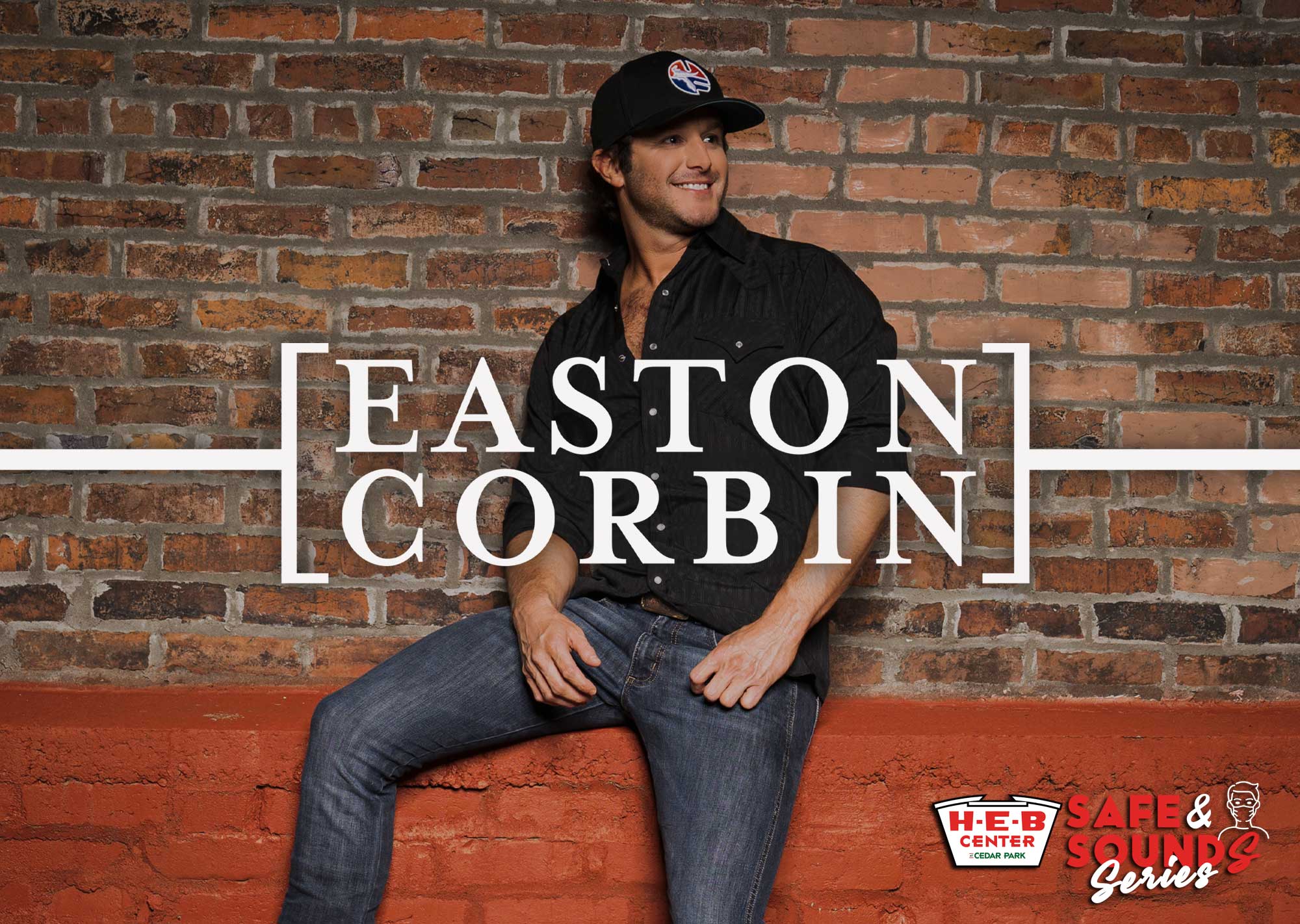 Easton Corbin
with special guest Kylie Frey

H-E-B Center Safe & Sounds Series
About The Event
EVENT POSTPONED – NOTICE TO FANS
Easton Corbin with special guest Kylie Frey originally scheduled at H-E-B Center at Cedar Park for January 24, 2021 has been rescheduled to Saturday, April 24, 2021 due to scheduling conflicts. Please hold onto your original ticket, which will be honored on the new show date. Thank you for understanding. For additional questions, please contact the H-E-B Center box office at 512-600-5001.
---
**This event date is subject to State of Texas and local government guidelines for helping the community stay safe during the COVID-19 pandemic.

Country music's Easton Corbin with special guest Kylie Frey takes the stage Saturday, April 24, 2021 at H-E-B Center at Cedar Park, as part of the venue's Safe & Sounds Series, which features POD seating and industry leading safety protocols.
"Turn up a little Conway Twitty," Easton Corbin croons in his distinctive Southern drawl on latest single "Turn Up." Within the track, Corbin blends traditional instrumentation with modern day production alongside vivid country storytelling for a sound that is uniquely his.

Corbin exudes country. His distinctive baritone has been gracing airwaves for the past decade as his chart topping debut single "A Little More Country Than That" established Corbin as a mainstay on the country charts. Billboard's 2010 Top New Country Artist would go on to garner another No. 1 hit with the feel-good "Roll With It" as well as seven top 10 singles, further distinguishing himself from other male vocalists as a tried-and-true country traditionalist who weaves timeless story songs together while tipping his hat to the classic country artists who have come before him.

"That's what I love and that's what I do," he says of his passion for traditional country music. "For me, it's about keeping one foot in the traditional and one foot in the modern and marrying those two. I'm a country singer: That's one of the things that I take pride in. I try to hone that craft and try to represent that."

While 2020 marks the 10th anniversary of "A Little More Country Than That" achieving No. 1 status, Corbin shows no sign of slowing down with the release of his infectious new single "Turn Up" and more new music on the way. He promises a "wide array" of songs that include fiddle and pedal steel. As he embarks on a new chapter as an independent artist, Corbin says "A Little More Country Than That" still reflects who he is as an artist and where he sees his career going.

"That's really how I grew up," he says of his career-defining song. "'A Little More Country Than That' radiates with me and my band as well because that really is who I am. That's where I came from, that's what I am. It's just as important now as it was then, because that's the one that started it all for me. That's definitely a staple of an Easton Corbin show. I think it also defines my audience and who they are."

The Florida native was surrounded by music as a child. A Merle Haggard or Hank Williams record was always being spun at his grandparents' house and a guitar was often lying around begging to be played. "My earliest memories are of me as a kid with a guitar, singing and playing along with the radio," Corbin recalls. "I knew from an early age I wanted to be a country singer."

After a decade in the spotlight, Corbin is more confident than ever. "I know what I want to say and what I don't want to say, and I know what I would say and what I wouldn't say," he explains. "I think the new music will highlight the fact that we've been honing these songs and trying to cut the best songs and writing the best songs we can. I think this project, when people give it a shot, they'll see that."

In the meantime, country fans can turn up a little Easton Corbin.
COVID-19 SAFETY PRECAUTIONS - MASKS REQUIRED

All events at H-E-B Center at Cedar Park will include activation of ASM Global's "Venue Shield"– an advanced environmental hygiene protocol that will also be deployed in more than 325 ASM facilities around the world. ASM Global, which manages H-E-B Center at Cedar Park, is the world's leading venue management and services company. Venue Shield reduces physical touch points, increases venue sanitization and cleanliness, and provides various health monitoring guidelines and services.

The safety guidelines and protocols in place at H-E-B Center at Cedar Park include:

FACE COVERINGS REQUIRED - All employees and visitors MUST wear a cloth face mask to cover both nose and mouth. Masks must be worn at all times except while ACTIVELY eating or drinking in the guest's designated seating location only. One-time use disposable masks are provided if the guest does not already have one. Small children who cannot keep face masks in place are exempt.
WASH HANDS / HAND SANITIZING STATIONS - Fifty (50) hand sanitizing stations have been added throughout the arena. Guests are encouraged to wash hands for 20 seconds or use a hand sanitizing station often.
CONSTANT CLEANING - All high touch areas throughout the venue are disinfected multiple times during events and the arena bowl is deep cleaned between events.
EMPLOYEE HEALTH SCREENINGS - All employees receive contactless temperature checks prior to entering the venue each day and testing as needed.
SOCIAL DISTANCING ENCOURAGED WHERE POSSIBLE

Floor markers installed at all line queues (main entrances, box office, concessions, restrooms, merchandise).
Limited capacity in elevators to one party or family at a time.
Limited capacity in restrooms at one time.

PARKING

All staff is required to wear masks and gloves
Cash is no longer accepted; only credit card payment accepted or purchase mobile parking ticket in advance at ticketmaster.com.
Valet is suspended until further notice.

BOX OFFICE

Contactless Payment - Cash is no longer accepted and signatures have been waived.
Mobile tickets - all tickets purchased at the box office will be delivered via SMS (text message).
No will call

SECURITY & ENTRY/EXIT POINTS

Expanded entry points for social distancing.
Staggered entry times for guests.
Guests encouraged to use clear bags or avoid bringing bags if possible to reduce contact with personal items during security checks.

CONCESSIONS

All staff is required to wear face masks and gloves
Cash is no longer accepted.
All shared condiment & utensil stations have been removed and replaced with single use condiment packets and pre-packaged utensils kept behind the concession stand counters.
Lids will be used on all beverages including soft drinks and draft beers.
More pre-packaged foods will be offered.
Water fountains turned off until further notice.

Parking Information

$15 General Lot
$25 Premium Lot located in front of the East main entrance (limited availability)

COVID-19 Safety Changes for Parking:

Cash is no longer accepted; only credit card payment accepted or purchase mobile parking ticket in advance at ticketmaster.com.
Valet is temporarily suspended until further notice.
All parking attendant staff is required to wear masks and gloves.