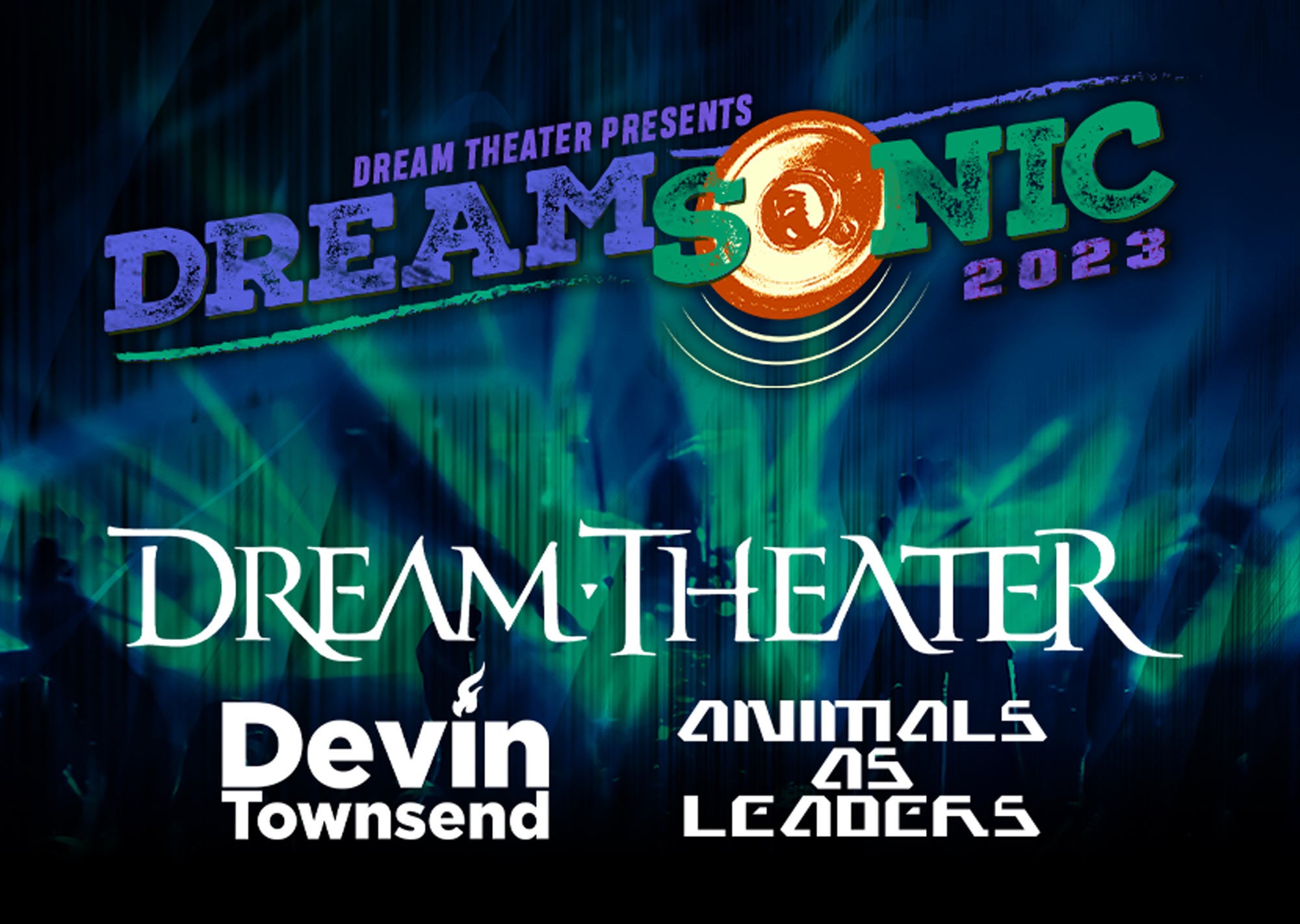 Dreamsonic 2023 ft. Dream Theater
with Devin Townsend & Animals As Leaders
About The Event
GRAMMY®-winning, millions-selling progressive music titans Dream Theater, are pleased to present the first edition of DREAMSONIC, taking place in North America throughout June and July of 2023 and celebrating the summer's ultimate progressive metal line-up. Kicking off on the 16th of June at H-E-B Center at Cedar Park in the Austin area, Dream Theater will be joined by special guest Devin Townsend, & Animals As Leaders on what is sure to be one of the hottest tickets of the summer.
Dream Theater released A View From The Top Of The World on October 22, 2021, and the release week saw the album top the charts hitting #1 on the Current Hard Music Charts, #2 on the Current Rock Albums Charts and also debuted at #52 on the Billboard 200. The album's lead track The Alien later went on to win the GRAMMY® award for 'Best Metal Performance'. Watch the video for that track here: https://youtu.be/V462IsOV3js
Canadian musical maverick Devin Townsend released his latest album Lightwork in late 2022, with Metal Injection calling it a "superb addition to his one-of-a-kind catalog". Assembled from a barrage of material written during the pandemic, 'Lightwork' represents a kind of 'light in the dark' while trying to navigate the seemingly endless challenges that life can often present. This tour is Devin's first North American run since March 2020. Watch the video for 'Lightworker' here: https://youtu.be/-udemfZRJrI
Animals as Leaders offer more than musicianship and proficiency - a focus on mood, texture, and emotive power elevating the material in a fascinatingly unique phenomenon. Led by Tosin Abasi, a guitarist the Chicago Tribune calls "one of the top ten guitarists of all time", the prog-metal trio continue to blaze the trail as, "…one of the finest, most interesting units in modern music " (MetalSucks). They released their latest album Parrhesia in March 2022. Watch the video for 'Red Miso' here: https://youtu.be/gu-_kyU4dWk
ABOUT DREAM THEATER
Even after hundreds of shows, 15 million records sold, three GRAMMY® Award nominations including one GRAMMY® Award win for Best Metal Performance in 2022, and almost four decades together, Dream Theater continue to look ahead. Their collective gaze never wavers from the future. Instead, the progressive metal trailblazers —James LaBrie (Vocals), John Petrucci (Guitars), Jordan Rudess (Keyboards), John Myung (Bass), and Mike Mangini (Drums)—consistently explore uncharted territory with the same spirit of sonic adventurousness. On their fifteenth album, A View from the Top of the World [Inside Out Music/Sony Music], the New York quintet rush forward at full speed again with seven tracks equally steeped in articulate arrangements, groove-laden guitars, and skyscraping melodies.
The 1992 opus Images & Words received a gold certification and landed on Rolling Stone's coveted "100 Greatest Metal Albums of All-Time." Guitar World placed the follow-up Awake at #1 on "Superunknown: 50 Iconic Albums That Defined 1994." 1996's A Change of Seasons notably soundtracked NBC's coverage of Downhill Skiing at the 2002 Winter Olympics. Fans voted the 1999 Metropolis Pt. 2: Scenes from a Memory the "Number One All-Time Progressive Rock Album" in a 2012 Rolling Stone poll. Not to mention, it ranked as the "15th Greatest Concept Album" by Classic Rock. 2009 saw Black Clouds & Silver Linings crash the Billboard Top 200 at #6 as A Dramatic Turn of Events [2011] and Dream Theater [2013] maintained a three-peat in the chart's Top 10. Consequence of Sound dubbed 2016's The Astonishing, "An absolutely unique experience." Beyond three platinum and two gold videos, the group was inducted into the Long Island Music Hall of Fame in 2010. In 2019, the band continued to expand its audience when they released Distance Over Time to critical and commercial acclaim.
DREAM THEATER ONLINE:
https://www.facebook.com/dreamtheater
http://twitter.com/dreamtheaternet
https://www.instagram.com/dreamtheaterofficial/
INSIDEOUTMUSIC ONLINE:
www.youtube.com/InsideOutMusicTV
www.facebook.com/InsideOutMusic
At Home Loge Seating Package w/Food & Beverage

Parking Information / Purchase Discount Advance Parking

Clear Bag Policy / Cashless Venue / Security Information / Prohibited Items

COVID-19 Safety Protocols - MASKS RECOMMENDED