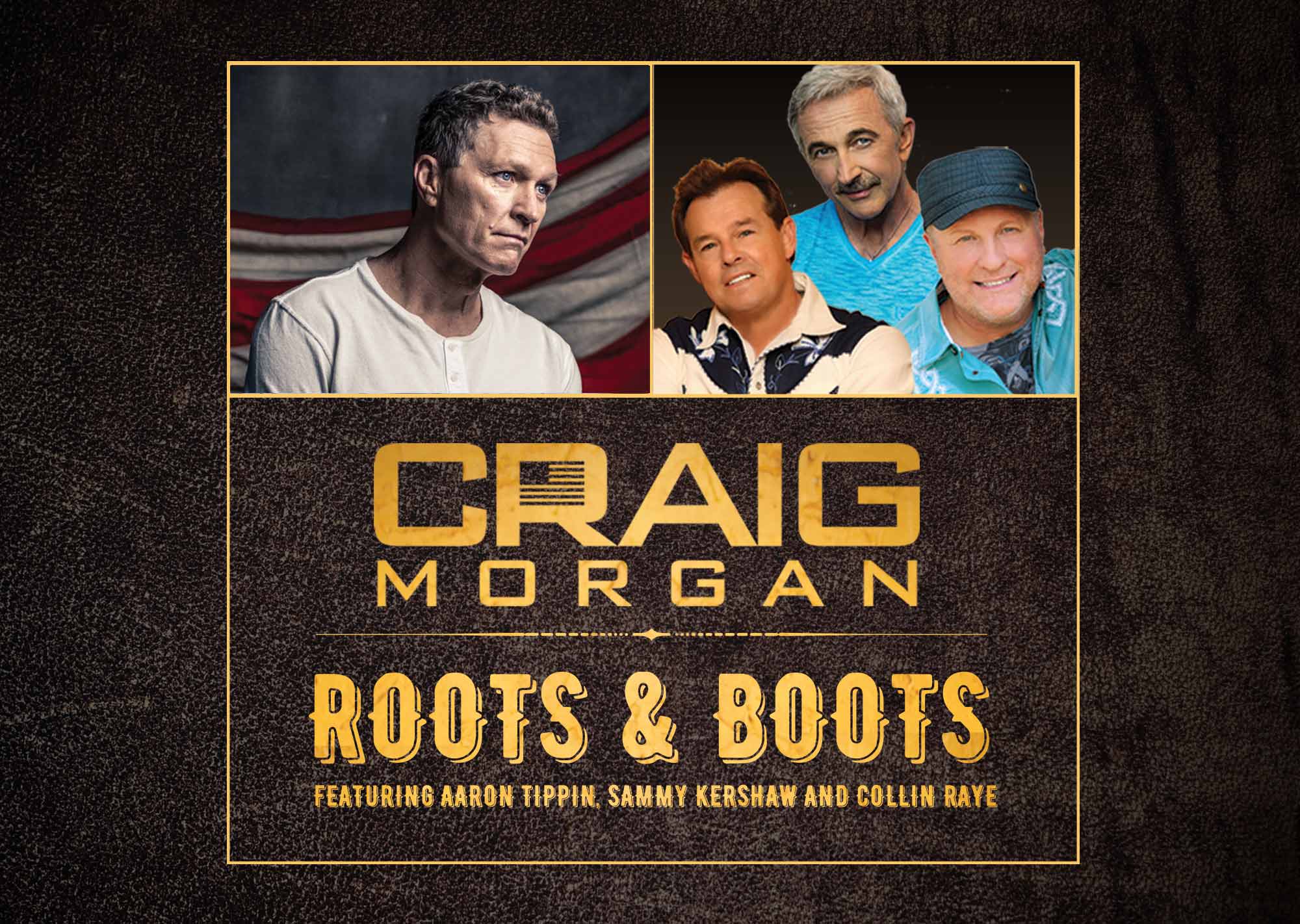 Craig Morgan and Roots & Boots
Featuring Aaron Tippin, Sammy Kershaw & Collin Raye

RESCHEDULED FROM 10/18/20 & 5/7/21
About The Event
* (Updated July 28, 2021) This is a full capacity event. Until further notice, MASKS ARE REQUIRED at all times, except when ACTIVELY eating or drinking at the guest's designated seating location. Small children who cannot keep a face mask in place are exempt.

*This event date is subject to CDC, State of Texas and local government guidelines for helping the community stay safe during the COVID-19 pandemic.

EVENT RESCHEDULED TO 10/15/21 – NOTICE TO FANS
To ensure the health and safety of our fans, crew, and venue staff members, Craig Morgan and the Roots & Boots featuring Aaron Tippin, Sammy Kershaw and Collin Raye scheduled at H-E-B Center at Cedar Park for October 18, 2020 and May 7, 2021 has been rescheduled to Friday, October 15, 2021. Please hold onto your original ticket, which will be honored on the new show date. Thank you for understanding. For additional questions, please contact the H-E-B Center box office at 512-600-5001.

---
Craig Morgan and the Roots & Boots featuring 90's country voices Aaron Tippin, Sammy Kershaw and Collin Raye will join forces Friday, May 7, 2020 for a performance at H-E-B Center at Cedar Park.
A multi-faceted entertainer, Craig Morgan has made a name for himself as a country music icon, TV personality, celebrated outdoorsman and patriotic Army veteran. One of country music's best-loved artists, Morgan has charted 25 songs on Billboard and thrills massive crowds with signature hits including "Bonfire," Almost Home," "Redneck Yacht Club," "International Harvester," "This Ole Boy," "Wake Up Loving You," and the four week No. 1, "That's What I Love About Sunday." Most recently, Morgan released his first new music in over three years, the faith-filled tribute to his son Jerry — "The Father, My Son, And The Holy Ghost." The song hit No. 1 on iTunes All Genres Top Songs chart as Blake Shelton led a viral campaign that gained support from the entertainment community.
Sammy Kershaw, Aaron Tippin and Collin Raye are three of the voices that defined 90s country music and they come together in the Roots & Boots Tour. Combined, the trio has amassed more than 40 Top 10 radio smash hits and sold more than 25 million albums:
AARON TIPPIN
Aaron Tippin has crusaded for the working man and woman since he ripped country music wide open with his uncompromising single You've Got to Stand for Something. His voice continued to ring loud and clear with such hits as I Wouldn't Have it any Other Way, There Ain't Nothin' Wrong with the Radio, That's as Close as I'll Get to Loving You, My Blue Angel, and Kiss This. Five of his albums are certified gold and a sixth CD, Read Between the Lines, stands at the platinum level. Tippin's honest lyrics and direct, impassioned vocals have built a large and devoted audience.
SAMMY KERSHAW
In the course of breaking into the ranks of stardom in country music, Sammy Kershaw has made contributions to more than just the charts. His Platinum albums were propelled into the record books by hits such as She Don't Know She's Beautiful, I Can't Reach Her Anymore, National Working Woman's Holiday, Love of My Live, Cadillac Style, Don't Go Near the Water, Haunted Heart…and many other milestones.
COLLIN RAYE
Collin Raye is nothing if not passionate. His soulful delivery has set country standards in such searing ballads as Love, Me, In This Life, Not That Different and If I Were You. Always an energizing showman, he has also blazed through such vivid rockers as My Kind of Girl, That's My Story, I Can Still Feel You and I want You Bad. With 24 top ten records, 16 #1 hits, and having been a 10-time male vocalist of the year nominee (5 CMA and 5 ACM), this truly electrifying performer of his era remains one of the great voices of our time.
COVID-19 SAFETY PRECAUTIONS - MASKS REQUIRED

All events at H-E-B Center at Cedar Park will include activation of ASM Global's "Venue Shield"– an advanced environmental hygiene protocol that will also be deployed in more than 325 ASM facilities around the world. ASM Global, which manages H-E-B Center at Cedar Park, is the world's leading venue management and services company. Venue Shield reduces physical touch points, increases venue sanitization and cleanliness, and provides various health monitoring guidelines and services.

The safety guidelines and protocols in place at H-E-B Center at Cedar Park include:

FACE COVERINGS REQUIRED - (updated July 28, 2021) - This is a full capacity event. Due to recent CDC guidance and until further notice, MASKS ARE REQUIRED at all times, except when ACTIVELY eating or drinking at the guest's designated seating location. All employees and visitors MUST wear a cloth face mask to cover both nose and mouth. One-time use disposable masks are provided if the guest does not already have one. Small children who cannot keep face masks in place are exempt. Thank you for your cooperation in helping our community stay safe during the COVID-19 pandemic.

WASH HANDS / HAND SANITIZING STATIONS - Fifty (50) hand sanitizing stations have been added throughout the arena. Guests are encouraged to wash hands for 20 seconds or use a hand sanitizing station often.
CONSTANT CLEANING - All high touch areas throughout the venue are disinfected multiple times during events and the arena bowl is deep cleaned between events.
EMPLOYEE HEALTH SCREENINGS - All employees receive contactless temperature checks prior to entering the venue each day and testing as needed.
SOCIAL DISTANCING ENCOURAGED WHERE POSSIBLE

Floor markers installed at all line queues (main entrances, box office, concessions, restrooms, merchandise).
Limited capacity in elevators to one party or family at a time.
Limited capacity in restrooms at one time.

PARKING

All staff is required to wear masks
Cash is no longer accepted; only credit card payment accepted or purchase mobile parking ticket in advance at ticketmaster.com.
Valet is suspended until further notice.

BOX OFFICE

Contactless Payment - Cash is no longer accepted and signatures have been waived.
Mobile tickets - all tickets purchased at the box office will be delivered via SMS (text message).
No will call

SECURITY & ENTRY/EXIT POINTS

Expanded entry points for social distancing.
Staggered entry times for guests.
Guests encouraged to use clear bags or avoid bringing bags if possible to reduce contact with personal items during security checks.

CONCESSIONS

All staff is required to wear face masks and gloves
Cash is no longer accepted.
All shared condiment & utensil stations have been removed and replaced with single use condiment packets and pre-packaged utensils kept behind the concession stand counters.
Lids will be used on all beverages including soft drinks and draft beers.
More pre-packaged foods will be offered.
Water fountains turned off until further notice.

At Home Loge Seating Package w/Food & Beverage

To purchase:

Call 512-600-5013 to purchase over the phone or email [email protected] (Deadline to purchase is 48 hours before show time)

The all-new AT HOME LOGE SEAT PACKAGE includes:

Reserved seat in the East Loge (wider, more comfortable leather seating, located on the 2nd level/suite level, in the 200 sections in red on the SAMPLE MAP)
One (1) parking pass is included for every two (2) tickets purchased.
VIP Wristband valid for:

$100 per ticket (no additional fees)

Spotify Playlist

Parking Information

$15 General Lot
$25 Premium Lot located in front of the East main entrance (limited availability)
PURCHASE ADVANCED PARKING

COVID-19 Safety Changes for Parking:

Cash is no longer accepted; only credit card payment accepted or purchase mobile parking ticket in advance at ticketmaster.com.
Valet is temporarily suspended until further notice.
All parking attendant staff is required to wear masks and gloves.

Classic Country Combo

Check out our Classic Country Combo! Get 2 tickets for the price of 1 when you purchase a ticket to both of the following shows:

Craig Morgan and Roots & Boot, Friday, October 15, 2021
Tracy Lawrence & Mark Chesnutt, Friday, October 29, 2021

*Valid until 10/14 at 10pm CDT. Valid online only. Limited quantity. Selected seat location will be the same for both events. Offer does not apply to previously purchased tickets.