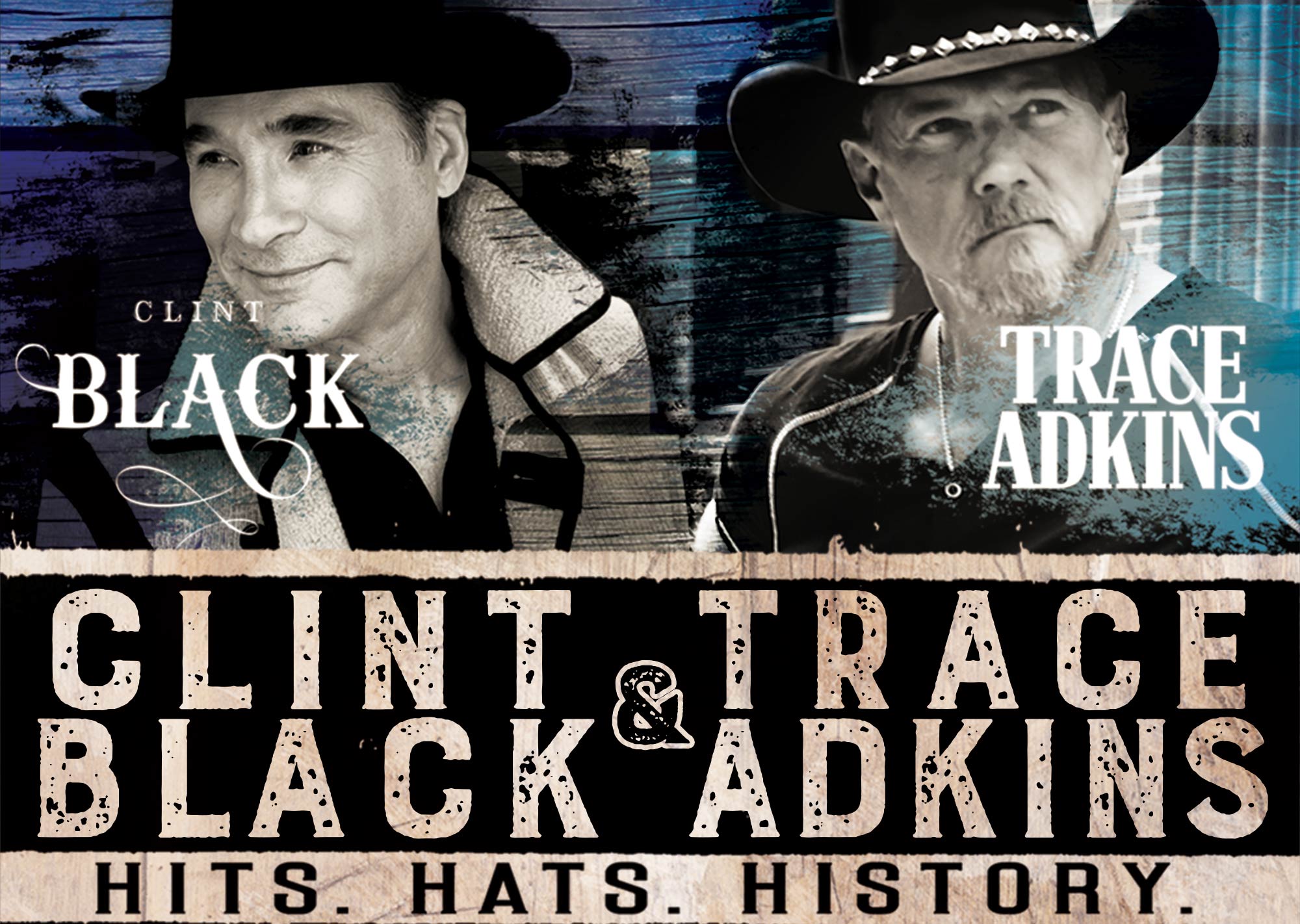 Clint Black & Trace Adkins
Hits. Hats. History. with special guest Terri Clark
About The Event
Clint Black and Trace Adkins are set to hit the road with their new tour – Hits. Hats. History., which includes a stop at H-E-B Center at Cedar Park on Friday, August 9th, with special guest Terri Clark.
Clint Black has one of the most storied careers in modern music, now celebrating the 30th anniversary of his groundbreaking debut album Killin' Time, which all but altered the landscape of country music. Black surged to superstardom as part of the fabled Class of '89, reaching #1 with five consecutive singles from his triple-platinum debut album. He followed that with the triple-platinum Put Yourself in My Shoes, and then a string of platinum and gold albums throughout the '90s. Perhaps most impressively, Clint wrote or co-wrote every one of his more than three dozen chart hits, including "A Better Man," "Where Are You Now," "When My Ship Comes In," "A Good Run of Bad Luck," "Summer's Comin'," "Like the Rain" and "Nothin' But the Taillights," part of a catalog that produced 22 #1 singles and made him one of the most successful singer/songwriters of the modern era. Along the way, he's earned more than a dozen gold and platinum awards in the U.S. and Canada, landed nearly two dozen major awards and nominations, won a GRAMMY Award, countless Country Music Association, American Music Awards and Academy of Country Music Awards, as well as a star on the Hollywood Walk of Fame.
A Nashville icon for more than two decades, Trace Adkins has made his mark on the country-music industry. 11 million albums sold. Time-honored hit singles. Momentous, fiery and always memorable live performances. GRAMMY nominations. CMT and ACM awards. Nearly 200 million plays on YouTube. Hell, even a slew of movie and TV roles have come the Grand Ole Opry member's way. But ask Adkins what's left to prove in his career and the small-town Louisiana native says it's simple: the itch remains. To create. To collaborate. To continually feel the excitement that comes after whipping up a new song out of thin air and laying it down to tape. It's what, after all these years, he says he still craves. "It's an adrenaline rush and I love it," says Adkins, who is back in the studio working on a new project via, BBR Music Group/Wheelhouse Records.
At Home Loge Seating & Food & Beverage Package

To purchase:

The all new AT HOME LOGE SEAT PACKAGE includes:

Reserved seat in the East Loge (wider, more comfortable leather seating)
Parking Pass (1 pass for every 2 tickets)
VIP Wristband valid for:

1 trip through the Chef's Table located in the East Loge
2 beer/wine drinks (no mixed drinks) at either The Breakaway Bar or Love Street Lounge in the East Loge
Unlimited non-alcoholic beverages in the East Loge

$100 per ticket

To purchase or for more information, contact the Group Sales Department at 512-600-5098 or [email protected]

Parking Information

$15 General
$25 Valet

CASH ONLY