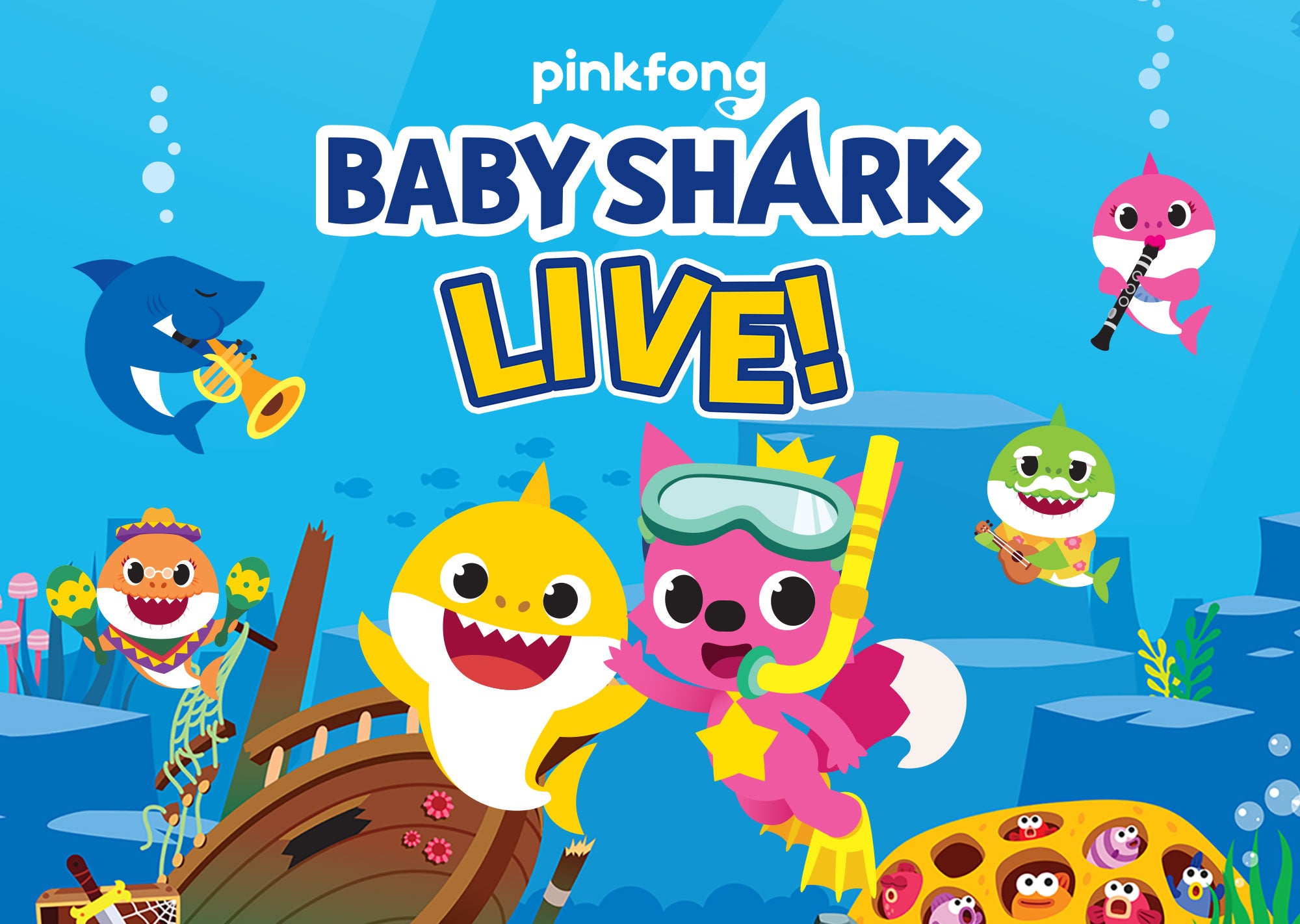 Baby Shark Live!
About The Event
Baby Shark Live!, the brand new, fully immersive concert experience from Pinkfong and Round Room Live, heads to H-E-B Center at Cedar Park on October 10 at 6:00 PM.
Sharks must always keep moving, so Pinkfong's viral song and dance sensation will come to life in over 30 cities over six weeks this fall. Additional shows will be announced at a future date. Baby Shark Live! is slated to visit more than 100 U.S. and Canadian markets through 2020.
The live show is based on Pinkfong's viral earworm and global dance phenomenon, Baby Shark. Fans of all ages will delight as Baby Shark joins up with his friend Pinkfong to take an adventure into the sea, singing and dancing through new and classic songs including Five Little Monkeys, Wheels on the Bus, Jungle Boogie, Monkey Banana Dance and of course, Baby Shark!

Baby Shark, Pinkfong's global hit song about a family of sharks, has climbed the charts and connected with fans around the globe. After entering the Billboard Hot 100 at #32, the song has had a 17-week streak in the Top 50 while topping the Kids Digital Song Sales Chart. The Baby Shark Dance video has over 3 billion views, making it the 8th most viewed video in the history of YouTube.

"We're thrilled to bring Baby Shark Live to families across the country," says the Stephen Shaw (the tour's producer and co-president of Round Room Live). "There's something incredibly special about Baby Shark and it's exciting to create a show that not only includes singing and dancing but an education component as well."

Tickets for Baby Shark Live go on sale on Friday, July 12 at 10:00 AM via Ticketmaster.com, the pre-sale begins on July 9. Fans can visit babysharklive.com now for tour dates, ticket information and one-of-a-kind meet and greet packages. Follow Baby Shark Live social media for pre-sale access and exclusive tour content.
Group Information

Save $5 per ticket for groups of 10 or more!

To order:

Order Deadline: Tuesday, October 8, 2019 at 5PM

Meet & Greet Upgrade

BABY SHARK LIVE! Meet & Greet Upgrade - $41.75 ea. (limited availability, max 8 per household)

The Baby Shark Meet & Greet upgrade features access to an after-show Meet & Greet photo opportunity (approx 30 min) with Baby Shark and Pinkfong along with an exclusive Baby Shark souvenir bag.

The event ticket is not included in the meet & greet upgrade. Children age 12 and under must be accompanied by a Parent/Guardian. Each Child, Parent or Guardian must have an event ticket as well as a Meet & Greet Upgrade to attend.

Here's how it works: Meet & Greet Ticket purchasers should go to the check-in table prior to the event to pick up the Meet & Greet passes, bags and instructions. Each adult and child (age 1 and up) in a group must have a Meet & Greet Upgrade. Patrons will be directed where to go for the after-show event. The Meet & Greet event will start shortly after the end of show and last approximately 30 minutes. Please make sure to bring your camera, as you will want to capture every moment!


Parents, please note that our Meet & Greet characters come in costume directly from the stage. While most children are excited to meet the characters up-close, others can feel frightened. If your child is scared or hesitant to meet the characters, we recommend moving to the back of the line; This will allow your child the extra time he/she may need to warm up to the characters and see how they interact with other children present.


Please remember, children 12 and under are not allowed access without a Meet & Greet paid adult.

Parking Information

$10 General
$20 Valet

Pick-Up/Drop-Off area is located via the Valet entrance accessible from the 183A frontage road on the East side of the venue.